Alumnus/Alumna of the Year Award
The Alumnus/Alumna of the Year Award has been designed to celebrate the outstanding accomplishments of our alumni from around the world. It is awarded for achievements in the arts, sciences, sports, and in business, public or academic life.
Winner 2021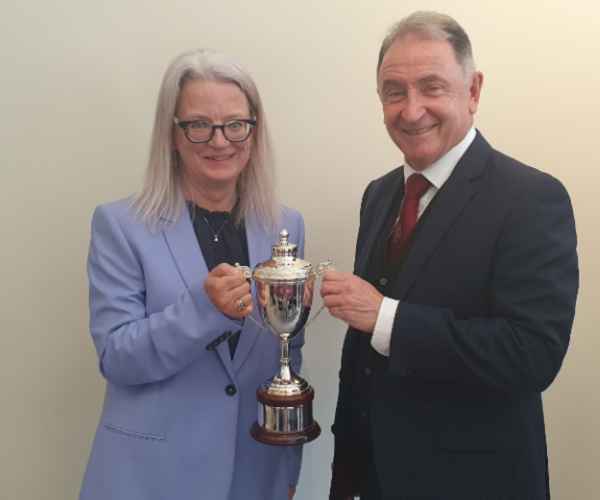 Dr Yvonne Stewart's award was made in recognition of her incredible career at GSK and in celebration of her contribution to the company over nearly two decades. Dr Stewart is currently VP, Supply Chain Compliance Officer, Legal & Compliance.

The University is proud to have contributed to Dr Stewart's education with the award of her BSc (Hons) in Pharmacy in 1995 and a PhD in Pharmaceutical Sciences in 2000.
Winner 2021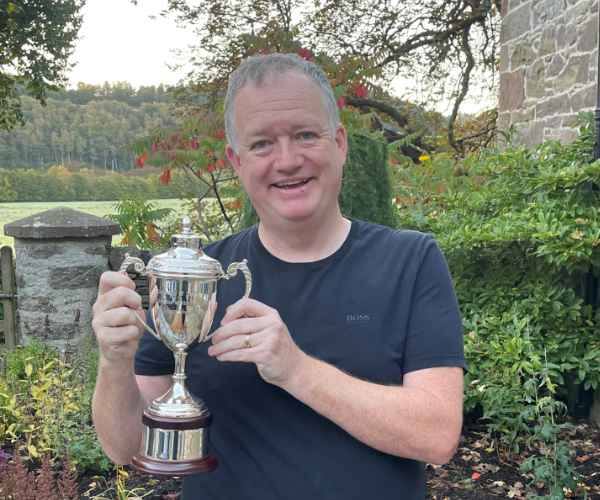 Dr Graeme Malcolm OBE received his award in recognition of his significant achievements as CEO and Founder of M Squared Lasers as well as acknowledging the OBE he received in 2015 for services to science and innovation, and The Swan Medal from the Institute of Physics. The University is proud to have contributed to Dr Malcolm's education with the award of his BSc (Hons) in Laser Physics and Optoelectronics in 1989 and a PhD in Physics in 1993.
Check out our video interview with Dr Malcolm on Strathclyde Connect.
Winner 2019
Winner 2019
Winner 2018
Sarah Jardine
Sarah Jardine, Senior Director of Manufacturing with Optos plc, has received the award from her alma mater in recognition of her achievements in manufacturing and optics.
Winner 2018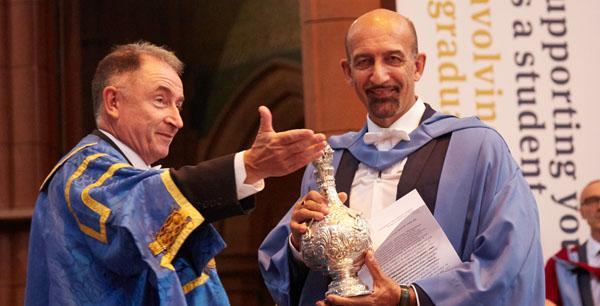 Mario Stevenson
Professor Mario Stevenson, Chief of the Division of Infectious Diseases at the University of Miami, has received the award from his alma mater in recognition of his achievements in researching disease, notably AIDS/HIV.
Winners 2017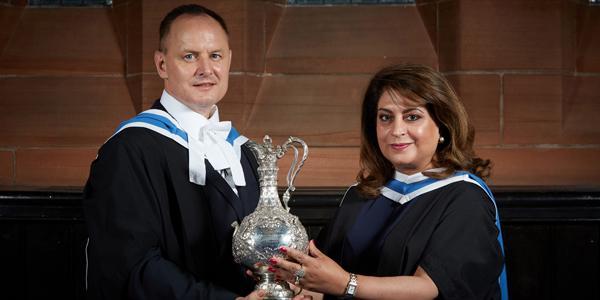 Calum Paterson & Baroness Mobarik
The joint award recognises Calum Paterson's exceptional career as a leading venture capitalist, and Baroness Nosheena Mobarik's outstanding contribution to business.
Winner 2016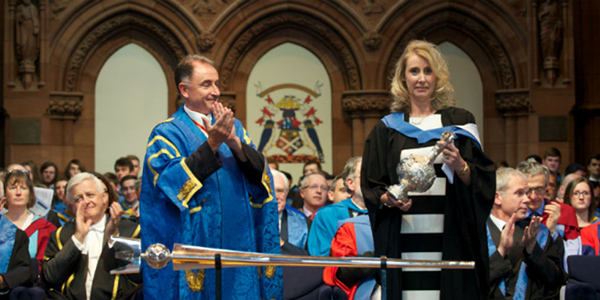 Debbie Crosbie
Debbie Crosbie is the 2016 Alumna of the Year. Debbie is the Chief Operating Officer for Clydesdale Bank and in 2015 became the first women to have her signature appear on a Scottish bank note.
Winner 2015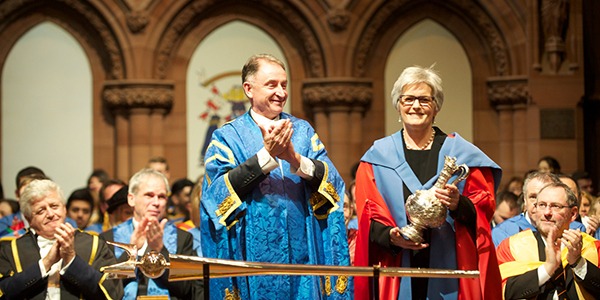 Dame Susan Bruce DBE LLB MPhil
Dame Susan Bruce is the 2015 recipient of the Alumna of the Year Award in recognition of her contribution to local government and public service in her roles as Chief Executive of various councils in Scotland.
Winners 2014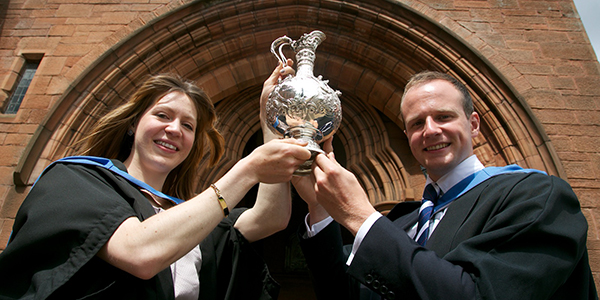 Claire Hamilton & Michael Goodfellow
Winter Olympic curling medallists Claire Hamilton and Michael Goodfellow were awarded the 2014 Alumni of the Year Award in recognition of their incredible sporting achievements.
Winner 2012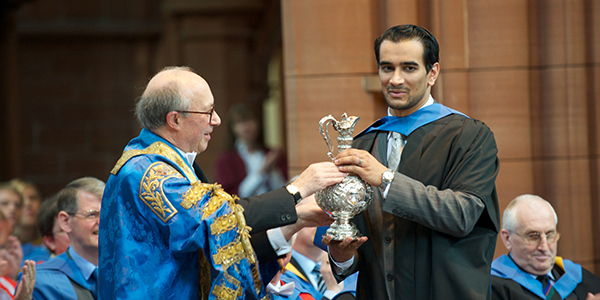 Azeem Ibrahim
Azeem's exceptional career was honoured with the 2012 Alumnus of the Year Award. After his studies at Strathclyde, he launched his own IT consultancy, and then moved into the global finance sector.
Winner list 1993 - 2010
2010 Mouzhan Majidi: Mouzhan was awarded in recognition of his outstanding career as a world-leading architect. He is CEO of Foster + Partners, one of the world's largest and most respected architecture practices, working alongside Founder and Chairman Norman Foster.
He studied Architecture at Strathclyde, graduating with first-class honours in 1987. He then joined Foster + Partners upon graduation, working on the design for Stansted Airport Terminal and then on two competition-winning schemes for the Cambridge Law Faculty building and Fréjus School in France. In recent years the practice has won a number of major international competitions, including, Al Haramain high-speed rail stations in Saudi Arabia and the West Kowloon Cultural District in Hong Kong, the largest cultural initiative in the world.
2009 Aileen McGlynn: Aileen received the award in recognition of a hugely successful career in cycling, which led to three gold medals and one silver medal at the Paralympics. She took gold in the kilo time trial and silver in the sprint at the 2004 games in Athens, before scoring a double gold in the 1km time trial and the pursuit in Beijing four years later.
2008 Andrew Cameron: The University of Strathclyde was delighted to honour Andrew, Chief Constable of Central Scotland Police, as Alumnus of the Year 2008 in recognition of a distinguished policing career spanning some 40 years. He attended Strathclyde as a police-sponsored student, graduating with a BA in Business Administration in 1983.
2007 Professor Alan Pert: One of Scotland's most celebrated young architects, Professor Pert, Principal of the Northern Office of Research & Design (NORD), graduated from Strathclyde in 1993 with a degree in Architectural Studies and has since enjoyed a very successful career and collected a variety of high-profile awards for his achievements.
2006 Amar Latif: Amar runs Traveleyes, which he set up in 2004 to provide holidays for blind and visually impaired people in destinations they would otherwise find difficult or impossible to visit. His innovative scheme pairs travellers with sighted companions, who receive a discount on the cost of the holiday.
2005 Alex Kapranos: Alex is lead singer with the rock band Franz Ferdinand and was honoured both for his musical achievements and for his personal commitment to ensuring that Scotland's cultural talent is properly supported and nurtured.
2004 Alastair Johnston: Alastair is Co-Chief Executive Officer of IMG, the world's premier sports marketing firm. IMG has 70 offices in 30 countries and, in addition to representing leading sportsmen and women, it is also the largest producer of televised sport through its subsidiary TWI.
2003 Iain Neil: Iain has won 11 technical Oscars for his work in the film industry. He is also the recipient of the 1999 Fuji Gold Medal Award, presented by the Society of Motion Picture & TV Engineers in recognition of his lens work, especially zooms in image orientation.
2002 Elish Angiolini: Elish was the first woman, first solicitor, first procurator-fiscal and first Strathclyde graduate ever to hold the post of Solicitor General. She also oversaw the introduction into the prosecution service of human rights legislation and drew up the blueprint for a victim liaison scheme. In October 2006 she became Scotland's first female Lord Advocate.
2001 Dr Ralph Lee: Dr Lee works at the University of Bahir Dar in Ethiopia and was recognised for his dedication to educational development in Africa. He has assisted in the creation of a new degree programme at Bahir Dar and has helped establish a research programme designed to meet the development needs of the country.
2000 Arthur van Hoff: Arthur is an internet entrepreneur and was part of the team responsible for the development of a Java compiler capable of running on any computer platform. A noted speaker and author, Arthur garnered several awards for his contribution to the creation of Java and was one of Interactive Week's Top 25 Unsung Heroes of the Internet.
1999 Frank Blin: Frank is a senior partner with PricewaterhouseCoopers with specific responsibility for their UK regional practice and is a past member of the UK Board. Well renowned for his networking skills, Frank is highly regarded in his profession.
1998 James McColl: Jim is Chairman and Chief Executive of Clyde Blowers Ltd. He was named Scottish Entrepreneur of the Year in 1999 for growing a business which has made a significant contribution to the Scottish economy.
1997 Sir Tom Hunter: Sir Tom built his company, Sports Division, from nothing to become the UK's number one sportswear retailer and Europe's largest independent sports retail chain. Since selling the business he has diversified his entrepreneurial activity and become a leading philanthropist. In 2000 he made a gift of £5m to endow Strathclyde's Hunter Centre for Entrepreneurship.
1996 Dr Robert Crawford: As former Managing Director of Scottish Enterprise Operations, Dr Crawford was responsible for the delivery of both economic skills and training development. He was also responsible for substantial inward investment into Scotland.
1995 Dr Roshan Maini: Dr Maini is Director of the Scottish-based firm Vascutek Ltd, one of the world's leading designers, manufacturers and marketers of products for the treatment of cardiovascular disease. Dr Maini's research, together with his business skills, have led to the company receiving four Queen's Awards for Export Achievement together with a Queen's Award for Technological Achievement.
1994 Lesley Bale: In 1992 Lesley became Managing Director of Aberdeen Airport, one of the top aviation posts in Scotland. She went on to hold the same position at both Edinburgh and Mauritius Airports. She is currently Director of the Business Support Centre at BAA in Glasgow.
1993 Linda Arnot: Linda was the first blind teacher of sighted children in Scotland.