Dame Susan Bruce was awarded the 2015 Alumna of the Year Award in recognition of her contribution to local government and public service in her roles as Chief Executive of various councils in Scotland.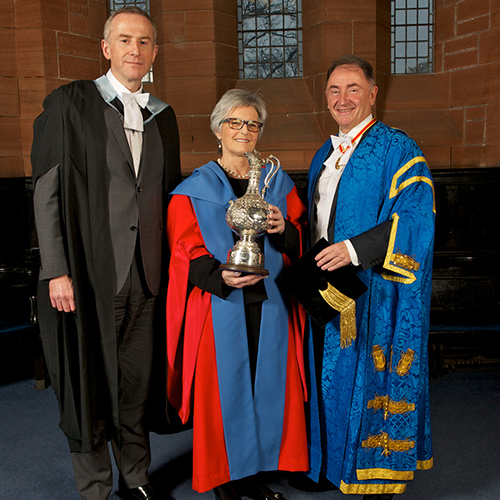 Award winning career
Susan led on the Edinburgh Tram turnaround and The Edinburgh Guarantee, an initiative that creates work and education opportunities for the young people of the city – just two highlights of an exceptional, award-winning career dedicated to improving city life. Sue was presented with her award at graduation on Friday 13 November by the Principal and Vice-Chancellor, Professor Sir Jim McDonald, with the oration delivered by Mr David Wilson, Executive Director of Strathclyde's International Public Policy Institute.
Dame Susan stepped down as Chief Executive of City of Edinburgh Council in 2015, after four-and-a-half years in the post, having previously held the same post at Aberdeen City Council from 2008 to 2010 and at East Dunbartonshire Council from 2004 to 2008. She was also made a DBE in the 2015 New Year Honours List.
During her long and successful career in local government, Dame Susan gained an MPhil in Politics and Government in 1993 and an LLB in Scots Law in 1998 from Strathclyde, and previously received a Diploma in Youth & Community Studies from Jordanhill College of Education, which later became part of Strathclyde.
Dame Susan said:
The University of Strathclyde has been an important part of my life for many years and it is a huge honour to receive this award. I hope this encourages others to embrace continuous learning and to seek challenges in their careers.
David Wilson said:
"Over her career, Susan has displayed the highest standards of public life and successfully tackled the toughest challenges facing public service leaders. She has done so with great vision and by nurturing the organisations she led. Throughout, she has always maintained her commitment to her own personal development to ensure she had the capacity to step up to the challenges which came her way."