Strathclyde People 2017
---
For more than 30 years, Dougie Donnelly has been one of Scotland's best known sports voices. He has a distinctive broadcasting style that's been described as 'light-hearted and insightful'. Turns out that's a lot like the man himself.
"Light-hearted and insightful'… yes, I like that," said the Strathclyde alumnus, who was preparing to embark on a three-week stint of commentating for the Golf Channel, but is perhaps best remembered for his 32 years at the BBC and for being the first Scot to present Grandstand.
"I didn't set out to have a particular style but I was surrounded by all-time greats at the BBC – people like David Coleman, Harry Carpenter and, of course, Bill McLaren. They were serious broadcasters who knew their stuff and did their homework. So, yes, I tried to be like them. I still do."
You work for a degree, but you need to enjoy yourself as well... and I have a lot to thank Strathclyde for. Which is why I'm delighted to see the University investing in the new Students' Union and, of course, the new sports facilities."

Dougie Donelly
It could, of course, have been so very different for the 64-year-old Strathclyde law graduate, who turned his back on finding a 'proper job' to pursue a career in broadcasting.
In his second year at Strathclyde, Dougie was heavily involved with the Students' Union and became entertainments secretary. He booked many of the top acts of the day, including Mud (Number One at the time), Shakin' Stevens and Canned Heat.
It was there that he also came across an emerging folk singer called Billy Connolly, whose subsequent career was recognised with an honorary degree from Strathclyde in June. "I booked him for the Union and years later we met backstage at a gig," recalled Dougie. "Billy pointed at me and said, 'see this guy, he was the first guy ever to pay me a hundred quid'."
Then two things happened – not entirely unconnected. First, Dougie failed his law finals and then Radio Clyde, impressed by his emerging late-night career as a DJ at the Students' Union, offered him a show. The rest is history.
"Whether it's sport or music or the Union, it's all part of being a student," he added. "You work for a degree, but you need to enjoy yourself as well... and I have a lot to thank Strathclyde for. Which is why I'm delighted to see the University investing in the new Students' Union and, of course, the new sports facilities."
Dougie's law degree finally arrived 20 years later, thanks to a single re-taken exam. "I did the work and with a lot of help graduated with all these 21-year-olds," he said. "Dougie Donnelly LLB Honours? No, that would have been pushing it!"
By then, of course, Dougie was a familiar face on television. It's been estimated that he has covered 27 different sports, which seems something of an underestimate. "Producers would ask me what I knew about curling, or indoor bowls and I'd say, 'give me two weeks'. I enjoyed the challenge. Knowledge was key. Impartiality and objectivity, were ingrained in you."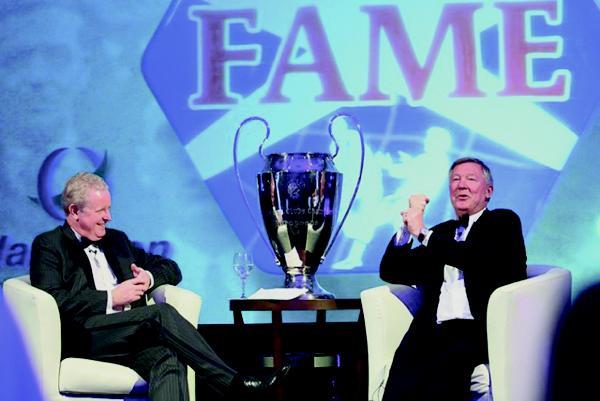 Dougie Donnelly with Sir Alex Ferguson
Dougie, of course, was at the BBC at the right time: when Scottish sport spoke for itself. "It was the time when Aberdeen and Dundee United emerged to challenge the Old Firm, the time of Allan Wells, Grand Slam-winning Scottish rugby teams, Stephen Hendry...
"I remember standing on the gantry at the Stade de France in Paris, minutes before the opening match of the 1998 World Cup – before Scotland played Brazil – and thinking it probably doesn't get much better than this. Never for a second did I believe that 19 years later, Scotland wouldn't have made it to the finals of another major football event."
There have been many other highlights for the much-travelled broadcaster, who has covered seven Olympic Games, two World Cups, five Commonwealth Games and 23 Open Championships.
"It's hard to pick a favourite but the one that sticks out was the 1999 Open. In all my years presenting golf, I wanted to see a Scot win on Scottish soil. I thought it might be Monty or my great friend, Sam Torrance. But it turned out to be Paul Lawrie. A great day."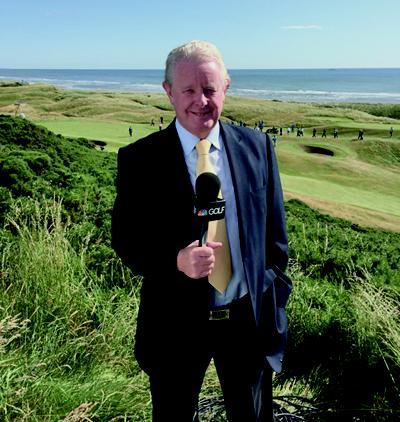 Dougie Donnelly reporting from Murcar Links
Today, he covers around 20 events each year for European Tour Productions in Europe, Africa, Asia and the Middle East.
It's as well he likes travelling – 40 countries and counting, and around 60,000 air miles each year. He tries to avoid the 'airport-hotel-golf course trap' and has spoken enthusiastically in the past about visiting landmarks such as the Forbidden City and Tiananmen Square in Beijing, and Moscow's Red Square.
However, Dougie is also happy to be at home in Scotland, where he is sought after as a compere and after-dinner speaker. He was proud to have Sir Alex Ferguson ask him to host a series of theatre interviews around the launch of his autobiography.
"Sport has been good to me," he agreed, "and I think I can honestly say that it would not have happened without Strathclyde."