MSc Digital manufacturing

Rachana Godavarthi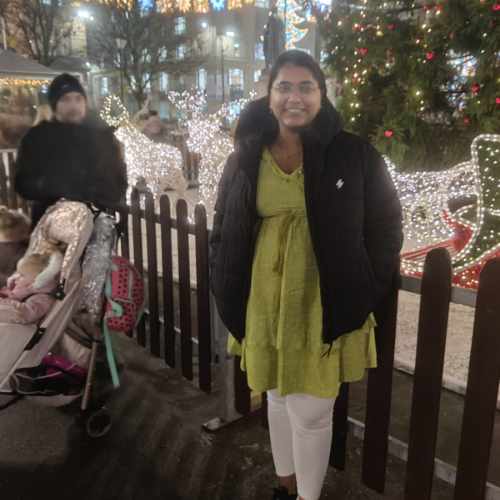 Rachana joined the University of Strathclyde Strathclyde from her home country of India for her studies after being awarded a British Council Scholarship for Women in STEM. Here she tells us about her journey and why she chose to study on the MSc in Digital Manufacturing.
Why did you choose to study at Strathclyde?
Strathclyde has an excellent central location in the impressive city of Glasgow, Scotland, which immediately attracted me. I conducted a lot of my own research about the course and the curriculum, and I also managed to speak with previous graduates from the course.
The curriculum and structure of the Strathclyde course, when compared with similar courses in other universities, and the concept of the Industrial Group Project, were both key selling points for me and ultimately led to me choosing to study at Strathclyde.
How did you first hear about the University of Strathclyde?
I was researching different master's courses to suit my needs, and I discovered the Department of Design, Manufacturing & Engineering Management (DMEM) at the University of Strathclyde. I was impressed by the high rankings of the Department and the University.
How did you first hear about the British Council Scholarships for Women in STEM?
After I applied to study at Strathclyde, I investigated the scholarships section on the Strathclyde website to find relevant scholarships that I would be eligible to apply for. It was on the Strathclyde website that I found out about British Council Scholarships for Women in STEM. I checked the criteria and discovered that I would be eligible to apply. I managed to connect with past scholars via LinkedIn to ask them about their experiences of the scholarship which were all very positive.
What do you like about your course?
The curriculum of the course really covers everything I was looking for when choosing my master's degree. My favourite element of the course though has been taking part in the Industrial Group Project. All DMEM master's students are able to participate in a live project with an industrial partner. Working with my group on our project has given me experience of working with industry and it has helped to prepare me for working in industry following my degree.
My individual project has also allowed me to explore opportunities in research and find out more about the different research areas that are happening in the department and in the field of manufacturing.
What do you like about Glasgow and Scotland? Have you managed to do much travelling whilst here?
The people here are so welcoming, helpful, and accepting. The culture, climate and the diverse community which I didn't know much about before coming here, has been a very pleasant surprise. I have also really enjoyed the beautiful architecture throughout the city of Glasgow.
I haven't travelled anywhere outside of Glasgow yet but I always enjoy my walk from the University to my accommodation so that I can look at the different buildings and be amongst people from different cultures. This is always the favourite part of my day!
What has been the highlight of your time here so far?
Whilst I have been here I have struggled with depression for the first time in my life. I have been strong and I was able to accept it was happening, and taken on the fight against it. I am currently in the process of taking an upper hand over it and not letting it control me. During my struggle I have thankfully been able to gain the support and advice of Strathclyde's Wellbeing and Support Team. Strathclyde offers a number of wellbeing services for students, including one-to-one counselling sessions, mindfulness classes and self-help resources. I have been able to speak to the staff here about my struggles and get their advice and help, and they have also referred me to the Spectrum Life service, which provides me with counselling and 24/7 support.
Due to going through this, my grades were affected in my first semester, but as I take control, and as I work with the resources available to me through the Wellbeing and Support Team and Spectrum Life, I am coming back stronger than before, and my grades have improved due to this.
What do you do in your spare time? Are you part of any groups or societies?
I have spent a lot of my spare time sketching, cooking and spending time with friends. Due to my struggles with depression I initially found it hard to get out much and to get involved and join any groups or societies. Now that I am feeling more positive, I have joined a group that is part of Strathclyde Student Union that is for 3D Printing, which has been really helpful and interesting, and a good way to meet new people with a similar interest.
What are your ambitions for the future and how do you think your time at Strathclyde will help you achieve your goals?
My ambition for the future is to study for a PhD, and eventually I hope to become a professor. Strathclyde will always be a special place to me, as it has given me the opportunity to know who I am. During my time here, I have had to learn, and relearn, and grow during a tough period of my life.
I see my master's study as a bridge to secure a PhD in the field of manufacturing. The research areas here at Strathclyde are really vast and learning about the different areas of research that are available in my chosen field has really opened my eyes, and I think taken me one step closer to achieving my dream.
Would you recommend Strathclyde to other people and why?
I would definitely recommend Strathclyde due to the amazing teaching community, the rich culture and the great course curriculums. The main reason I would recommend Strathclyde though is due to the welcoming people I have encountered here.
I would especially like to thank Jennifer Gazzard, International Development Manager in the Faculty of Engineering. I have been in touch with her from the day I was selected for the STEM scholarship. She has been a great support to me during my time here and has always been available at any time that I have had questions or needed support. I want to convey my sincere thanks to her for all her help and for everything she has done for me, both before and during my time at Strathclyde.