After discovering Strathclyde at a academic fair in her home country, Mexico, Isabel knew she wanted to come here to pursue the MSc in Environmental Entrepreneurship. Read about her journey so far...
Coming to Strathclyde
The first time I heard about the University of Strathclyde was at an academic virtual fair organised by FUNED, an institution that provides funding to postgraduate students from my home country of Mexico. I was given the opportunity to chat briefly with the University's representatives about the range of programmes on offer for MSc study.
I decided to study the MSc Environmental Entrepreneurship because I wanted to adapt my business skills into a more sustainable focus that I am able to contribute to improving the environment in my local community.
Strathclyde stood out to me because the MSc Environmental Entrepreneurship offers relevant content and modules that align with my own professional objectives. Additionally, it was clear that they provide a very flexible and supportive institution for the student community.
A unique programme in a great environment
One of the reasons I chose to study on the programme, is because it is suitable for students from any academic background. Additionally, it offers a module that allows you to work with an industry client to develop a sustainable project for them, allowing you to put into practice your entrepreneurial skills and environmental ideas.
The programme overall offers modules with unique content about the circular economy, sustainable development and environmental impact assessments. It also offers a wide range of elective classes that allows me to tailor the programme to my own interests. Every module provides useful learning!
My favourite aspect about studying at Strathclyde has been the great connections I have been able to make during classes and also socially on the campus. Furthermore, there are great facilities available to allow me to study effectively, including the library.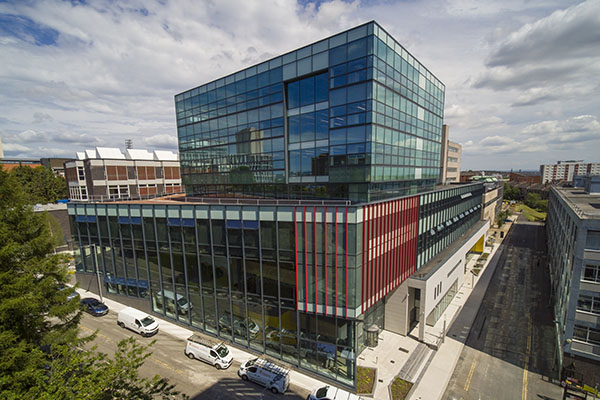 Socially, I have really benefited from visiting the Student Union and the new Learning and Teaching Building. There are a range of interesting activities on offer and social groups to join that provide a great opportunity to connect with people with similar interests. The sports centre also offers amazing classes like yoga and weights, and the cardio suite has lots of great machines available for working out.
I am also part of the sustainable society. It has introduced me to meaningful conversations about developing more sustainable practices within the university community.
Studying in a cultural hub
Glasgow offers a unique cultural hub and I have met lots of lovely people here. I have visited the Kelvingrove art gallery and museum, which has one of the largest collections of art in Europe. I have also managed to enjoy the beauty of autumn and winter landscapes from some of the city's parks, such as Glasgow Green and Queen's Park. The parks offer a nice escape to nature.
When walking to campus or surrounding areas in the centre of the city, I am happy to be able to appreciate the remarkable architecture of the buildings. Glasgow has a little bit of everything, from old traditional buildings to modern architecture styles. I also enjoy visiting the large number of cafés available for a coffee.
Looking to the future
My aim after completing my studies is to make a positive contribution to environmental issues through collaboration with companies committed to achieving net-zero goals. I look forward to applying the knowledge in Environmental entrepreneurship and Circular Economy I will have gained during my MSc studies.
I would recommend Strathclyde to anyone considering it because it is a great institution committed to making meaningful contributions towards teaching and research. The academic personnel and staff are committed to delivering world-class teaching with professionalism and values that allow students to develop knowledge to improve humanity and the environment.