PhD in Biomedical Engineering

Maisie Keogh
Maisie is currently studying a PhD in Biomedical Engineering. Here she tells us about her journey at Strathclyde...
What were your reasons for deciding to study a postgraduate research degree?
I was studying for an MSc in Biofluid Mechanics at Strathclyde which really ignited my passion for the discipline. During the course, I discovered that it was rehabilitation engineering which resonated with me the most. I spoke with my now supervisor Professor Philip Rowe about an exciting project he was working on and I was really keen to be involved. I applied for a PhD within the group and was fortunate enough to be accepted. I have been working on my current project since then and I am due to complete my PhD next year. I would love to build upon my research to date and continue in academia in the future.
How have you found the support from the staff in your department?
I don't think I would have had the positive and supportive experience I have had so far if it had not been for all the amazing staff within the Department of Biomedical Engineering. I started my PhD in 2019 and about five months into it, I had to adjust to completing my studies in a very different environment to the one I started it in due to the pandemic.
My supervisor kept me motivated whilst I was working from home, making sure I was managing and reassured me that even though we were not working in the lab, my contributions were still valued. My second supervisor Dr Andy Kerr is fantastic too and a huge source of support, always available for me to bounce ideas around with him. I feel very fortunate to have such a great environment with a really inclusive research culture to work in.
What facilities have you been able to use during your time at Strathclyde?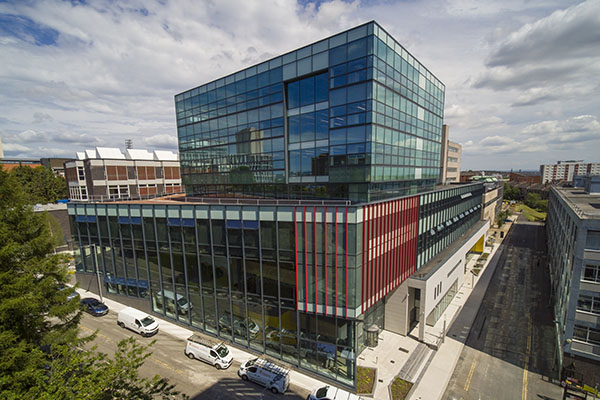 Since I started my PhD, I have been a keen volunteer within the Strathclyde Students' Union. The new Learning & Teaching building which the Union is housed within is brilliant. I really love spending time there when I am working with the various societies' I am part of. I have also really enjoyed using the facilities at Strathclyde Sport. They have so many classes to sign up for, which is a perfect way to end a busy day in the lab!
What groups and societies are you part of?
I have been involved with many projects, groups and initiatives since I commenced my studies at the University of Strathclyde. Currently, I am Co-organiser of TEDxUniversityofStrathclyde, a role which I have held for the past two years and one which has really helped me to develop both personally and professionally.
I am the President of Strathclyde Speakers, a society dedicated to improving the public speaking skills of students, and I am Treasurer of Strathclyde University Hot Air Balloon Society (SUHABS) as I am passionate about flying.
I also sit on my Department's Equality & Diversity Committee and I am a Trustee for the Strathclyde Students' Union. Additionally, I am a Faculty Ambassador and help prospective students learn more about studying at the university.
"Everyone at the University of Strathclyde has made me feel incredibly welcome."
What has been your favourite aspect about studying at Strathclyde?
Everyone at the University of Strathclyde has made me feel incredibly welcome, and I think this is because inclusion is made a priority. I have met students and staff from all over the world and really benefited from hearing many diverse perspectives. I also think that being able to meet such talented and interesting people as well as researching in a world-class institution are my favourite things about studying at Strathclyde.
What do you think of Glasgow/Scotland?
Glasgow is my home and I have lived in Scotland for most of my life and whilst I would love to travel and spend time in lots of other countries, I think I will always consider Scotland as the place I would like to base myself. The scenery is beautiful, the culture is fantastic, and the people of Glasgow really make the city what it is. I would recommend studying here to everyone!
Were there any funding opportunities available to you and if so, how did they help?
My PhD is funded through the EPSRC, so my tuition fees have been paid for and I receive a stipend each month for the research I carry out and my contributions to the group. This has helped me enormously as I would not have been able to commence a PhD had I not been funded.
What are your ambitions for the future and how do you think your time at Strathclyde will help you achieve your goals?
I am currently based in The Sir Jules Thorne Centre for Co-Creation and Rehabilitation Technology in the Wolfson Building. The facilities here are second to none and once I complete my studies next year, I am keen to stay and pursue postdoctoral research opportunities within the Centre. My work focuses on stroke rehabilitation and developing innovative technologies to facilities more effective therapeutic outcomes for this patient group. I have thoroughly enjoyed my experiences so far, so I would love the chance to stay and contribute more to this fascinating area of research.
Would you recommend Strathclyde to other people and why?
I would recommend Strathclyde to anyone who is keen to push themselves to be the best version of themselves they can be.
The faculties and the departments are all conducting world-class research at the international level, so this is a key place to be if you are interested in pursuing academic excellence. If you are looking for an inclusive and diverse culture to study in with opportunities to meet like-minded and engaging individuals, then this is the university to apply to.
Finally, if you are looking for a city to move to whilst pursuing your dream course, then Glasgow is the place I would highlight. Strathclyde is right in the heart of the city centre and where you will truly see Glasgow at its best.