Marketing

Nefertari Robertson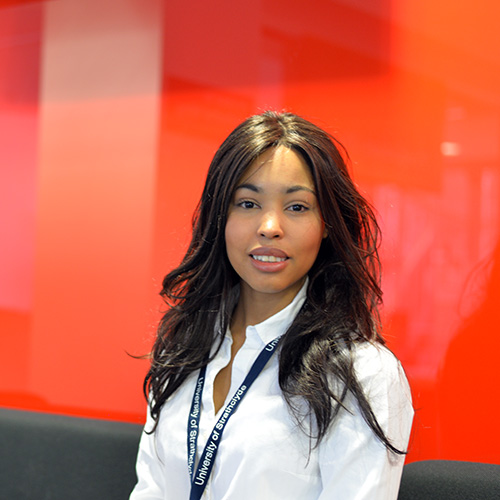 Nefertari Robertson
Course: PhD Marketing, Year 1
Home country: Scotland
I am British, mixed race African/Caribbean and have lived in Glasgow since I was four years old. I have 10 years' experience working in marketing across entertainment and leisure, retail, telecommunications as well as start-up and third sector organisations. My most recent role was Head of Marketing for an SME corporate group.
I have a First Class Honours Degree in Fashion Marketing as well as a Graduate Diploma with Distinction from the Chartered Institute of Marketing. Throughout my career I have relished the opportunity to continously learn and develop. I enjoy problem solving, working on innovative projects within businesses and meeting challenges head on.
Although I am highly career driven, spending time with family and friends is of great importance to me as well as spending time in Scotland's beautiful countryside across Loch Lomond, Dumfries & Galloway or the Caringorms.
Why did you choose Strathclyde for your postgraduate research study?
Strathclyde has an exceptional reputation as a triple accredited Business School. The University's strategy and vision over the next five years is aligned with my own as an individual. With a focus on innovation, Strathclyde is a 'Place of Useful Learning'.
'... we will ensure continued progress as an institution which is bold, innovative and ambitious in its vision.'
I think this is important part of why we embark on further education. I have always reaped rewards from the investment in continuous learning through both my own professional development as well as the rewards new skills bring to the businesses and communities you work with.
Tell us about the nature of your research?
My research explores customer experiences and disruptive technological developments. IOT, mobile and AI are changing the way businesses engage with their audiences. The research is fundamental to understanding how marketing is evolving within this and how businesses can both prepare for and navigate these changes.
What do you like about your research area?
I love that the research area is cutting edge and is spread across key areas of my personal interests within the marketing domain. Technology is changing and shaping customer behaviours and marketing practice, it's important to capture this for the development of businesses in disruptive landscapes through informed continuous innovation.
What's the Strathclyde research community like?
It really is just that, a community, I've meet researchers across both the wider university as well as within the business school itself.
Everyone is extremely pleasant and welcoming, from members of faculty to fellow candidates. In particular, the informal conversations with second and third year PhD candidates who are always happy to chat about their experiences and share tips on what they've learned in their first couple of years.
What are the Strathclyde facilities like?
We have our own desks, PC and lockers within the department, a kitchen area, and communal meeting spaces as well as a staff café. The wider campus also has a fantastic range of options for food, refreshments (including Starbucks!), library resources, breakout spaces and brand new fitness facilities.
Tell us about the support from your supervisor and the wider Strathclyde team?
I am extremely pleased with the support and mentoring within the Business School as well as the communication across departments for access to seminars, conferences and extra skills workshops.
Everyone has a unique journey during their research and through this collaboration across the University, students are able to access complimentary areas of knowledge that may be outside their department as a cross or multi-discipline project. The Researcher Development Programme and launch of the Doctoral School (which includes the Doctoral Researchers Group) allows you to access additional learning opportunities and become actively involved in shaping the future of research at the University.
What's the best thing about Strathclyde?
I am thrilled to be working with a key body of academic supervisors in the field. Strathclyde proactively communicate with staff and students directly for feedback and opportunities to grow and change whilst immersing itself in the community and wider global research arena. I have already connected with a vast range of like-minded individuals and I am sure I will look back at my PhD as a time of major personal growth and development.
What would you like to do after your PhD?
Embarking on a PhD opens doors for continuing on in academia, research or teaching. It also enables you to draw on new skills, experiences and research findings to take on further strategic or consultancy roles for problem solving within the industry. I am very much open to where these opportunities may take me over the coming years.