From hellobikes to cable cars
你好! I hope you're all having a lovely month! October's been a reasonably quiet month apart from that week we got off where most of us went on holiday. I'm also going to keep this month's blog short and sweet as I realised how long mine was last month so I do apologise. October's all round been a fabulous month and we're all genuinely settled into the student life.
Zhangjiajie
After finding out that we got a week off there was a lot of talk about going to Xian which is where the scholars last year went. Henry, Sammy and I had seen a post about Zhangjiajie and we decided that's where we wanted to go. Our group of three turned into a group of ten and we booked our train and hotel which was so exciting.
Zhangjiajie is a place in southern China and was a 26 hour train journey away which was daunting but a great opportunity to get to know everyone a bit better. Zhangjiajie is famous for being the inspiration for the setting of avatar and it was honestly even more stunning in person. I didn't know much about Zhangjiajie but going was probably one of the best decisions of my life, the trip was honestly incredible.
We left at 4:30 in the morning and set off to Beijing on the bullet trains which were so cool! Then we had the lovely 26 hours on the slow moving train where we had hard seats. The journey honestly wasn't as bad as I expected and the biggest shock was that there wasn't any charger plugs so I'm so grateful for my portable charger. All in all it was a cultural experience!
We arrived at our accommodation about an hour away from the train station and it was a lovely family run b&b in the national park meaning we were surrounded by the beautiful mountains.
After having dinner despite how tired we were we had to take advantage of our surroundings and we headed out on a walk with one of the owners of the b&b and their two beautiful dogs which I was over the moon about. We found a waterfall and within minutes we were all in swimming as the sun was setting over the mountains. This is a memory I'll always adore.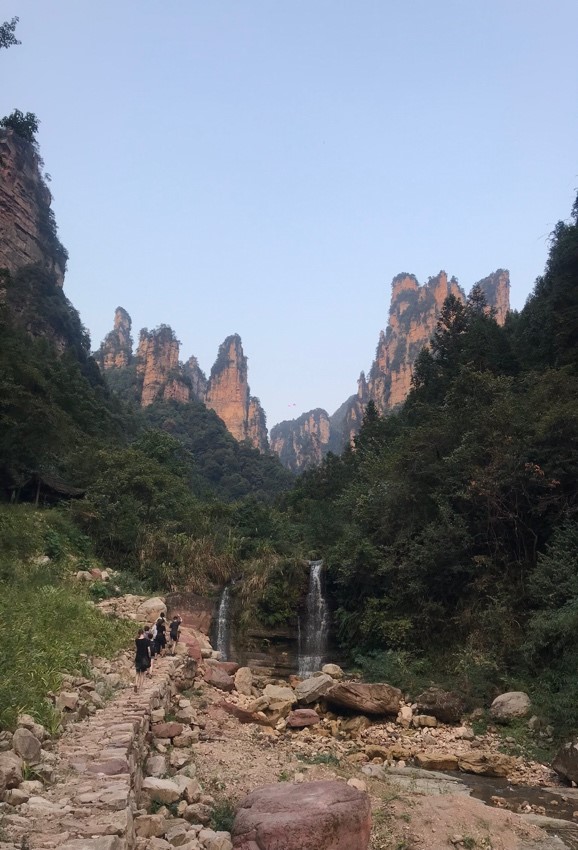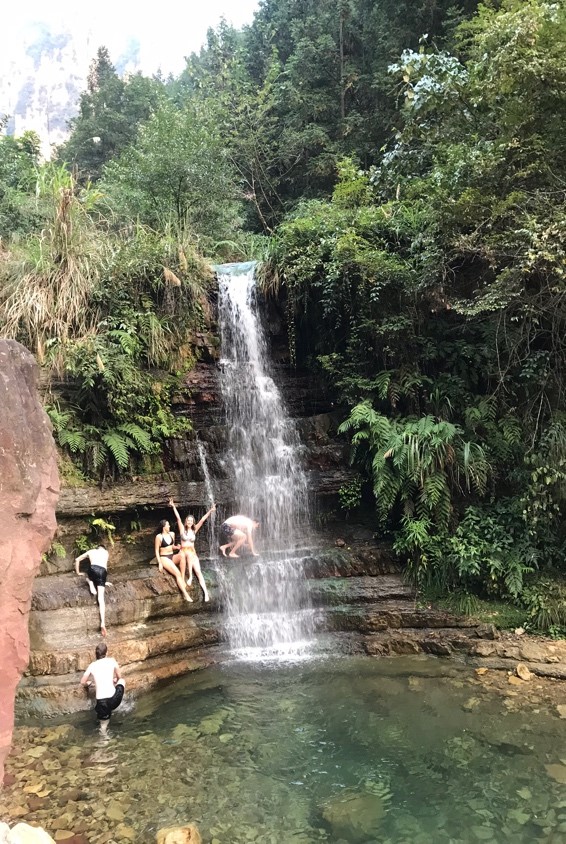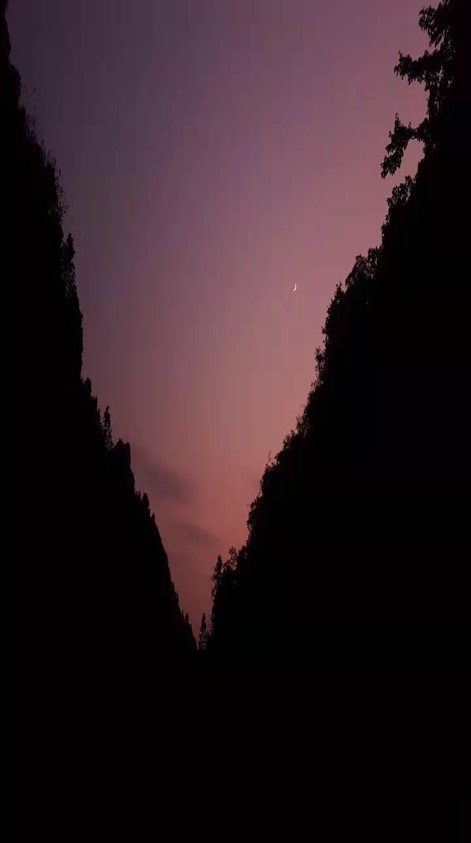 We spent the next few days exploring the mountains which was incredible. It was honestly so overwhelming being in such a beautiful place it really made me grateful for every opportunity I've had that led me there.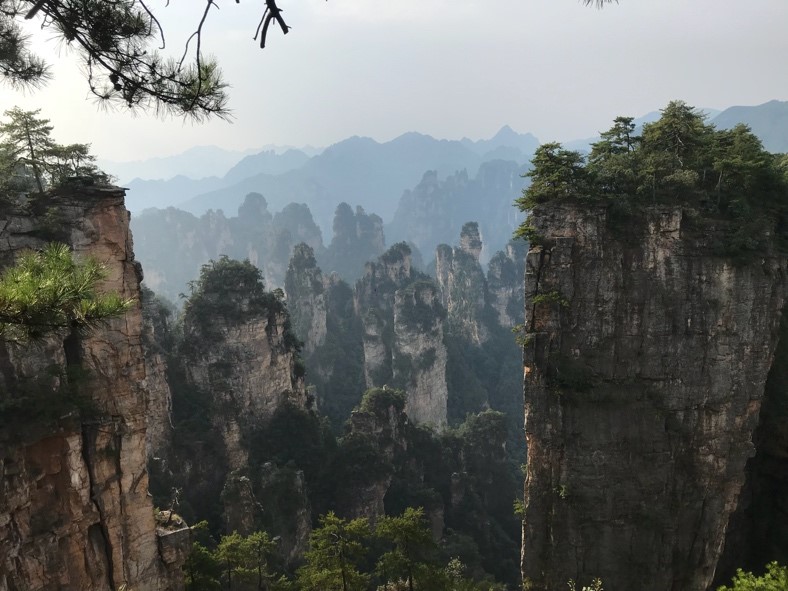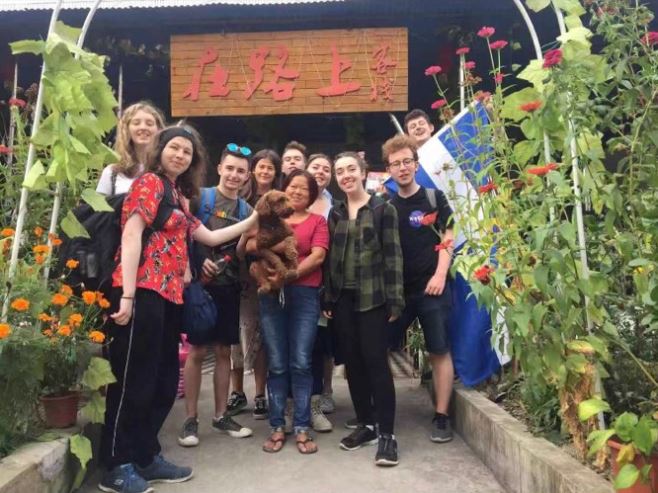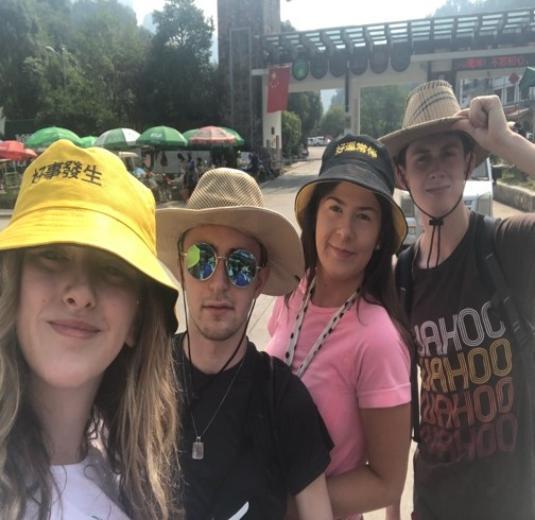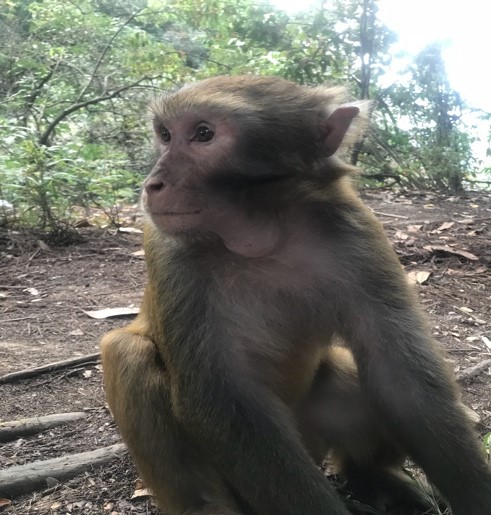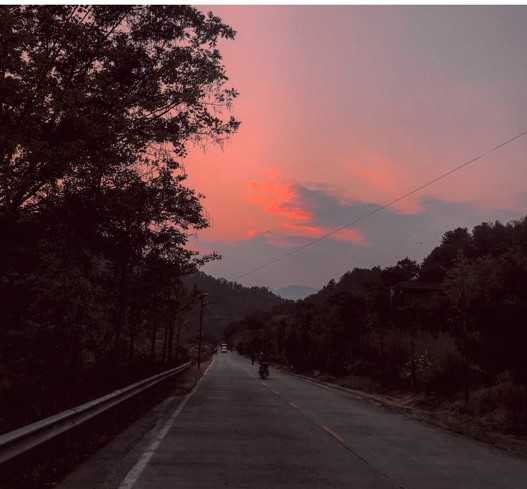 One of the most exciting parts of exploring the mountains was the cable cars that were constantly running up and down them. We usually had the option to do a 2 hour hike up or get the cable car up. I'd usually chose the second one as it was around 35 degrees so it was pretty hot to climb in. I'm terrified of heights so being up the mountains was so scary but I genuinely adored it! It was so amazing to be up so high seeing the most amazing scenery.
On one of the mountains there was wild monkeys which seems cool however one attacked me which wasn't fun. I was genuinely just minding my own business and it just jumped at me and started screaming! Luckily it didn't bite me or else I probably wouldn't be here submitting this blog!
We went to most of the quiet peaks however we went to one of the most famous spots which was absolutely packed. We could barely see anything! So Jack and I had a good idea that would instantly give us a good view. Jack got down on one knee and proposed to me with one of Colin's rings as the rest of the group filmed it and tried to make it as convincing as possible! It worked so well and within seconds everyone stepped out the way and we had the full front of the peak to ourselves! Honestly such a good trick if you're ever in a similar situation!
We moved to another hotel for one night at the other side of the city! It was much more central and gave us the opportunity to see the peaceful mountains and busy city. We went up to the highest mountain yet which literally took us into the clouds! It was a 20 minute cable car all the way up. We were able to go on the glass bridge which was so surreal. We were up until it got dark and there was very little light so I was terrified! Being on top of a mountain where it was wet slippy dark and cold was scary! We managed to find our way to a bus station and we made our way down the zigzag patch down.
Before we knew it, it was time to head home! The journey back was not enjoyable as the train was the busiest I'd ever seen! It was somehow longer on the way back so my portable charger didn't last me and most people were too sleepy to talk. At one point none of us could go to the bathroom as it was so packed it was physically impossible. They sell unlimited tickets for standing in these trains so there's people everywhere looking for a spot to stand in. I didn't mind the journey as much as I knew the trip was worth it.
All in all the holiday was one of the best experiences of my life! I'm still in awe! I'd love to go back to Zhangjiajie one day and I was so lucky to have been away with such lovely people who made the trip even better! We had two fluent Chinese speakers with us who we wouldn't have survived without! Esther and Francesca were amazing! I would recommend Zhangjiajie to anyone coming over!
Thank you for reading this month's blog and I hope you enjoyed reading about our experience as I did reminiscing about it!
Until next time
再见!!!!!!!