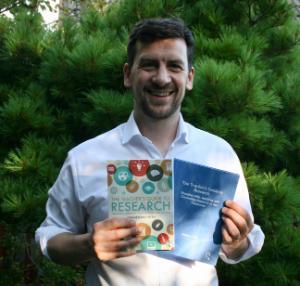 Jonathan Firth, a Teaching Fellow in Strathclyde's School of Education, has written a new book called 'The Teacher's Guide to Research'. Published by Routledge, it will be useful to teachers at all career stages. Subtitled 'Engaging with, applying and conducting research in the classroom', the book supports the process of research engagement, from finding and applying research to classroom practice right through to carrying out practitioner enquiry projects and sharing new findings.
What links does this have with the University of Strathclyde?
'The Teacher's Guide to Research' links to a number of Strathclyde initiatives, including successful practitioner enquiry events at the Engage with Strathclyde weeks in 2018 and 2019, and our ongoing collaborations with numerous schools. Research engagement is a process which stands to improve educational standards and can help with teacher retention, and this book aims to equip teachers with the tools they need to apply existing findings or carry out their own research projects.
This is Jonathan Firth's ninth book, and the fourth to be published this year.