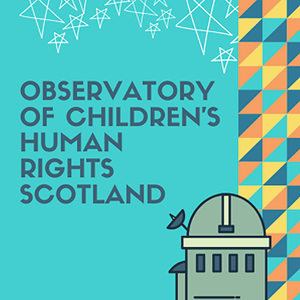 A collective of more than fifty children's charities and experts call for urgent action to ensure the incorporation of the United Nations Convention on the Right of the Child into Scots law makes a genuine difference.
Scotland's first national observatory of children's rights was launched in Edinburgh today (February 28th February) with Professor Jennifer Davidson, Executive Director of Inspiring Children's Futures and Executive Director of the Centre for Excellence for Children's Care and Protection, joining the Minister for Children Maree Todd, children, and observatory partners, for the launch. The Observatory is an inter-disciplinary collaborative of organisations including the Universities of Edinburgh and Strathclyde, Together (Scottish Alliance for Children's Rights), Children's Parliament, Scottish Youth Parliament and the Children and Young People's Commissioner Scotland. Alongside the launch of this new resource for Scotland, Together, the Scottish Alliance for Children's Rights, published the latest State of Children's Rights progress report setting out the current status of children's rights in Scotland.
The Observatory aims to bring together children and experts from across Scotland to amplify the impact of research on policy debates, both nationally and internationally. It will work to improve the day to day lives and experiences of children and young people.
The State of Children's Rights report plays an essential role in enabling the UN Committee to hold the Scottish and UK governments to account regarding implementation of the United Nations Convention on the Rights of the Child (UNCRC). It details a number of areas where substantial progress has been made in recent years, while also drawing attention to areas in which Scotland currently falls short of ensuring children's rights are being met.
In particular, the report highlights the importance of delivering a key government pledge to incorporate the UNCRC into Scots law by 2021.
At present, the Scottish Government plans to present a bill that directly incorporates the UNCRC provisions that fall within devolved powers, but experts say rapid progress is needed. In order for the UNCRC to be written into Scots law by 2021, the bill must be introduced to the Scottish Parliament within a matter of months to ensure children's human rights are fully protected, supported and promoted.
Additionally, the report points to Britain's exit from the European Union and the subsequent loss of human rights protections as a further reason for Scotland to incorporate the UNCRC into Scots law. It also highlights child poverty as the main indicator of Scotland's long way to go to ensure children's human rights are protected and enforced.