Our work here in the School of Education spans across the world. We're helping to make a difference in many different countries through our international links and our researchers have projects with colleagues in
Our international links
We have links and partnerships in:
Japan
Australia
USA
Canada
China
Malawi
Saudi Arabia
Thailand
International projects
Canada
Reconsidering the demise of the female tradition in physical education: its legacies and impact upon current practices in physical education for girls.

This is a research project funded by the Social Science and Humanities Research Council of Canada. The project is being carried out by Professor David Kirk of the University of Strathclyde and Professor Patricia Vertinsky, University of Columbia. It will run from 2014-2018.

An edited book from an associated project will be published by Routledge in March 2016. Read the synopsis and pre-order your copy online.

Yvette Taylor

Yvette Taylor held the Lillian Robinson Fellowship Concordia University (2009) where she presented her monograph Lesbian and Gay Parents: Securing Social and Educational Capitals (Palgrave, 2009). She was a visiting scholar at McGill University (2013) where she presented 'Excessive Presences? Class, Gender, Sexuality and the 'fit' to Place', as part of McGill's Esquisses Series, and completed the edited collection The Entrepreneurial University. Public
Engagements, Intersecting Impacts (Palgrave, 2014)
China
Since 2014, Strathclyde University has developed a partnership with Nanjing Normal University. This partnership includes a range of activities from student exchanges and cultural engagements, to emerging research interests and collaborations. Researchers from both institutions have engaged in various forms of exchange in a wide range of fields, such as children's development, teacher education, curriculum and pedagogy, and social justice. In April 2017 this collaboration was cemented by a very successful Strathclyde-Nanjing educational research symposium which included presentations and discussion from the following academics from Strathclyde, Nanjing Normal University and East China Normal University : Prof Donald Christie; Dr Xuefeng Qiao; Dr Paul Adams; Dr Rong Zhang; Dr Claire Cassidy; Dr Xiaoling Wu; Dr Wei Shen; Dr Alan Huang; Dr David Lewin; Prof Kate Wall.
USA
Girls, Gender and Physical Education: An Activist Perspective

This is a book which was published in August 2015, written by Professor David Kirk, University of Strathclyde, and Professor Kimberly Oliver, New Mexico State University. It was published by Routledge, publication June 2015.

An associated project is now underway in Glasgow schools: Adolescent girls valuing the physically active life: An Activist Approach. The project will run from August 2015-June 2016.

Yvette Taylor

The receipt of a Fulbright Distinguished Scholars Award held at Rutgers University (2010-11), enabled Yvette Taylor to complete her book Fitting into place? Class and Gender Geographies and Temporalities (Ashgate, 2012), presented as an author meets critics' session at the Pacific Sociological Association. Yvette also published 'Queer Presences and Absences: Citizenship, Community, Diversity – or Death' (2011) Feminist Theory 12(3): 335-341 and was invited to present the paper at the Department of Urban Studies, Sociology, St. Peter's College for Women's History Month. During her stay Yvette participated in the One to World Global Classroom, teaching in New York schools. Yvette also held a visiting fellowship at the Beatrice Bain Research Group, University of Berkeley California (2012), developing her work on sexual-religious citizenship, culminating in the edited collection Queering Religion, Religious Queers (Routledge, 2014).
Australia
External provision of the school curriculum: Local needs to global networks in Health and Physical Education

This is a research project by Professor David Kirk, who is co-Investigator with Professor Doune Macdonald et al, University of Queensland.

It's funded by the Australian Research Council funded, and will run from 2014-2016.

Professor Kirk is an Honorary Professor of Human Movement Studies with the University of Queensland.

Talking Transitions Conference, Sydney

Professor Aline-Wendy Dunlop was an invited keynote speaker at Talking Transitions Conference, Sydney, NSW, Australia, August 6 & 7 2015. "Aspirations: moving in, on, up and out"

Yvette Taylor

Yvette Taylor was a visiting scholar, Freilich Foundation, The Australian National University (2012), where she presented 'Using Research, Measuring 'Publics', Impacting Place'. During this time Yvette completed an edited collection Educational Diversity: the subject of difference and different subjects (Palgrave, 2012).
Japan
Tsukuba Summer Institute (TSI)

Professor David Kirk co-Directs a Graduate Research Seminar each July at the TSI with colleagues from the USA and Australia.

Up to 40 students from a range of countries attend. The Research Seminar is an intensive week of research training for students about to enter or in the first year of their PhD.

Early social development: An embodied, ecological, and intersubjective approach

Collaborative research between Professpr Koichi Negayama and his team at Waseda University, including Professor Keiko Momose, and Dr Jonathan Delafield-Butt at the University of Strathclyde conducting the world's first motion-capture analysis of cultural differences between Japan and Scotland in infant-adult interactions. This project is funded by the Japan Society for the Promotion of Science and grants from Waseda University and the University of Strathclyde. The first paper from this project is available free to download from Frontiers in Psychology.

JSPS Loch Lomond Symposium on Action Anticipation

Together with Professor Koichi Negayama (Waseda) and Professor Vasu Reddy (Portsmouth) we recently we hosted the Japan Society for the Promotion of Science Loch Lomond Symposium on Action Anticipation at the Ross Priory, a unique University of Strathclyde conference facility at the edge of the Scottish Highlands. The symposium included invited speakers from Japan, Italy, and the United Kingdom, with participants from New Zealand, Canada, Denmark, Germany, Poland, and the UK for discussion on the role of movement in early learning and psychological development.
Taiwan
In September we welcomed a delegation from Wenzao Ursuline University in Taiwan to discuss potential partnerships at both undergraduate and postgraduate level in the area of languages. The discussions were both friendly and productive and we're now looking forward to working towards an agreement that will encourage future collaborations.
Saudi Arabia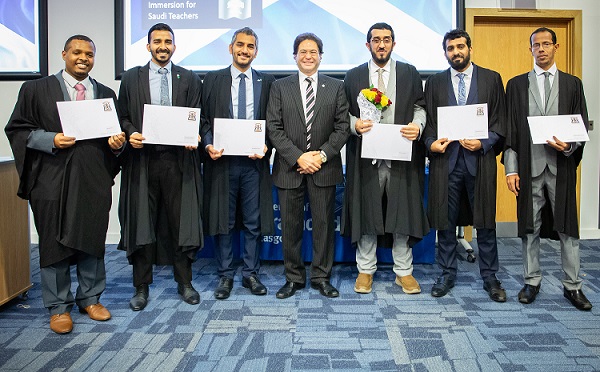 Professional Development Programme

This programme is being run by Dr Ghita and staff from the School of Education. A longer term collaboration contract was successfully secured within a competitive market to undertake a programme of staff development at Al Jouf University, Saudi Arabia, focusing upon approaches to effective teaching, learning and research. The programme contributes both towards the professional development of staff at Al Jouf university and towards professional accreditation.

In 2018, the School of Education at Strathclyde University successfully secured a contract with the Saudi Ministry of Education to deliver the programme: 'Building Leadership For Change through Educational Issues, Impact and School Immersion' for both primary and secondary "Khebrat" teachers.

The participants were awarded a post graduate certificate which leads on to Master and PhD degrees.

The programme was recommended to be an example of excellent strategic development in the faculty of Humanities and Social Science.

Strathclyde University is one of only a few universities in the UK to be selected to participate in this ambitious programme.
Poland
Germany
Multi-professional support for children with hearing, speech and communication impairments
in inclusive contexts

A Memorandum of Understanding has been signed between the Faculty of Humanities at Leibniz Universität Hannover and the Faculty of Humanities & Social Sciences at the University of Strathclyde for academic and student research exchange between the Universities. This formal understanding supports collaborative research on early child development and the role of disruption to motion, emotion, and social connection in development of learning and speech and language disorders, including autism, between Professor Ulrike Lüdtke's team at Hanover and Dr Delafield-Butt's team at Strathclyde.
Italy
Ecological motor assessment of children with Autism Spectrum Disorder

Dr Jonathan Delafield-Butt and his team are working with with Biomedical Engineers Professor Cecilia Laschi and Professor Francesca Cecchi at the Scuola Superiore Sant'Anna, Pisa, to improve assessment tools for children with autism spectrum disorder using bespoke instrumented toys and wearable devices for ecological 'serious' gameplay. This project is an extension of an EU FP6 project re-invigorated by a Erasmus student Veronica Chiara Zuccalà from the University of Pisa to Strathclyde. It is currently funded by a Strathclyde-Capita Studentship and generous wearable development from ST Microelectronics (Italy, Switzerland).
Republic of Ireland
Transatlantic Forum in Inclusive Early Years, Dublin

Professor Aline-Wendy Dunlop was invited to present at the Transatlantic Forum in Inclusive Early Years, Dublin, organised by the King Baudouin Foundation, Belgium, Presented paper "Facilitating Continuity between Care and Education in Scotland".
Hungary
Europe with Scotland, Sweden, Iceland, New Zealand and Australia
Marie Curie International Research Staff Exchange Scheme - FP7-PEOPLE-2012-IRSES

Pedagogies of Educational Transition - Professor Aline-Wendy Dunlop was Scottish Project Lead, in collaboration with Dr Helen Marwick, Dr Rob Mark, Joan Martlew, Deirdre Grogan and Jenny Carey.

2012 – Introductory Work package – led by Strathclyde
2013 – Australia (Mapping Transitions) and Sweden (Diversity & Inclusion)
2014 – New Zealand (Indigenous Issues) and Iceland (Curriculum Continuity)
2015 – New Zealand (Learning Journeys) and Scotland (Transitions as a Tool for Change, Work Package 7 – September 12 to 25 2015; Led by Strathclyde)
2016 – Australia (Into the Future)
Malta
International Masters in Early Education and Care, 2011 to 2015, University of Malta

Professor Aline-Wendy Dunlop is an annual guest teacher on the International Masters in Early Education and Care, University of Malta. Professor Dunlop will be teaching from 5 to 12 November 2015. (An ERASMUS MUNDUS curriculum development coordinated by the Universities of Malta, Oslo and Dublin Institute of Technology. Course developed from the European Masters in Early Education and Care (Universities of Strathclyde, Leipzig-Halle Wittgenstein, Oslo, Gothenburg, Malta & Dublin Institute of Technology)
France
Presentation of paper at Petite Enfance, Socialisation et transitions, 13 to 14 November 2015

Professor Aline-Wendy Dunlop presented "Childminders, home based day care and young children's transitions".