S@S Accelerate 2015: Education Challenge
24 pupils, from 14 schools and 10 local authorities, attended the 2015 Accelerate Education Challenge at the University of Strathclyde. The programme is run by staff from the University's School of Education and Widening Access Team and offers senior school pupils who are interested in studying Education at University the opportunity to find out more about their potential degree course and career path.
Supported by undergraduate and postgraduate School of Education student mentors, pupils worked in mixed groups to complete a number of activities including:
team-teaching sessions
workshops on problematic scenarios
cooperative learning and analysis of a cross-curricular lesson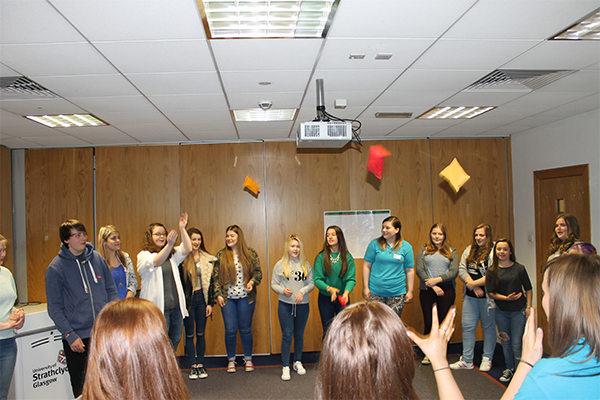 Groups then designed their own cross-curricular lessons and presented these to a panel of experts. The programme also featured a careers/industry event with professionals from a range of careers in Education including:
primary
secondary
additional support needs
residential units
adult learning
representatives from Strathclyde's primary & secondary teaching courses
The programme has a strong focus on Widening Access to Education at University:
66% of participants in 2015 came from MD40 postcodes (the 40% most deprived postcodes in Scotland as measured by the Scottish Index of Multiple Deprivation)
58% were from schools with Higher Education Progression Rates that are less than the national average
Evaluation of participants showed that the programme is very successful in raising pupils' awareness of, and aspiration to study, Education courses at University and their confidence that they can successfully do so. Pupils also found the programme beneficial in terms of developing their career-specific and personal skills and greatly enjoyed working with Strathclyde's School of Education students who act as inspirational role models and as a source of advice and guidance.
What did the participants think about the challenge?
An amazing experience. Would thoroughly recommend to EVERYONE!

I learned how much work goes into planning a lesson for a class. I found out different things that I would take into consideration in the future.

I thought this was a great opportunity to learn more about Education.

I loved working in a group and having a friendly mentor who helped make the program a lot more comfortable and fun.

I think it was a fun experience meeting new people and finding out more about primary and secondary teaching.

An absolutely INCREDIBLE EXPERIENCE! One week is not enough! Leaving with so many memories and friends!