Students attend Five Nations Citizenship Network Conference
30 November 2015
Two BA3 student teachers from the School of Education at Strathclyde (Sharon Gow and Katie Mair) and three PGDE Modern Studies students from the University of Glasgow were invited to join the delegation from Scotland at the Five Nations Citizenship Network Conference in Cardiff.
This unique network, funded by the Gordon Cook Foundation, provides an opportunity for delegates from Scotland, England, Northern Ireland, Republic of Ireland and Wales to take part in professional dialogue with leading academics and a range of practitioners working in the field of Citizenship Teaching.
Living in challenging times
The theme of this year's conference was: The Role and Identity of Teachers of Citizenship in Challenging Times. Delegates were asked to consider the wide range of citizenship contexts and were asked specifically how to move practice on from the 'softer' issues that many teachers feel comfortable with.
Given that we are living in challenging times, it's important that the curriculum provides a safe space to explore more controversial issues.
Reference was made to the recently published Sustainable Development Goals and in particular Target 4.7:
By 2030, ensure that all learners acquire the knowledge and skills needed to promote sustainable development; including, among others, through education for sustainable development and sustainable lifestyles, human rights, gender equality, promotion of a culture of peace and nonviolence, global citizenship and appreciation of cultural diversity and of culture's contribution to sustainable development.
The conference provided an opportunity for teachers to identify the skills and knowledge required to teach a range of citizenship topics and to discuss potential barriers and challenges to this work. Delegates were offered a range of workshops and seminars including:
Teaching Controversial Issues
Exploring Migration
Citizenship Across the Nations
They also had the opportunity to hear from a range of keynote speakers, including teacher activist Jamie Kelsey-Fry, author of the RAX Citizenship Toolkit.
The delegation from Scotland also included:
Calumn Downey, Stacey Vickers and Heather Henderson (Glasgow University)
Jordan Linden (Chair of the Scottish Youth Parliament)
Gary Walsh (Character Scotland)
David Leng (Director of Education at Stirling and Clackmannanshire Council)
Claire Dunphy (teacher at St Eunan's Primary School, Clydebank)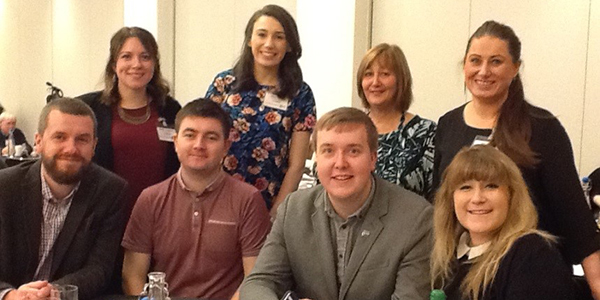 The group were invited by Elaine Watts from the University of Strathclyde and Cathy Begley from Children and Young People's Commissioner Scotland, who both sit on the strategy group of the Five Nations Network.
Reflecting on the conference, Katie Mair from Strathclyde, said:
It was inspiring and I have taken lots away from it. Citizenship is something I really needed to learn more about. Thank you again for the opportunity.
Stacey Vickers from Glasgow University added: "I left the Five Nations Conference feeling inspired to take what I have learned about citizenship into the classroom. Meeting such a range of passionate individuals provided me with ideas and knowledge on how to best implement citizenship. The conference offered alternative perspectives reinforcing that there is a lot to gain from sharing our experiences."
The full conference report will soon be available on the Five Nations website.
Elaine Watts