Sodertorn Summer Academy - Megan Cooke and Kirsten Hercus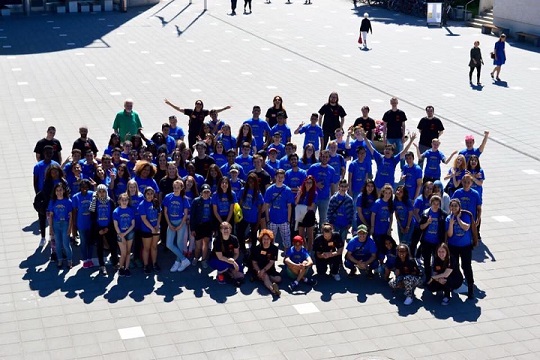 Two Strathclyde School of Education students have worked on a widening access programme for disadvantaged secondary pupils at a partner University in Stockholm. Megan Cooke and Kirsten Hercus mentored groups of Swedish pupils on the Summer Academy @ Sodertorn University, encouraging them to consider University study in the future.
The School of Education has a long-standing working relationship with Sodertorn University in the south of Stockholm. For many years, Swedish secondary pupils would attend the University's flagship widening access programme, the Summer Academy @ Strathclyde, which ran for 12 years until 2010. Following this collaboration, Sodertorn University set up their own widening access initiative, 'The Summer Academy at Sodertorn', which has been running since 2013. The programme was based on the two-week Strathclyde programme model and targeted the local authority areas in Stockholm, many of which have large immigrant populations, whose pupils have the lowest rates of progression to University.
The School of Education has had an Erasmus agreement with Sodertorn's Education department since 2014 and 16 third year Strathclyde students have been on exchange to Stockholm, either for a full semester of studies and school placements or for individual nursery school placements. In 2016, under the new Erasmus Plus guidelines, two third year students, Megan and Kirsten, were able to undertake their nursery placement through Sodertorn and then stay on in Stockholm to work as student mentors on the Sodertorn Summer Academy.
The two students had a variety of roles during the two week programme as they led groups of pupils through a series of interactive activities designed to raise their awareness of, and aspiration to attend, University and inspire them to engage more with formal education.
Kirsten and Megan also had an important role in designing and leading activities to encourage pupils to improve their level of English and made sure that the Swedish pupils, and their fellow mentors, also learned lots about Scottish culture.
Kurt Wallboom, the Project Manager in charge of the Sodertorn Summer Academy, was effusive in his praise for the Strathclyde students; "Megan and Kirsten brought Scotland to Sweden, inspiring young people from the Stockholm suburbs to see the similarities and the differences... They were perfect role models - good-humoured and positive in their contribution to a first in our Summer Academy - an English speaking activity group."
Kirsten Hercus:
"The Summer Academy at Sodertorn was an incredible experience, I loved every minute of it. I bonded with all the mentors very quickly and had the opportunity to socialise in an informal setting as well. I was made to feel very welcome by all the mentors and they all made a big effort to make me feel comfortable.
The language barrier was not something I deemed as a problem. The fellow mentors in the English group were always kind enough to translate any small messages that were in Swedish to ensure we were included. When speaking to the students, I realised quickly I needed to slow down my speech and try to lessen my 'Glasgow accent'. This being said, the Swedish pupils were always eager to get me saying certain Scottish words and phrases and were very interested to learn about Scottish culture. Many lunches were spent in the cafeteria swapping stories with the pupils and learning about each other's cultures. I thought it was extremely valuable to use lunch time to bond with the students outside of the classroom. I learned much more about the students themselves and their characters during this time.
I believe the experience was extremely beneficial to both myself and the children involved in the programme. In terms of my own personal growth, I believe I developed a better awareness of the struggles students face when learning a language that is not their own. To ease this process, we developed lots of fun games and activities to get them using their vocabulary in a more relaxed setting. This was a theme that we continued throughout our time at the Academy. The mentors and I wanted to create a learning environment for the students where they felt comfortable and confident enough to use their English.
Each student had a different level of knowledge of the English language. For some, it was simply a matter of building their confidence. Towards the end of the programme, the same children were now much more confident and this was shown by two of the students performing a speech at the final graduation. I worked with the two students on their speech and saw their transformation from the nerves during rehearsals to the confidence shown during the graduation. For others, the challenge was that their knowledge of English was almost non-existent. To aid these students, we created differentiated activities suited to the student ability levels. This worked very well as myself and the fellow mentors were able to help and challenge all the students.
The whole experience of the Summer Academy was extremely humbling. The students were very grateful for my help with their English. At the end of the programme, so many expressed their thanks for not only helping with their English but for providing fun and enjoyable experiences. I hadn't realised how much of a connection I had with some of these students until it was time to say goodbye. This was shown by the amount of tears that were shed at the end of the programme by myself and the students.
My time at Sodertorn Academy was both enjoyable and a valuable learning experience. I was challenged every day with the teaching but this was an extremely rewarding challenge and one which I welcomed. I can honestly say there wasn't a single day I didn't thoroughly enjoy and gain experience from. If circumstances would allow for it, I would most definitely jump at the chance to return next year!"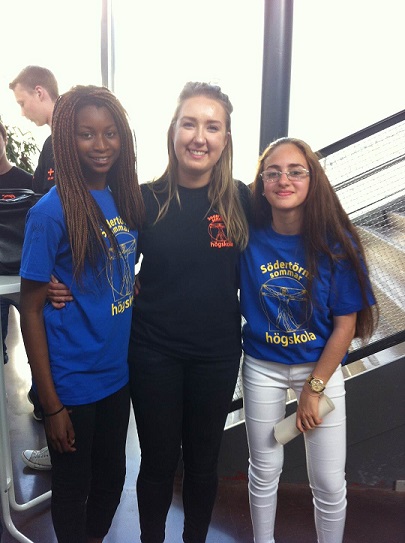 Megan Cooke:
"Having been a part of the programme, I can undoubtedly say it was one of the most rewarding experiences I have had. One of the things that surprised me the most, was the connection and relationships that you built with the pupils over such a short period of time – this made the 8 days all that more worthwhile and special.
Neither of us had been on a programme like this, nor had either of us really worked with children of this age group, as our degree focuses on 3-12 year olds. So for both of us, the new age range was a challenge that we both welcomed.
Before the beginning of the programme, all four mentors on the "Let's Do It In English" programme met up to discuss a rough plan of what we were going to do with the group. We came up with a variety of ideas so that we had options in case things did not go as planned. We based our ideas on what we thought would be relevant to the children today.
During the programme, we tried to give numerous opportunities for the children to create memories and we used our Scottish identity as a means to engage the children. Many of the activities we did used the justification that we were explaining and discussing in English – therefore the children were communicating with one another in English to improve their skills. Overall the children made a real effort to speak English.
The mentors we worked with were both from very different backgrounds in terms of their experiences with children and education – however, we really feel this worked in our favour and helped us to bond together as mentors. In addition to this, the children then responded very positively to the mix of personalities and all felt comfortable due to us all accepting their ideas and adapting our plans to suit the individual child.
Overall, the experience we both had at the Summer Academy was unforgettable and we really appreciate the opportunities that we were given and the experiences we had. Throughout our time we bonded with the children beyond expectation and created memories for life. The programme is undoubtedly very beneficial for the children and allows the children to feel accepted and motivated in whatever they choose as their path for the future.
The Summer Academy was brilliant. Myself and Kirsten had the most amazing time. It was a challenge that we both really enjoyed and found interesting. It was a very beneficial experience for us in terms of comparing the education systems in both countries. We both hinted very heavily that we would be more than happy to come back!"