Alasdair Gray and Glasgow
Alasdair Gray was born in 1934 in Riddrie, Glasgow. Often referred to as a polymath, he dedicated his life to 'making imagined objects' across space and form. Both an artist and writer from an early age, Gray has until recently been best-known for his literary output.
Alasdair Gray was arguably the most acclaimed and most influential writer in post-war Scotland. His 1981 debut novel, Lanark, is widely seen as ushering in a fertile period not only for Scotland's literature but for its arts as a whole. In the words of Scotland's ex-Makar and Gray contemporary Liz Lochhead, he is partially responsible for transforming that landscape.
Lanark, a lengthy and structurally unconventional work with concurrent realist and fantastical plots, was followed by a sequence of similarly complex, inventive novels including: 1982, Janine; Poor Things; A History Maker and Old Men In Love, as well as collections of short stories and poetry. There were also works of non-fiction, most notably political writings and the Book of Prefaces, and he held a Joint Professorship in Creative Writing at Strathclyde and the University of Glasgow alongside friends and long-time collaborators James Kelman and Tom Leonard, for two years, 2001-3. His final work, Purgatory, a translation of the second book of Dante's Divine Comedy, was published shortly before his death in December 2019. In addition, he was a highly accomplished painter and illustrator, producing the cover art for all his books and, in later years, creating murals in Glasgow locations including Hillhead underground station and the Oran Mor cultural centre in the city's West End.
It is hard to think of an artist more closely connected to their cultural landscape than Alasdair Gray is to Glasgow, which is why Alasdair Gray Studies are very much a kind of Glasgow Studies. Gray's art is highly visible in Scotland and, though much essential work is elsewhere, its presence is most evident in the city he has spent his life in. In terms of the visual practice, much of that life has been dedicated to preserving Glasgow's disappearing past and imagining Scotland's possible futures, in his view of Scotland as a place with the unfinished business of national self-determination. In the West End, where he lived, Gray seems inescapable. Thousands witness his work every day, simply by travelling there, and his presence is not only visible in his murals strewn throughout the city - the murals are only part of the bigger picture changing over time.
Famously referred to by Anthony Burgess as "the greatest Scottish writer since Walter Scott" and by Will Self as "possibly the greatest writer in this archipelago", Gray enjoys a literary reputation which continues to grow. Meanwhile, his visual practice has, until recently, been considered marginal even by his supporters, though in the last decade this has begun to change radically. A muralist whose work was being erased from the landscape for fifty years - either wallpapered over, knocked down, or neglected - his murals are now an integral part of the landscape he has helped to shape. Meanwhile, his work has been exhibited much more widely, and received much more attention, in the last few years than in the decades beforehand. After a 40-year lag, the visual practice is catching up with the literature, growing independent of it, reaching those who have no idea he is a writer. This late-in-life reinstatement of early visual works has met a new, interested audience. It's partly this change we wish to address at the 2nd International Alasdair Gray Conference.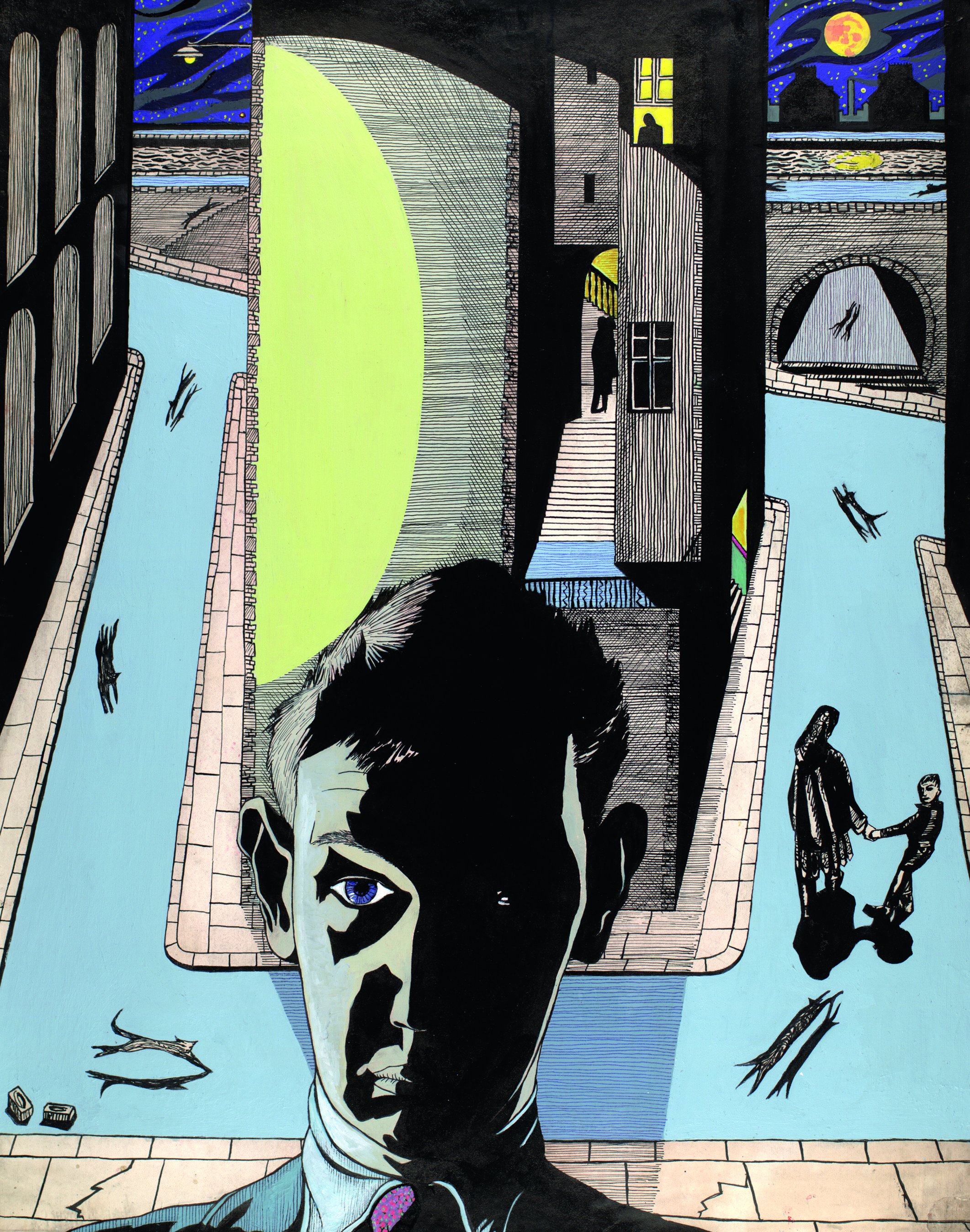 Night Street Self-Portrait, 1953, ink drawing, coloured 2006, 54.5 x 43 cm Photo by Ruth Clark Private Collection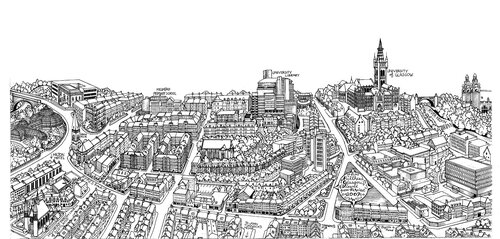 Old Men in Love, 2007, ink on paper, more than half copied from a drawing by Nichol Wheatley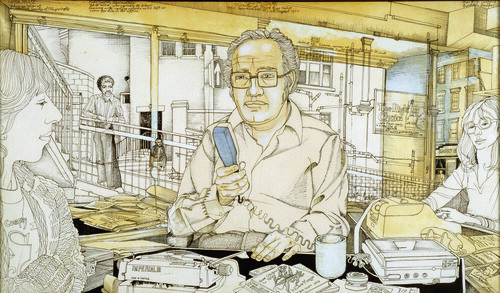 City Recorder: Tom McGrath in his office at the Third Eye Centre with secretary Linda Haase and view through the window behind Scott Street, 1977, pen, pencil, ink and watercolour on paper, 44 x 73.5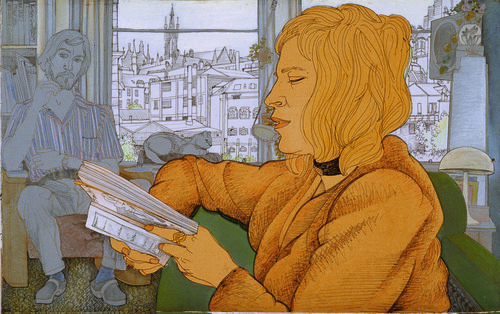 City Recorder: Liz Lochhead, 1977, ink, watercolour, acrylic and wax crayon on paper, 60.9 x 31.7 cm, Collection of Glasgow Museums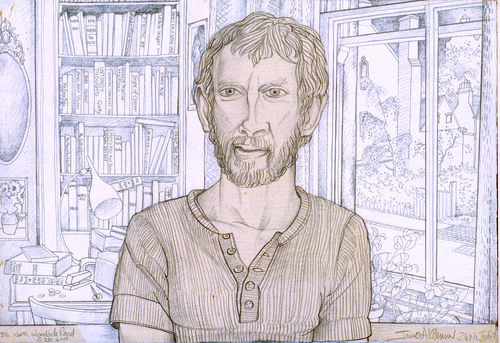 City Recorder: James Kelman at home, 1977, ink, watercolour, acrylic and oil on paper, 30.5 x 55.9 cm, Collection of Glasgow Museums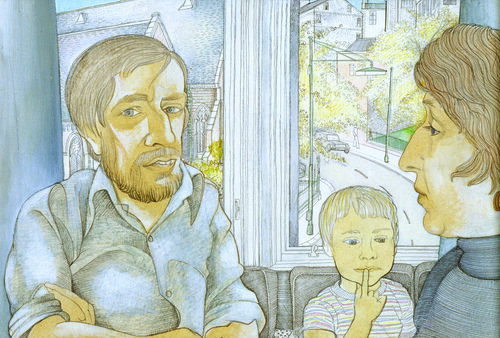 City Recorder: Tom Leonard at home, 1977, ink, watercolour, acrylic and oil on paper, 30.5 x 43.1 cm, Collection of Glasgow Museums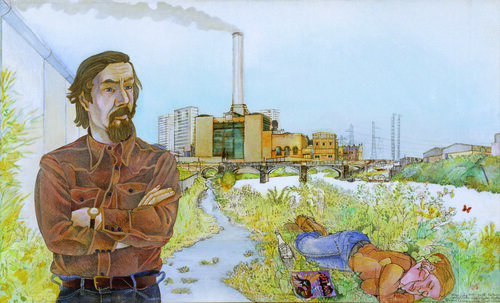 City Recorder: Archie Hind on the banks of the Clyde, Dalmarnock Power Station behind, 1977, pencil, ink and watercolour on paper, 54.5 x 89cm, Collection of Glasgow Museums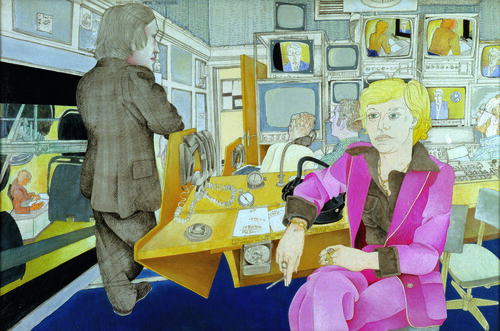 City Recorder: Malcolm Cooper and Fidelma Cook: Producer and Reporter in BBC News Gallery, 1977, ink, watercolour, acrylic and oil on paper, 52.5 x 77.4 cm, Collection of Glasgow Museums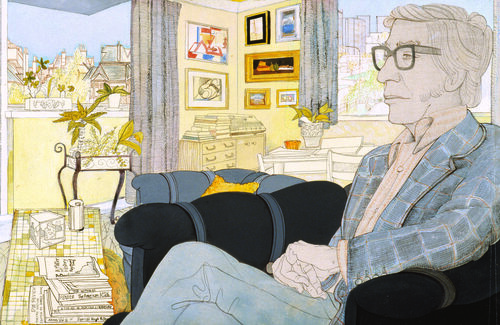 City Recorder: Edwin Morgan at home, 1977, ink, watercolour, acrylic and wax crayon paper, 33.3 x 61.6cm, Collection of Glasgow Museums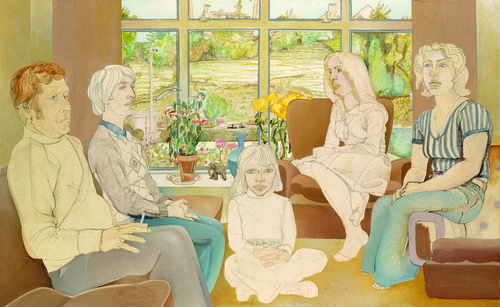 City Recorder: Jimmy Reid and Family at Home, 1977, acrylic, pencil on board (never completed) 81.6 x 132.2 cm, Collection of Glasgow Museums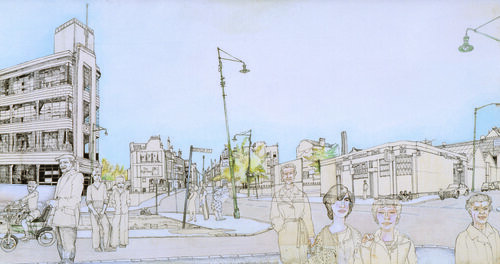 City Recorder: London Road between Templeton's Carpet Factory and Monaco Bar (End of Arcadia Street 111), 1977, ink drawing tinted with watercolour, acrylic and oil on paper, 70.7 x 132.7 cm