The first of the three objectives of the conference is to explore, interrogate, and hopefully rebalance the nature, value, legacy and reception of Alasdair Gray's prodigious output across visual art and literature in its many various forms, after decades of analysis of the literary art dominating that of the visual. Sometimes this will mean analysing the literature or visual practice independently of one another - though at other times it will mean considering the two in conversation with each other, as they often appear in Gray's murals, portraits, stories, landscapes, non-fiction and illustrations.
Another objective is to bring folk from around the world with an interest in Alasdair Gray Studies together in the home city of the artist. With murals across the city, so many portraits and landscapes portraying its people and places, also with a great deal of his literary objects concerned with Glasgow itself, Gray has become an integral part of the Glaswegian culture and political landscape. For that reason, we wish to bring together those interested in Gray's work in the place he has made his subject since the late 1940s. Ideally, the conference will be a meeting point between people working on different forms. We believe this coming together will bring a change in perspective in contrast to looking at Gray's work through the prism of separate disciplines.
Finally, we also aim to use Gray's artistic approach - that of making imagined objects across space and form, often integrating word and picture - as a model to inspire the writers and artists of the future in Scotland and beyond. An avowed recycler of both his own works and those of others, Gray's greatest creations were often a creative response to existing works by others. He never shied away from declaring those influences. And he believed that great new works are nearly always made out of old.
Our plan is to gather the proceedings of the conference in Making Imagined Objects, a planned book of critical, creative, and personal responses to Alasdair Gray's work, that would present the diverse findings, insights and artwork - both academic and creative - resulting from the conference and honour the Alasdair Gray's legacy in fresh, imaginative ways.
Who can be part of the conference?
We want to cast the net as wide as possible in terms of who can be part of this project. For the conference, we want to work with writers, academics, artists, curators, fans, critics, and those influenced by Gray and/or his contemporaries to make a genuinely dynamic, enjoyable interrogation of Gray's various works. As well as critical responses, we also invite creative responses to Gray's work, as well as hybrid, creative-critical ones. The conference will be academic in nature but will welcome contributions from those outside academia as well. In short, those who might not usually consider themselves welcome at this kind of event are very welcome indeed.
It is important to us that projects are meaningfully, genuinely diverse, so we are particularly interested in hearing from those who can make the conference more reflective of our many diverse communities. That means fully representing women, people of colour, international friends across borders, also a variety of cultures, languages, and traditions, as well as involving the LGBTQ+ communities. The more diverse we are, the better the conference will be.
Beyond the Conference - Join the International Alasdair Gray Research Network
Our wish is that the community gathered around the Conference stays in touch for future Gray projects. This is why we established the International Alasdair Gray Research Network. We hope the Research Network will include not only scholars, but also artists, writers, critics, curators, theatre makers, teachers, as well as people associated with various cultural events, festivals, and organisations. We would like to reach as many new people as possible - all those with an interest in Alasdair Gray's various works across space and form.
The Research Network has the long-term ambition of becoming a critcial international hub for all things Gray, though at the moment the focus is on several projects interlinked with the conference.
If you want to be on the database, contact Rodge Glass at r.glass@strath.ac.uk.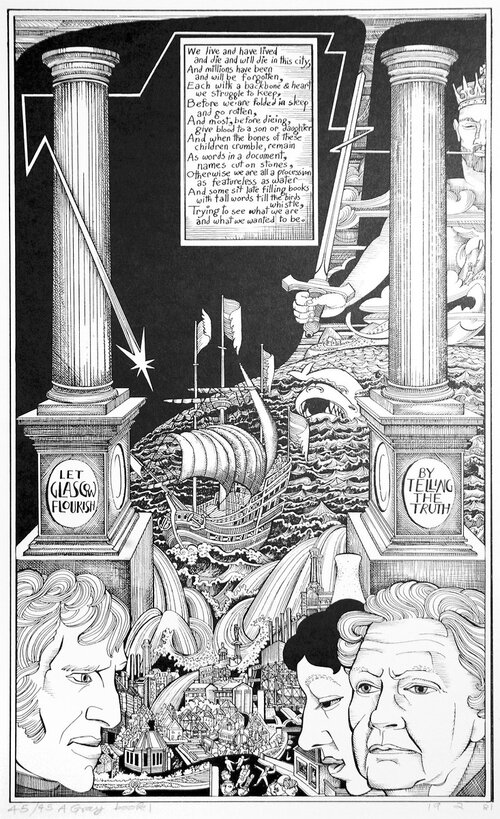 Lanark (Book 1, frontispiece), 1982 Framed print produced with Glasgow Print Studio, 73 x 51 cm Photo by Ruth Clark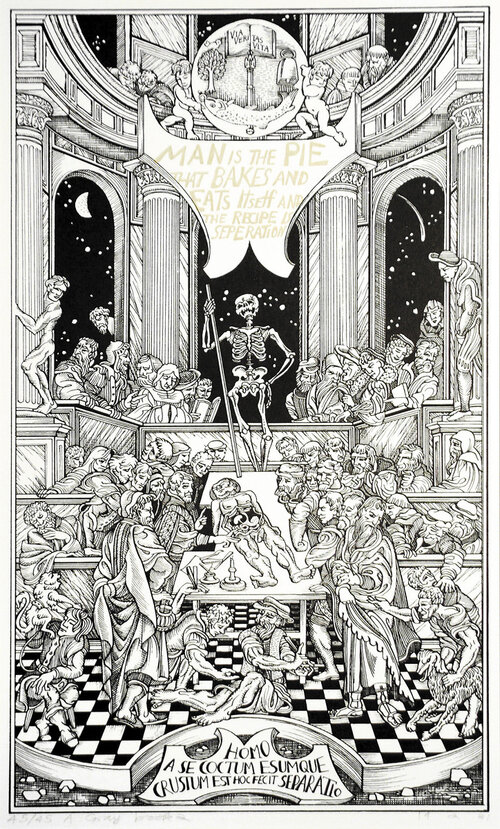 Lanark (Book 2, frontispiece), 1982 Framed print produced with Glasgow Print Studio, 73 x 51 cm Photo by Ruth Clark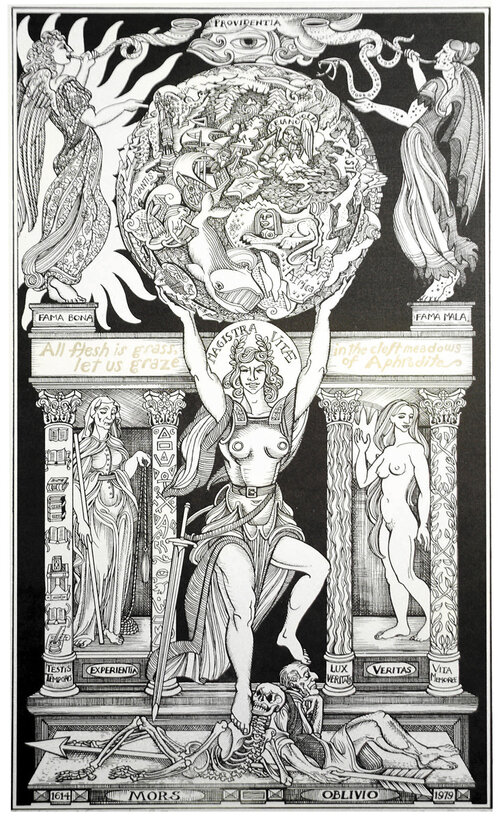 Lanark (Book 3, frontispiece), 1982 Framed print produced with Glasgow Print Studio, 73 x 51 cm Photo by Ruth Clark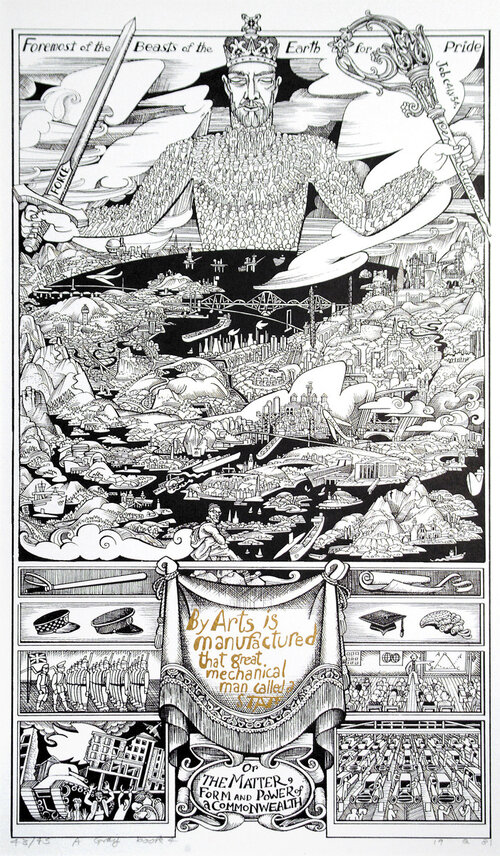 Lanark (Book 4, frontispiece), 1982 Framed print produced with Glasgow Print Studio, 73 x 51 cm Photo by Ruth Clark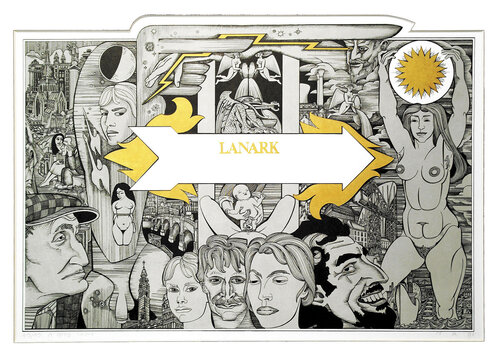 Lanark (Cover), 1982 Framed print produced with Glasgow Print Studio, 51 x 73 cm Photo by Ruth Clark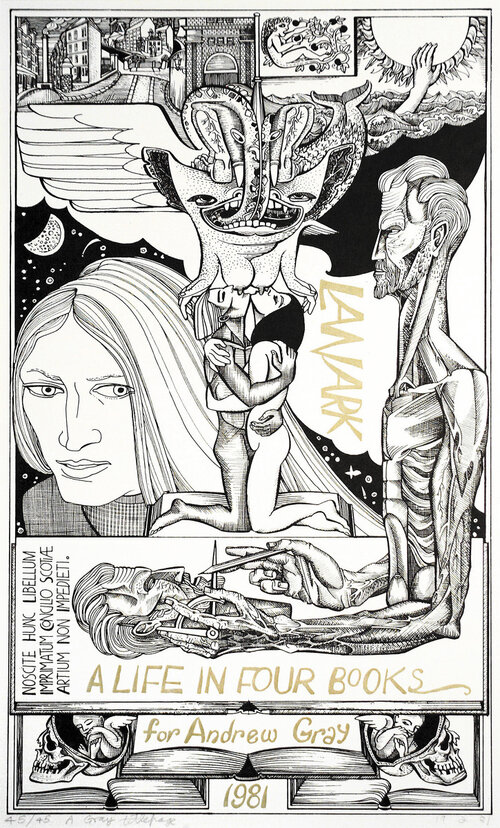 Lanark (Title Page), 1982 Framed print produced with Glasgow Print Studio, 73 x 51 cm Photo by Ruth Clark