We're excited to be in the final stages of completing our new Learning and Teaching Building in the heart of campus! Now we're looking for our staff and students to name the two wings of the building.
Historically, no buildings on campus have been named after women, or indeed, to reflect the fantastic diversity of our University community. We want to remedy this.
Student and staff representatives have identified a list of inspirational women the University would like to honour in some way. The only guide this group was given was to collate a list of individuals who have an association: with Strathclyde as a university or any of its previous incarnations stretching back to 1796; to the city of Glasgow or to Scotland; or any other relevant connection to Strathclyde as a socially progressive, leading international technological university; and our founding mission as the 'Place of Useful Learning'.
We will be using the design of the building to honour two people. The two names will be for the 'North Wing' and 'South Wing' of the Learning and Teaching building - bringing together the Architecture and Colville buildings.
We would now like our staff and students to choose who to honour.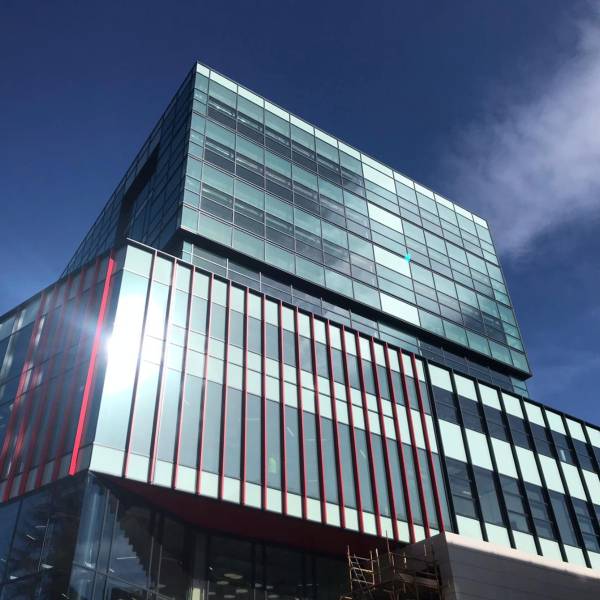 Professor Dame Jocelyn Bell Burnell - Astrophysicist
Professor Dame Jocelyn Bell Burnell is an astrophysicist who was responsible for the discovery of pulsars while a radio astronomy graduate student at the University of Cambridge. She was overlooked for a Nobel prize in favour of her male collaborators when as a 24-year-old PhD student she discovered a new type of star known as a pulsar.
She has subsequently worked in gamma ray, X-ray infrared and millimetre wavelength astronomy. She currently holds a Professorial Fellowship in Mansfield College, University of Oxford, and is a Visiting Academic in their Department of Physics.
She was awarded the Michael Faraday Prize in 2010 and a Royal Medal in 2015. In 2018 she was awarded the Special Breakthrough Prize in Fundamental Physics for her work on pulsars and she donated the prize to the Institute of Physics to fund graduate scholarships for underrepresented groups. A member of seven Academies worldwide, she was the first female President of the Royal Society of Edinburgh, as well as of the Institute of Physics. She is currently Chancellor of the University of Dundee and was previously a Pro Vice Chancellor of Trinity College Dublin. She gained a BSc from the University of Glasgow, a PhD from the University of Cambridge and holds numerous Honorary Degrees.
Professor Blodwen Binns - Botanist, Bacteriologist & Biologist
Professor Binns joined the staff of the Royal Technical College in 1926 after studying at University College, Aberystwyth, and she later completed a PhD at the University of Glasgow. She travelled widely for her research, including to Naples to study Dinoflagellates; to the University of Geneva to study Alpine flora; to the Pasteur Institute to study the diphtheria organism; to the University of California to study marine bacteria and along the Amazon River to collect specimens. In 1939 she was offered a Senior Fellowship in New York but it was interrupted by the outbreak of World War II at which point she returned to Glasgow and joined the Ministry of Labour, becoming successively Welfare Superintendent and Personnel Manager in the Training Scheme for Women in Engineering, and Woman Power Officer. In 1944 she moved to the British Council in London to become Secretary of the Science Department and Deputy to the Director.
She later became founder Chair of the Glasgow Film Society, Chair of the British Universities Film Council and Vice-President of the Andersonian Naturalists. In the 1960s she was offered a Visiting Professorship at the University of Malawi. Seven years later, having written a book on the flora of Malawi, she established a Malawi herbarium and chose the flowers for two sets of Malawi postage stamps. She died in 1991 leaving a bequest to the Glasgow Natural History Society which funds an annual research prize and makes grants towards research projects.
Professor Mary Dunn - The University's first female professor & Head of Department
Professor Dunn studied at the University of Glasgow, gaining a degree in Economics and graduating with an MA in 1955. Afterwards she took on her position at the Scottish College of Commerce. During her time in the department she developed the courses on offer, including the introduction of a post-graduate Diploma in Secretarial Studies.
She was appointed head of the Department of Secretarial Studies at the Scottish College of Commerce in 1962. She became Director of the new Centre for Secretarial Studies which was created in 1969, the first female Head of Department at Strathclyde. She went on to become the University's first female Professor in 1975.
Outside of her career she was heavily involved in the Girl Guide Association.
*No image available of Professor Mary Dunn
Isabella Elder - Philanthropist
Isabella Elder was a philanthropist who made gifts towards education and community. After her husband John Elder's death in 1869 she took over the management of his shipbuilding company for a short time before giving control of the company to her brother whilst she concentrated on charitable work.
In 1905 Mrs Elder gave an endowment of £5,000 towards the establishment of The David Elder Lecture series at the Glasgow and West of Scotland Technical College. This series continues today run by the University in partnership with the Glasgow Science Centre and delivers lectures relating to Astronomy from a variety of experts.
Many of her gifts were to the education sector and included gifts of £5,000 towards the creation of a Chair of Civil Engineering, and £12,500 to create the John Elder Chair of Naval Architecture – both at the University of Glasgow.
She also had an interest in widening education for women and she donated a building to Queen Margaret College at which a women's Medical School was formed. Much of her giving was focused on the Govan area of Glasgow where she established a School of Domestic Economy, the Elder Cottage Hospital and most famously created Elder Park. In 2015 the University of Glasgow renamed a building (formerly known as Estates & Buildings) in Mrs Elder's honour.
Professor Jackie Kay CBE - Poet & Novelist
Professor Kay is an author and poet who has written extensively for stage, screen and for children. Her first book of poetry, The Adoption Papers, won numerous awards including a Scottish Arts Council Book Award, a commendation by the Forward Poetry Prize judges and the Saltire Society Award for best first book in 1992. Her debut novel, Trumpet, won the Guardian Fiction Prize in 1998 and in 2011 she won the Scottish Mortgage Investment Trust Book Award (Non-Fiction) for her memoir Red Dust Road.
She was appointed Chancellor of Salford University in 2015 in addition to a role as the University's writer-in-residence. She also holds the position of Professor of Creative Writing at Newcastle University. She was awarded an MBE in 2006 and a CBE in 2020, both for services to literature, and in 2016 she was appointed the new Scots Makar. She graduated from the University of Stirling with a BA in English Studies in 1983 and she holds honorary degrees from a number of universities including the University of Glasgow, the University of Stirling and St Andrews.