Scotland's Energy Strategy: an ambition too far?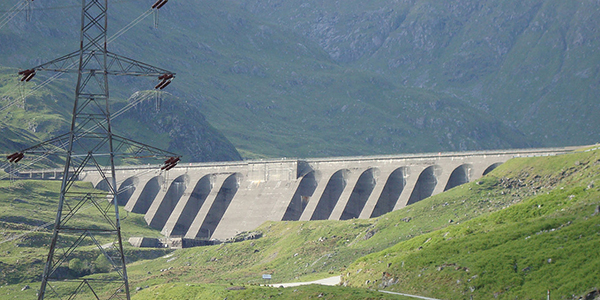 Dam at Cruachan Reservoir by Raining girl at English Wikipedia [CC BY 3.0 (http://creativecommons.org/licenses/by/3.0)], via Wikimedia Commons
Alf Young
Visiting Professor, International Public Policy Institute
alf.young@strath.ac.uk

13 February 2017, 5pm
THE Scottish government's new draft energy strategy, published last month, is hugely ambitious. In the past policy has focussed on how we generate the electricity we use. For the first time this strategy embraces all the energy we use. How we keep the lights on. Which fuels we use to move ourselves, and all the things that sustain our lives, around. And how we heat our homes, and the offices, shops, factories and other spaces we occupy.
Scotland's Energy Strategy, out for public consultation until the end of May 2017, seeks to reshape that overall energy mix and sets a central target. By 2030, it proposes "an all-energy target for the equivalent of 50% of Scotland's heat, transport and electricity consumption to be supplied from renewable sources". On the back of that target, it intends that, by 2050, how we energise every aspect of our lives will be almost completely decarbonised.
It is only when one unpicks where we are starting from on this journey that the sheer scale of the Scottish government's ambition is crystallised. In 2015, 43% of electricity generation in Scotland came from renewables (mainly onshore wind and hydro). Another 35% was produced by our two low-carbon nuclear stations at Hunterston and Torness. A further 17% was coal-fired, from Longannet, which closed last year. 4% came from the gas-fired station near Peterhead which, having lost out in a recent National Grid auction for stand-by capacity to help keep the lights on next winter, is also now facing complete closure.
Not just electricity, heating and transport too
Electricity only accounts for 22% of all the energy Scotland consumes. That share has been falling in recent years, thanks to technological advances and energy efficiency interventions. But if the other two big players in current energy consumption in Scotland - space and water heating and transport - are to make their contributions to the government's proposed 50% renewables target by 2030, electricity supply will have to grow substantially by then to wean them off their current hydrocarbon dependencies.
How we heat our homes and other buildings dominates energy consumption in Scotland, accounting for 53% of total demand. And that demand is predominately fuelled by natural gas. 79% of Scottish households currently use gas as their main domestic fuel. Another 6% use oil and 12% use electricity, especially in the North, being outwith the gas mains network.
Transport accounts for the residual 25% of overall energy use in Scotland. It too is still predominately hydrocarbon dependent. At the end of 2015 there were 36.5m vehicles registered for use on the roads in Great Britain. Just 310,000 - less than one per cent of the total - were classed as alternative fuel vehicles, running on gas, electricity or some hybrid variant.
How to deliver on challenging targets
So how does this draft energy strategy propose to deliver the challenging targets it sets itself? Between the 19th and the 31st of January, the Scottish government released ten discrete documents, running altogether to 864 pages. First there was a Draft Climate Change Plan, the third in a series required under the Climate Change (Scotland) Act 2009, this one updating policy through to 2032. It was accompanied by three evidence reviews, all commissioned from outside contractors.
Then there was the draft Energy Strategy itself, together with a separate energy efficiency statement, an onshore wind policy statement, and a further consultation on heat and energy efficiency strategies and the regulation of district heating. That was followed by a strategic environmental assessment report on both the Climate Change Plan and the Energy Strategy. Finally came another consultation, this one on the contentious issue of fracking.
50% of total energy from renewables: how realistic?
To get any kind of detailed answers to how this strategy proposes to deliver that 50% renewables contribution to overall energy consumption in Scotland by 2030, it proves more rewarding to look at the Draft Climate Change Plan (a document primarily aimed at parliamentary consumption) than the energy strategy itself.
There we find that, of the 2.65m households in Scotland in 2015 (61% owner occupied), 80% of the housing stock they occupy will still be in use by 2050. The energy efficiency of these homes is already improving and, through ongoing government policies through to 2025, will be further "significantly transformed". However, for the vast majority of these households, the 79% who currently burn gas for heat and hot water, that hydrocarbon dependency should, the strategy proposes, be largely a thing of the past by 2032.
A focus on increasing energy efficiency will dominate government strategy through till 2025, by which time use of (greener) electricity to heat homes will only have risen from its current 12% to 18%. However in the following seven years, through widespread deployment of heat pump technology and the creation of district heating schemes, gas will be virtually a heating fuel of the past. By 2032, the strategy predicts, 80% of all Scottish households will have been converted to these low carbon heat technologies.
Retrofitting 1.6 million homes: no small task
Nowhere in this blizzard of strategic words is there any sustained analysis of how, in the space of seven years, more than 1.6m Scottish homes can be (in the main) retro-fitted with these low-carbon technologies. What steps will be needed to create the commercial capacity to cope with supplying and retrofitting heat pumps and district heating grids to up to 250,000 homes a year from 2025 onwards? What might it cost? Who will pay? What scale of public subsidy will be required? Will the dominant owner-occupier group be free to choose whether to switch? Or will switching from gas eventually become compulsory? We simply are not told.
When it comes to road transport, government ambitions appear much more constrained. Its core target here is to increase the proportion of low emission vehicles in annual new car sales to 40% by 2032. Of the 3.21m vehicles first registered in Great Britain in 2015, the number classed as ultra-low emission totalled just 29,963 or 0.9%. The strategy is also anticipating half the Scotland-wide bus fleet will consist of low emission vehicles over the same timeframe.
More renewables AND continued North Sea oil and gas recovery?
It's not at all clear, however, that the devolved Scottish government has much locus in the dynamics that will determine whether these levels of market penetration are actually realised. And what clout it has could be blunted by its inclusion, in a strategy which seeks such a radical decarbonisation of overall Scottish energy consumption, of an explicit commitment to continue to support recovery of the North Sea oil and gas sector from its recent woes.
Pages 32 and 33 of the draft energy strategy could not be more explicit. "At this stage in the transition the Scottish government remains committed to maintaining domestic oil and gas production and maximising recovery from the oil and gas fields in the North Sea and west of Shetland," it promises. If it comes to the point where it is actively dissuading Scottish householders from heating their homes with gas, might they not justifiably respond: "So why were you so keen on bringing oil and gas ashore from the North Sea then?"
Even if the draft energy strategy emerges unscathed from its public consultation and the Scottish government's ambitious decarbonisation targets are realised in large measure, one other consequence remains unresolved. As the Draft Climate Change Plan acknowledges "In 2030, Scotland's electricity system will be wholly decarbonised and will supply a growing share of Scotland's energy needs. As well as lighting our buildings and powering our appliances, electricity will be increasingly important as a power source for keeping out homes warm and our vehicles on the move".
But by 2030, not only will Longannet, our last coal-fired power station, contributing a 17% share of total generation in 2015, be long gone. Peterhead, our last gas-fired station, will be long gone too. And Scotland's two nuclear power stations, shunned by generations of nationalist politicians as an unwanted imposition, but currently enjoying convenient operational life extensions, will also have been switched off. Hunterston by 2023. Torness by 2030.
So where will Scotland's future generation mix come from?
We may have had a further significant expansion of onshore wind generation. And, although the lion's share of the action is around the coast of England, some offshore wind investment too. In addition some of the feasibility studies for additional hydro pumped storage may have reached fruition. But where, one wonders, is the rest of that promised growing generating mix going to come from?
The draft strategy is silent on that. Last October, at the SNP's National Conference in Glasgow, delegates voted overwhelming to back a motion calling on the Scottish government "to develop plans for an independent, balanced electricity network to ensure Scotland's energy needs are met, climate change targets are reached and economic potential realised". Those who voted for that motion must now be wondering why this proposed energy strategy has so little to say about that.