Strathclyde Sport

Strathclyde Sport - Staying Safe
Member and staff safety is paramount to us and below we have detailed measures that we have put in place. Please note that these measures are temporary. Updates will be shared to our social media sites and our webpage.
Social distancing
Please be respectful of our staff and all other members while using the facility.
Strathclyde Sport permits indoor contact sports and physical activity with no social distancing in line with Sport Scotland guidance.
The University encourages staff, students and visitors to keep a reasonable distance from others wherever possible. The University recommends keeping approximately 1 metre distance, especially when indoors and in enclosed spaces.
The University is participating in the Distance Aware Scheme and lanyards and badges are available within Strathclyde Sport.
As ever, if you are experiencing symptoms of COVID-19, please do not enter the building.
Cleaning
Strathclyde Sport have adopted the method of: "CLEAN USE CLEAN".
We have increased our cleaning schedules to ensure the safety of our members and our staff. Please help us by wiping down your equipment before and after each use. We have hand sanitizers at various points throughout the building.
Multi-visit pass and memberships
Our Multi-visit pass is a new and exclusive offering. Available to purchase for £38.50 from our reception desk, the pass allows for access to the gym, swimming pool and fitness classes. The pass is valid for 90 days and permits 10 visits to the facility for the price of 7. Bookings can be made up to 7 days in advance with this pass.
Fitness Consultations
During a Fitness Consultation a member of the Gym Team can provide you with a variety of services, such as taking you through Personal Training session; design a workout programme and schedule; or simply be there to allow you to touch base with a trainer to get hints and tips.
All appointments are free to members of Strathclyde Sport as well as staff and students of the University.
Appointments can be booked online or via the Strathclyde Sport mobile app.
Face coverings
University of Strathclyde guidance stipulates that it is no longer a requirement to wear a face covering across campus. We encourage those who still wish to wear a face covering to do so, and ask that everyone is respectful of each other within the facility.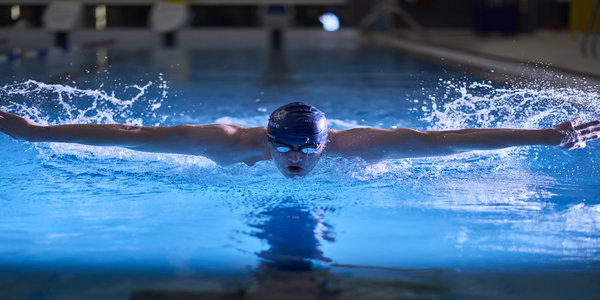 Swimming pool and changing areas
When entering the changing rooms, please make sure to give way to those leaving.
Our lockers require a padlock and you can either bring your own or purchase one from our reception desk.