Strathclyde Sport looks forward to welcoming you back! Member and staff safety is paramount to us and below we have detailed measures that we have put in place. Please note that these measures are temporary. Updates will be shared to our social media sites and our webpage.
Booking
To maintain the safety of our staff and also limit numbers within the building due to social distancing, we encourage all users to visit our webpage in advance when wishing to book a gym slot/swim slot/activity.
To maintain social distancing, sessions in the gym will be limited to 1 hour per person, per day. You can book your session online at https://sport.strath.ac.uk/Book/mrmLogin.aspx, under 'Gym Session'.
Social distancing
Please respect the 2 metre rule with our staff and other members. We will have signage throughout the facility and there will be a one-way entry and exit system, as well as a one-way system to be adhered to throughout the building.
Masks are required to be worn throughout the facility, unless medically exempt.
You may find that some of our machines in the gym are not available and this is to ensure a 2 metre distance between our members to allow you to work out comfortably. Please do not queue for a machine.
In the strength and conditioning area, only one person is allowed per platform. To assist with maintaining cleaning records, please do not move plates between platforms. Each platform has in excess of 300kg of plates so this should not be necessary. Due to physical distancing, spotting will not be permitted. Therefore, please select a weight and rep range that means you are not performing the exercise to failure.
As ever, if you are experiencing symptoms of COVID-19, please do not enter the building.
Classes
Members can get free and exclusive access to a vast catalogue of fitness classes on our MoveGB platform.
As Glasgow remains under level 3 restrictions, our face-to-face fitness classes are currently not available.
Cleaning
Strathclyde Sport have adopted the method of: "CLEAN USE CLEAN".
We have increased our cleaning schedules to ensure the safety of our members and our staff. Please help us by wiping down your equipment before and after each use. We have hand sanitizers at various points throughout the building.
Staff
The Strathclyde Sport staff have missed you! Please ensure that you are respectful at all times, maintaining a 2 metre distance and please be patient whilst we adjust to this new way of operation.
Multi-visit pass and memberships
Our Multi-visit pass is a new and exclusive offering. Available to purchase for £40.00 from our reception desk, the pass allows for access to the gym, swimming pool and fitness classes*. The pass is valid for 90 days and permits 10 visits to the facility for the price of 8. Bookings can be made up to 7 days in advance with this pass.
As we have opened and closed several times throughout lockdown, we don't want to offer long-term membership options until we can guarantee that we can fulfil them. From the end of May, our summer membership will be available to purchase online. The summer option is great value at £68 and valid from date of purchase until end of August.
*Our fitness classes will commence on Monday 17th May.
Fitness Consultations
During a Fitness Consultation a member of the Gym Team can provide you with a variety of services, such as taking you through a home-based Personal Training session; design a home workout programme and schedule; or simply be there to allow you to touch base with a trainer to get hints and tips.
All appointments are free to members of Strathclyde Sport as well as staff and students of the University.
Appointments can be booked online.
Face coverings
Following an update to Government guidance, members are required to wear their face coverings throughout the facility, including on the gym floor and moving between exercise equipment and cleaning stations.
Face coverings should only be removed while exercising, using the swimming pool, or when using the shower.
A face covering must be worn at all times when inside the Strathclyde Sport facility, except where an exemption applies (as defined in section 4.6 of the COVID-19 University Buildings New Working Arrangements document).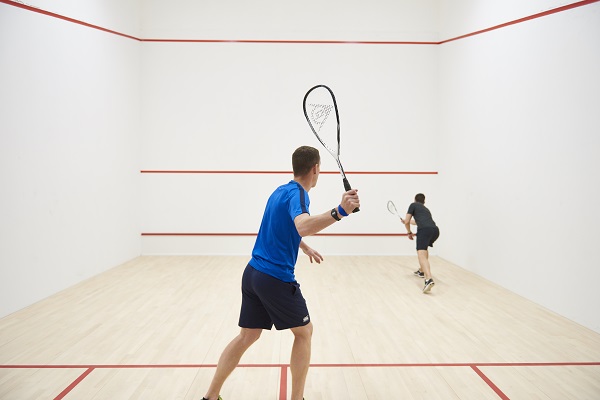 Badminton, squash and table tennis
Badminton
Play is restricted to singles only due to the 2 metres physical distancing requirements. If using a shared shuttle, then extra care must be taken to ensure you do not touch your face during play.
Players to follow the practice of clean, use, clean.
Please spray badminton net before and after use.
Players to finish booking early so cleaning can take place and can leave the sports hall prior to the next booking arriving.
Squash
Only solo squash can be played.
Players to follow the practice of clean, use, clean.
Please clean the squash door handle and glass before and after use.
Players should be discouraged from wiping their hands on the walls and doors of the squash court and to avoid any unnecessary touching of these surfaces.
Players to finish booking early so cleaning can take place and can leave the squash court area prior to next booking arriving.
Table Tennis
Play is restricted to singles only due to the 2 metres physical distancing requirements.
Players to follow the practice of clean, use, clean.
Please spray table and net before and after use. Balls to be cleaned before, during and after use.
Maximum playing time available per booking will be limited to 45mins to allow for cleaning and safe transition to the next booking.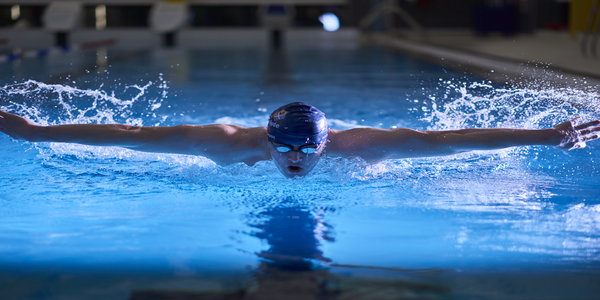 Swimming pool and changing areas
The swimming pool is currently closed for essential repairs. Updates will be posted to our social media platforms and webpages.
When entering the changing rooms, please make sure to give way to those leaving. Please wear a face mask when using the changing rooms, although masks don't need to be worn prior to using the shower.
We kindly ask that you clean your locker before and after use; we have provided cleaning equipment for you to do so. Our lockers require a padlock and you can either bring your own or purchase one from our reception desk.