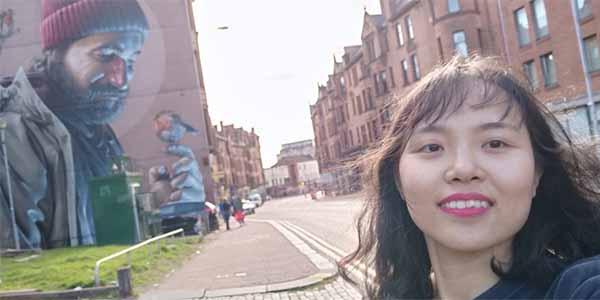 Quách Thủy Tiên
It is worth for foreigners to notice that the name order in Vietnamese is reverse to English, which means that the first name will be ordered for last, and last name will be ordered at first in Vietnamese.
Course: MSc in Advanced Pharmaceutical Manufacturing
Year of graduation: 2019
Why did you choose to study at Strathclyde?
I was quite late to decide to study Pharmaceutics abroad, which resulted in a limitation in preparing profiles and finding grants. However, I found Strathclyde to be the right choice after investigating the University background as well as other relevant information such as living in Glasgow.
Why did you choose your course?
The reason I chose this course is mainly based on my great interest in the subjects from the program along with practical projects of the collaborated research centres in which I would have an opportunity to participate.
In addition, it was my impression of the cutting-edge technologies along with the enthusiasm and profession of academics at the university to give high satisfaction from current or past students when studying here.
What did you enjoy most about your course?
The Strathclyde Institute of Pharmacy and Biomedical Sciences (SIPBS) enables postgraduate students to get access to new facilities under professional supervision from the experts when doing their projects at the Continuous Manufacturing and Crystallisation (CMAC) Research Centre.

How did your course prepare you for life after graduation?
There were a variety of lectures, tutorials and laboratories not only related to my major Pharmaceutics but also to improve my interpersonal skills. For example, I could actively participate in some useful extra workshops such as "Project Management in Real World" or "Principle and Practice of Risk Assessments". Therefore, I found it quite true as "The Place of Useful Learning".
What have you been doing since graduating from Strathclyde?
Gaining practical skills along with saving money for my living expenses are important for me, especially when I planned to continue to do PhD research after my Master graduation. Therefore, I chose to do several paid or unpaid part-time jobs or volunteering works such as Student Assistant or Class Representative during my Master.
After graduating, I could focus on working as a Personal Tutor and an Interpreter or Language Supporter for different organization or companies. Over one-year living abroad, my great achievement is not only receiving the PhD Studentship from the University of Nottingham but also having a memorable time with many people with different places.
It would be a big mistake to not mention the city's slogan "People make Glasgow" because the citizens are very hospitable for every newcomer.
What was Glasgow like as a place to live for an international student?
There were numerous extra activities you could do for relaxation or entertainment at Glasgow. I personally love taking pictures or sometimes making video clips to keep memories, collecting meaningful quotes from books or websites, inviting friends to have dinner or watch movies together, and sharing with my family member.
Describe Strathclyde in three words?
Chilly, Friendly, but Worthy
What advice would you give to prospective students thinking of coming to Strathclyde?
I had to face certain disappointments and failures due to numerous subjective and objective causes throughout the time at Glasgow City. However, I always reminded myself to keep moving forward and never lost hope in the future. As you can see, "self-educating, putting priorities, and accepting support" is essential to pursue my goal of becoming a great lecturer and researcher.