The SSI is a cross-faculty, multi-disciplinary institute developing frontier research on innovative concepts and solutions for present and future space systems, aerospace transport, satellite applications, the sustainable exploitation and exploration of space and physics in space and from space.
The research has a target horizon of more than 50 years in the future while deploying practical solutions, over a wide range of Technology Readiness Levels (from TRL0 to TRL6), to respond to the needs of today.
The mandate of the SSI is to foster and coordinate the development of space science and engineering at Strathclyde and support the growth of the space sector in Scotland and the UK. The SSI implements both a bottom up and a top down approach to research and development whereby the bottom up approach is curiosity driven and aims at the development of disruptive ideas with long term applicability while the top down approach is driven by market needs and aims at developing solutions with a more immediate application.
What we do
Areas of application
space situational awareness and space traffic management (including on orbit servicing)
minor body exploration and exploitation
launch systems for small satellites
space tourism
satellite applications
Areas of research & development
multidisciplinary design and concurrent engineering
uncertainty treatment and optimisation
machine learning
robotics and autonomy
mechatronics
quantum physics
signal processing
astrophysics
photonics
astrodynamics and mission analysis
remote sensing
space systems engineering
computational intelligence
hypersonics and computational fluid dynamics
aerospace propulsion
aerospace structures
access to space
One of the largest Space Institutes in Europe
Discover more about the Strathclyde Space Institute
ESA Concurrent Engineering Challenge 2017 Success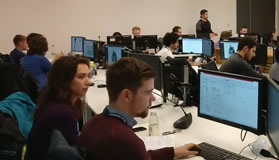 A team of students from four Departments and two Faculties of the University of Strathclyde successfully completed the ESA Concurrent Engineering Challenge 2017