2019-2020

Annual Sustainability Report
University's strategic plan carbon reduction target
Strathclyde's strategic carbon reduction target required 25% reduction of the 2009-2010 baseline by 2020. This equates to a reduction from 30,000 tonnes of CO2e to 22,500 tonnes. At the end of the financial year 2019/2020, the University's direct carbon emissions were 20,878 tonnes of CO2e.
Reductions have been achieved through:
right-sizing of the estate
investment in energy efficiency
investment in a refurbished University Energy Centre
the creation of a district heating system connecting 18 buildings.
Climate Change and Social Resposibility
The University's new strategic target is included within our Strategic Plan, Vision 2025:
"Year on year reduction in greenhouse gas emissions, leading to a 70% reduction by 2025, 80% by 2030 and Net Zero by 2040 at the latest"
A draft Climate Change and Social Responsibility Plan was endorsed by University Court in June 2020 and the Plan has been mapped to the UN Sustainable Development Goals. Its focus is on Strathclyde achieving net zero as a campus and as a community.
Climate change adaptation
A number of initiatives are now underway to adapt to climate change issues:
The University continues to deliver the aspects outlined in our Climate Change Adaptation Plan.
Climate change adaptation solutions are being integrated into new building designs, e.g. a green roof on the new Learning and Teaching Building.
The University is represented on the Board of Climate Ready Clyde, a collaboration between a range of organisations in the River Clyde catchment including Local Authorities, NHS, universities and Scottish Government.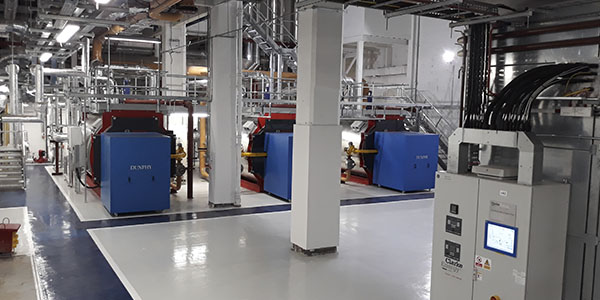 District Energy Scheme
With support from Scottish Funding Council, in 2018 we completed the installation of a combined heating and power district energy scheme. This 2km district energy network in the city centre allows Strathclyde to generate up to 50% of its electricity on campus and use the resultant heat produced to heat campus buildings.
The network will help the University transition away from gas as an energy source to more sustainable energy and we are working with the city to develop a city scheme using heat pumps in the River Clyde. More on this work can be found in our Climate Neutral Districts Vision.
Community benefits – The Strathclyde Commitment
As part of the University's Climate Change and Social Responsibility Policy, the University is committed to ensuring the delivery of socially progressive outcomes through its procurement processes.
Waste resource management
The University continues to make good progress on recycling waste, increasing waste recovered and mixed recycling from 51% in 2018/19 to 67% in 2019/20.
The Reuse, Recycling and Resource Centre at Corn Street, close to the University continues to be a valuable asset in terms of reuse, waste and material management. Our plans are to further enhance the facility to enable bulk recycling to add to the furniture reuse.
The University has successfully removed single use plastics from all 'Nourish' catering outlets. Vegware and compostable catering supplies have been introduced in 2018/19 and have now replaced non-compostable items.
The successful plastic waste reduction project in the Robertson Building conducted in 2018/19 has been rolled out to additional laboratories in 2019/20. This has seen a number of disposable plastic items identified and diverted from the laboratory general waste stream and accepted into the dry mixed recycling collection.
Engagement work
Our student engagement campaigns included:
Fairtrade Fortnight
working with the University of Glasgow, Glasgow Caledonian University and Glasgow School of Art to run a #Imagine2030 social media campaign
organising a "Student Switch Off" together with Strath Union and the National Union of Students.
310 staff across Strathclyde took part in the "Jump" engagement programme.
Management Development Programme students from the Business School worked with the Sustainable Strathclyde team to develop and implement the Sustainable Strathclyde Student Society. Students created and delivered a series of engagement campaigns for their peers.
In January 2020, the University released a MOOC course available to all students themed around the Sustainable Development Goals.
S-Labs
Over the past year S-lab activities have included a review of scope 3 emissions within labs including the purchase of equipment, water use and waste management processes. Work on compiling a greenhouse gas inventory of labs was also started to understand and quantify fugitive emissions from lab-based research.
Engagement with lab departments has continued throughout 2019/20 and now also includes Physics and staff at the Advanced Forming Research Centre.
The Sustainable PhD credit course which was implemented in 2018, and is part of the Doctoral School professional and personal development opportunities, continues to be run annually.
Living Lab initiatives
The Sustainable Strathclyde team also works with academic colleagues to enable students to undertake campus-based sustainability projects integrated with course curriculum, research activity, or as a volunteering opportunity. To date, more than 130 students across a number of faculties have taken part.
Sustainable travel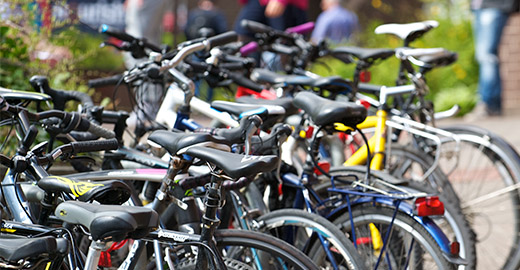 Cycling
The University secured 'Paths for All Smarter Choices, Smarter Places' funding for the previous Campus Cycling Officer to continue on as an Active Travel Coordinator. This provided a member of the team who could drive the development of cycling infrastructure and uptake of cycling across all University facilities. Initiatives launched to date include:
bike sessions
led bike rides across the city
social walking group
"Do It Yourself" bike maintenance sessions
promotion of active travel to staff and students
bike security tagging
lock swaps
Police Scotland close pass workshop.
Cycle Friendly Employer Award
Following on from the success in 2018 of the University becoming a Cycle Friendly Employer, the University facility at Ross Priory has now also achieved this award.
Cycle to Work
We reviewed the University's Cycle to Work Scheme, and CycleScheme ran an engagement webinar for staff with questions about the scheme.
Electric vehicles
Following the successful trial of a Nissan electric van in 2015 the University secured funding in March 2017 for the lease of five electric vehicles and associated charging infrastructure.
Staff pool vehicles
This year was the first full year of operation of the two electric staff pool cars located on Richmond Street. In total, the two cars were used for 5765 miles, avoiding another 1.6 Tonnes CO2e compared to a standard petrol vehicle. This was a good result and an increase on the usage in the previous year, despite 3 months from April-July of low use due to Covid. Staff induction and familiarisation training for the vehicles also continued, and over the period of 2019/20 another 65 members of staff were trained, bringing the total trained users to 183. The Sustainability team also ran an engagement day for the electric vehicles in January with staff from Energy Savings Trust, Glasgow City Council's Low Emission Zone team and Co-Wheels to speak to staff about EV charging opportunities, the council's plans, and home charging support.
Charging infrastructure
This year, approximately £40k funding was secured to install additional charging infrastructure at Ross Priory and the Advanced Forming Research Centre to support the operation of the electric vans being procured through the Switched on Fleets programme. Installation of these posts will take place in 2020/21.
Biodiversity
During the year, planning for the integration of rain gardens, green roofs, green walls have begun. A green roof is being built as part of the Learning and Teaching Building. Our new Heart of the Campus project will also deliver extensive biodiversity and climate adaptation benefits in its design and construction. These climate adaptation and biodiversity solutions will be integrated within new and emerging capital projects as part of the University Sustainable Design Quality Standards.
Fairtrade and sustainable procurement
The Sustainability team joined up with the Students' Association to bring together our two Fairtrade accreditations into one overall University Fairtrade status. Strathclyde was awarded Fairtrade University status in June 2020. Fairtrade Fortnight involved widespread social media engagement as well as engagement with suppliers and University stakeholders to ensure and celebrate the fact that a growing proportion of all products sourced by Strathclyde are Fairtrade.