Strathclyde students are set to enjoy a new £60 million learning and teaching hub at the heart of our campus.
The flagship facility is being designed by students and staff to develop leading-edge teaching facilities, as well as providing a new home for student support services and the Students' Union.
Take a look at a fly-through video of our Learning & Teaching building:
This project, which represents our biggest single investment in a campus project to date, will become a beacon for teaching and learning excellence.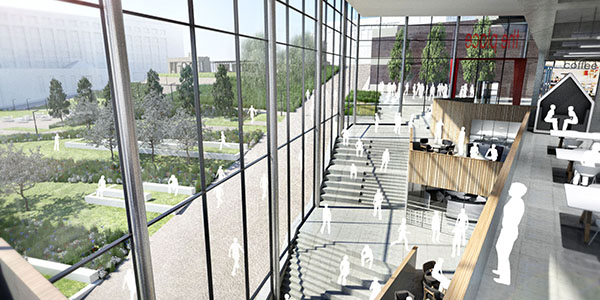 Our new facility brings together the former Architecture and Colville buildings. It will place student-facing services at the centre of the campus, and give access to new ways of teaching.
The new development will also meet the needs of our student population growing in size and diversity. There is a projected growth of 30% in the number of our overseas students over the next five years.
What's planned?
The building will accommodate innovative, flexible learning in a broad range of disciplines.
Facilities will include:
group-working rooms with capacity of more than 150
spaces capable of supporting different teaching and learning purposes
support for different education methods, including knowledge exchange and continuing professional development
access to modern teaching and learning facilities and technology.
Completion of the building project is due by 2021.
Colour on campus! #supermundane
Have you noticed our colourful hoardings? We're adding an amazing slice of colour to campus with bespoke artwork based on Glasgow landmarks - all designed by internationally-renowned graphic artist Supermundane.
Images courtesy of BDP and Multivista

Learning & Teaching Building gallery