A Law Professor at the University of Strathclyde has been chosen as the co-chair Scotland's newly established National Task Force on Human Rights.
Alan Miller, Professor of Practice with Strathclyde Law School, is jointly heading the panel, which is developing a new statutory framework to enhance human rights protection for all people in Scotland. It is also exploring ways to increase public participation in the process.
Professor Miller is joined on the taskforce by his Law School colleague, Professor Elisa Morgera. Both were previously members of the First Minister's Advisory Group on Human Rights Leadership, which convened in 2018 and produced a series of recommendations the new taskforce will build upon.
The taskforce comprises representatives of the public sector and civic society.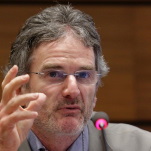 Professor Miller said: "There is an urgent need of human rights leadership in today's world. The leadership steps to be taken in and by Scotland are clear.
"Firstly, internationally recognised human rights belong to everyone in Scotland and must be put into our law. Secondly and as importantly, they must then be put into our everyday practice so as to improve people's lives.
"I look forward to working with my fellow members of the taskforce and many others to help achieve this ambition and make Scotland a better country in a better world."
Professor Miller's co-chair of the taskforce is Social Security and Older People Secretary Shirley-Anne Somerville. She said: "Scotland is a world leader in human rights and I would like to welcome and thank the members of the taskforce for volunteering to help keep us in that position.
"Respecting, protecting and fulfilling human rights is an international obligation at the heart of everything we do.
"Our commitment to fundamental principles of human dignity and equality will now be turned into statutory action that serves every member of our society."
Professor Morgera is programme lead for One Ocean Hub, an ambitious global transdisciplinary project bringing together 50 partners internationally to transform the world's response to plastic pollution, rising sea levels and over-fishing, based on the inter-dependence of human rights and the marine environment. The Hub is the biggest research grant Strathclyde has received in its history.