National Manufacturing Institute Scotland - CPD courses

Introduction to Digital Manufacturing
In an IMechE study of 318 business leaders, only 8% had a good understanding of Industry 4.0 and 56% had little or no understanding.
Dates and venues:
The course has been postponed due to COVID-19. Dates will be reviewed once lockdown restrictions are lifted. Please, check back here for regular updates on new event dates.
Cost: Free
Duration: 1 day. Arrival at 9am (for starting at 9:30) to 3:30pm
Course summary:
This course introduces you to digital manufacturing concepts. It provides a forum to discuss the opportunities and challenges associated by embracing digital manufacturing technologies and processes. This course recognizes the employees' fear of being replaced by technology and offers you the opportunity to upgrade your expertise to suit the marketplace of the future.
Topics covered in the course include:
Introduction to digital manufacturing
Drivers for a digital transformation
The pace of technological change
The building blocks of the fourth industrial revolution 'Industry 4'
Emerging technologies and trends in the industry (including additive manufacturing, industrial internet of things, artificial intelligence, data, augmented reality, virtual reality and collaborative robots), and their role in production, design and logistics
Smart and future supply chains
Digital transformation challenges
New and successful business models in the industry
Additional resources and external organisations that can support you on your digital manufacturing needs
On the course you will:
Develop knowledge on the digital manufacturing landscape
Keep up-to-date in your sector by being introduced to emerging technologies
Learn how to assess your organisation current digital manufacturing status
Who should attend?
This course is suitable for innovators and professionals involved in the digital transformation of businesses in the manufacturing sector and those interested in finding out more about the impact of digital technologies on their jobs and organisations.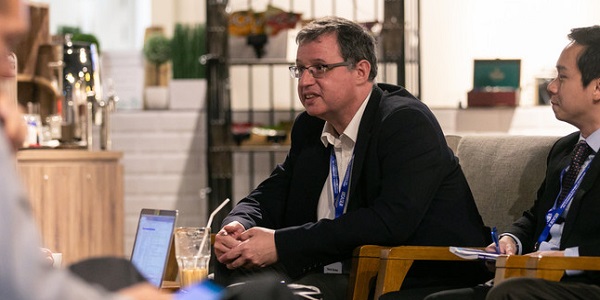 Prof. David Butler
Course lead
David Butler is a Professor in Manufacturing within the Department of Design, Manufacturing & Engineering Management at the University of Strathclyde. Prior to joining Strathclyde in 2017, David spent the last 18 years in Singapore where he co-founded the Advanced Remanufacturing & Technology Centre (ARTC) – a 250 strong translational research centre with over 70 industry partners. His roles in the ARTC included Business Development Director where he was responsible for bringing in over GBP 4 million per annum to the centre. David has successfully delivered on a number of industry projects for companies such as Global Foundries, 3M, Pratt & Whitney and Rolls-Royce.
There is a lot of hype surrounding digitalization and I hope this course will help guide attendees through the minefield of jargon and gain an understanding of the opportunities for their organization.
Read more about Prof. David Butler here Meet Prof. David Butler in this short video outlining the course