Meet with confidence at the Technology & Innovation Centre
We're excited to have the opportunity to welcome organisers and delegates back to our home in the Technology and Innovation Centre, and we hope to see many of you in the coming weeks and months.
We understand that it will take time to feel comfortable meeting face-to-face again, and we're committed to keeping your wellbeing at the centre of everything we do. We're on this journey of discovery together, and we understand how important it is that your delegates feel safe and comfortable.
Find out more about the measures we have put in place to ensure the health, safety and wellbeing of delegates, staff, visitors and other building users in our Safe Meetings and Events Policy.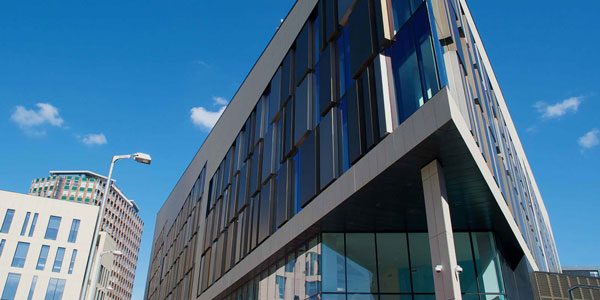 Before you arrive
Before you visit, we recommend that you download the Protect Scotland app. It will alert you if you have been in close contact with another app user who tests positive for COVID19.
If you test positive, it can help in determining contacts that you may have otherwise missed, while keeping your information private and anonymous.
When you arrive
You'll see signage as you enter and throughout the building, telling you the safety measures in place. We won't take your temperature, but we do ask you not to enter the building if you're experiencing any of these symptoms:
continuous cough

high temperature

shortness of breath

loss of taste or sense of smell
The main entrance at 99 George Street is clearly marked. We may also use an alternative entrance further along George Street, to avoid congestion at peak times. Your event organiser will let you know in advance where to enter the building, and we'll have signage and staff in place to keep you right on the day.
Your organiser might let you know in advance when you should arrive at TIC. If you arrive earlier or later, you may be asked to wait outside before gaining entry to the venue, to avoid congestion at peak times.
Scottish Government guidance recommends the wearing of face coverings in indoor public places and on public transport. It is down to individuals to choose when and where to wear a face covering while they are on our campus, and you may find that some delegates or staff wear face coverings in busier spaces.
In busy areas, there may be one-way systems in operation to help you get to/from your meeting room as quickly and easily as possible. These routes will be clearly marked with signage, and our staff will be on-hand to assist as required.
The importance of good hand hygiene is promoted throughout the venue. You'll find hand sanitiser available as soon as you enter, and throughout the building.
Although we encourage you to use the stairs if you can, our passenger lifts are available – please remember to keep your distance and wait for a quieter lift at busy times. You'll see a clearly designated waiting area as you enter on Level 2.
Keeping your distance
It's important to us that you feel comfortable, and maintaining a safe distance can make a big difference.
Although it's no longer a requirement to observe distancing in our Auditoria, Conference Rooms, Foyers or Executive Suite, you'll still see signage throughout the venue to remind you of the benefit of physical distancing, in particular at points of entry/exit.
Any one-way routes in busy areas will be clearly marked. In quieter shared spaces, signage may ask you to Keep Left or Give Way.
The Scottish Government's Distance Aware scheme highlights that there are people who may still be worried and would appreciate more space and care around them as we all work to get back to a more normal way of life.
Our staff will be visible at all times and may encourage distancing in shared spaces during peak periods – arrival, breaks and departure – by implementing one-way routes and managing any queues.
Where possible, we'll encourage you to use our single occupancy, gender-neutral and accessible toilets. Please remember to keep your distance in toilet facilities which support mulitple occupancy, particularly at peak times.
Eating and drinking
Service will normally be from a designated, staffed point in the foyer. In/out routes will be clearly indicated, and hand sanitiser will be available at all times.
We'll use freshly-washed crockery, glassware and wrapped cutlery. All items will either be served to you by a member of staff or individually packaged.
On busier days, we'll stagger break times to ensure Foyers don't become too busy. At larger events, we'll have multiple service points to make sure you're served quickly.
If you've notified the organiser of a specific dietary requirement, your meal will be clearly labelled with the diet and, if you have provided it, your name.
Here to keep you safe
Members of the Conferencing & Events team are available throughout the building – at the main Reception desk, in the Foyers on Levels 2 & 3.
All members of the team have completed a detailed training programme covering the measures we've introduced to keep delegates safe and have been involved in the process of revising our risk assessments and standard operating procedures.
The University has a rigorous regular cleaning schedule in place - all conference spaces and toilets are cleaned overnight, and colleagues from the Cleaning team are on duty until 18:00 each day. Conferencing & Events staff will sanitise hard surfaces, audio-visual equipment and high-touch points, such as door handles/finger plates, phones, lecterns, armrests, once room set-up is complete. The room will be locked until it is next in use.
The team will be 'on the floor' constantly while spaces are in use. Their duties will include regular sanitisation of high-touch points, such as door handles, banisters, lift call points - at least hourly, and more frequently during peak periods.
You can read about the measures we have put in place to ensure the health, safety and wellbeing of delegates, staff, visitors and other building users in our Safe Meetings and Events Policy.
Remember that our team is there to keep you safe and well-informed. Please don't be afraid to ask a question or raise a concern - we're here to help!