Key facts
Start date: 3 Oct to 6 Oct 2023
Study with us
Strathclyde Executive Education & Development (SEED) is the Business School's centre for designing, developing and delivering executive education and development.
We have a highly experienced faculty who are leading experts in their fields. Allowing us to bring innovative deep academic knowledge and practice to your personal development and that of your organisation. Our academics work in a range of industry contexts, which allows them to draw on a breadth of knowledge and share knowledge across disciplines.
Back to course
Why this course?
The demand for sustainability is reshaping entire industries, creating new markets with fascinating growth potential. For example, the number of UK consumers that identified themselves as vegan, often motivated by sustainability-related drivers, increased sevenfold from 0.54 to 3.5 million in just two years (2016 to 2018). This growth rate is unparalleled and is expected to continue in light of the large underlying consumer base.
On the other hand, some industries have been slow to adapt. Western Europe issued permits for new-to-be-built coal-fired power stations as late as 2010. Meanwhile, in April 2021 all EU-27 member states have agreed to an EU-law that prescribes greenhouse gas emissions in the EU to decrease by 55% in 2030 compared to 2019, implicitly ruling out coal as fuel. By 2030, billions worth of state-of-the-art fully operational coalfired power stations will have been written off. Although the war in Ukraine triggered an international energy crisis in 2022, which may structurally increase Western Europe's energy cost, it does not fundamentally alter the roadmap of the energy transition change.
Therefore, companies are at a tipping point. The challenge for companies now is to redefine their sustainability strategy and execution quickly or face the consequences of lagging behind. The challenge is reconciling shareholder expectations with consumer need expectations and shifts.
Even companies as sophisticated as the FMCG-giant Unilever, under CEO Paul Polman, are struggling to strike the right balance. Although moving quicker than most, they find themselves almost being the victim of a hostile takeover when its share price lagged behind sustainability-related costs. Thus, getting it right and shaping a profitable and sustainable business requires strategic analysis and balancing all stakeholders' interests.
To help company executives prepare for this rather different future, we have designed a new course to equip them for a world where sustainability in business is the leading hygiene factor. This future is already upon us, and companies that do not act quickly risk falling behind.
Strathclyde Business School
The Marketing Sustainability programme is delivered by Strathclyde Business School.
Strathclyde Business School holds triple accreditation from three main business school accreditation bodies - AMBA, EQUIS and AACSB. The school has been recognised for the outstanding support it has given to Scottish businesses, particularly in innovation and leadership. This is demonstrated through the school being the first in Scotland to be awarded the Small Business Charter Award.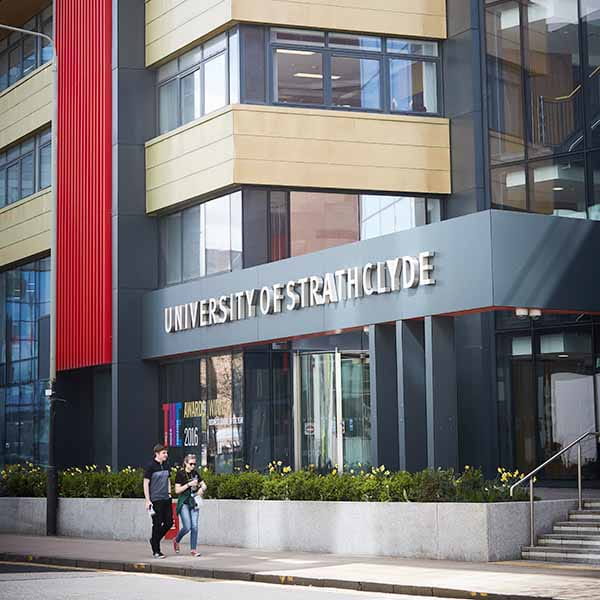 Participant profile
The future participant is a mid-to senior-level executive working in a corporate environment or possibly a DBA student. The participant will typically have 5 to 15 years of work experience. The participant likely works in a business development, marketing, or market intelligence/strategy role - medium to large company or a (management) consultancy firm. They may also work in R&D or Finance. Their company has identified the need to change its modus operandi or sees its customers change towards a more sustainable profile. Currently, the company is searching for ways to define and execute this change for themselves.
Course impact & relevance
The Marketing Sustainability programme offers valuable insights and inspiration on conducting the necessary analyses, identifying relevant data sources, analysing the data, and formulating strategies to shift companies towards a more sustainable positioning. Through the programme, participants will have the opportunity to explore best practice from relatable companies and engage in meaningful discussions with peers who are facing similar challenges. The programme aims to equip participants with the skills and knowledge needed to successfully navigate the complex landscape of sustainable marketing. They will gain an understanding of how to use data and insights to develop effective strategies that can drive positive change and contribute to a more sustainable future.
Go back
Course content
50 to 60% of the training will focus on case studies, methodology sections, and ideas sharing.
The remaining time will be devoted to practical exercises that enable participants to immediately apply ideas and methodologies offered. The exercises will be a mixture of individual and group work allowing participants to collaborate and learn from one another. To enhance the learning experience, the programme will incorporate real-life "business case studies" that illustrate concepts being explored.
Participants will be equipped with the necessary tools and knowledge to develop and implement effective sustainable marketing strategies.
Programme instructors
Professor Fred Lemke
Visiting Professor at Strathclyde Business School; Professor of Marketing & Sustainability at Vlerick Business School
Fred is a highly experienced Visiting Professor of Marketing at Strathclyde Business School's Marketing Department, where he specialised in working with managers.
In addition to his role at Strathclyde, Fred also holds several prestigious academic positions. As a Full Professor of Marketing and Sustainability at Vlerick Business School, he contributes to the development of the field through his cutting-edge research and executive teaching. At Newcastle University Business School, he serves as a Visiting Professor of Innovation and International Business, while at Ghent University, he holds the position of Guest Professor, where he specialises in B2B marketing. At the University of Economics in Ho Chi Minh City, Vietnam, he acts as a Visiting Professor of Supply Chain Management.
Finally, Fred is Founder and Director of HORIZON22, a consulting company that serves clients in creating sustainable business impact by moving to greater customer centricity.
Fred's expertise is wide-ranging and includes strategic B2B marketing, sustainability, corporate social responsibility, well-being in business, customer experience creation, reputation and spill-overs, and value co-creation. He is passionate about advancing these areas and helping businesses apply the latest research findings to drive meaningful change and growth. He regularly publishes in high-impact journals and is co-author of an award-winning management book on hidden needs analysis and creating breakthrough products. With his diverse academic background and extensive business experience, Fred is well-equipped to help executives and organizations develop and implement effective marketing strategies that deliver long-term success.
Erik Elgersma, PhD
Research Fellow at Vlerick Business School
Erik is the Founder and Director of Strategic Analysis Services BV – a Dutch-based globally active consulting firm in strategy, market and competitive intelligence and training.
Prior to establishing SAS BV Erik worked for 20 years for FrieslandCampina NV, one of the world's largest dairy companies. He fulfilled director roles in strategy design, competitive and market intelligence, and innovation. During most of his tenure in FrieslandCampina Erik was global practice leader intelligence. He has been based both in Europe as well as five years in South-East Asia. Prior to that Erik was with AkzoNobel, the global leader in coatings, where he worked in R&D and in strategy, intelligence, and public affairs. His involvement with and passion for competitive intelligence started already in 1996.
Parallel to his job responsibilities Erik has been guest lecturing on (market) intelligence and strategy in five universities: Brunel (London), Leyden (NL), VU Amsterdam (NL), Vlerick School of Business (B) and FABIZ (RO). He also authored two books in this field: The Strategic Analysis Cycle – Handbook, respectively Toolbook (2017).
Erik holds a PhD and MSc from Delft University of Technology (NL) and participated in executive education courses at Harvard Business School, IMD, Insead, London School of Business and Jane's Military Intelligence. He is a board member of the International Association for Intelligence Education, European Chapter, and an alumnus of the International Institute for Applied Systems Analysis in Vienna.
Back to course
Fees & funding
Fees may be subject to updates to maintain accuracy. Tuition fees will be notified in your offer letter.
All fees are in £ sterling, unless otherwise stated, and may be subject to revision.
Annual revision of fees
Students on programmes of study of more than one year should be aware that tuition fees are revised annually and may increase in subsequent years of study. Annual increases will generally reflect UK inflation rates and increases to programme delivery costs.
Go back
| | |
| --- | --- |
| Standard fee | £2,495 |
| Strathclyde Alumni | £1,995 |
We will accept a credit card payment, or if preferred an invoice can be issued.
Back to course
Apply
There are no educational or experiential entry requirements for this course, but we suggest that it is suitable for those that currently lead teams in a senior position.