Management Science

Susan Harrington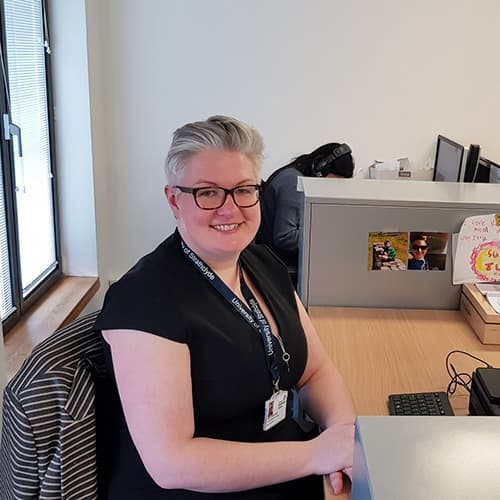 Susan Harrington
Course: PhD Management Science, Year 1
Home country: Ireland
I was born in Dublin, but have been living near Glasgow since 2001. After gaining around 10 years' experience in financial services, I set up my own freelance writing and social media business due to looking for work which was flexible when my sons were very young. Once the youngest started school, I enrolled on the access course at Strathclyde, before moving on to a BA (Hons) in Business Analysis & Technology. I completed my degree in May 2018 and started a PhD in the same department in early June.
Why did you choose Strathclyde for your postgraduate research study?
I'd had such a positive experience during my access course and undergraduate studies that I didn't even consider going elsewhere for postgraduate research. I was pretty set on what I wanted to study and who I wanted to work with, so there was no decision to be made really.
Tell us about the nature of your research?
I'm currently researching learning and knowledge acquisition in autistic people, particularly in terms of those who have experienced a threshold concept (a term which relates to deeper, transformative learning).
What do you like about your research area?
It's fascinating! I love delving into how people learn, and the ways in which knowledge can be acquired and developed. My eldest son is autistic, so there's some personal interest there alongside the academic.
What's the Strathclyde research community like?
It's been great so far – very welcoming and supportive. I feel that there is a real sense of community and belonging.
What are the Strathclyde facilities like?
Great, I've got a permanent workspace, access to the software and resources I need, and also benefit from the various postgraduate research modules offered by both the Business School and the Researcher Development Programme team.
Tell us about the support from your supervisor and the wider Strathclyde team?
Both of my supervisors have been very supportive, right through the application process and since I started my research last summer. In terms of the wider Strathclyde team, I'm confident that I can access any support I may need as and when required.
What's the best thing about Strathclyde?
It feels like home!
What would you like to do after your PhD?
More research and teaching – I'd like to stay in academia.