Marketing (BA)

Kellie Barnes
Kellie, from Australia, is a Marketing student on exchange at Strathclyde from RMIT University, Melbourne. Below, she explains the interesting events that led to her joining the Strathclyde community.
The journey starts
On a birthday trip to Glasgow four years ago, I walked past some student residences and casually thought 'wouldn't it be cool to study in the UK...' At that stage returning to study in Australia had not crossed my mind and was not on the radar at all. Then things unfolded and I actually found myself as a student at RMIT, tentatively ticking off each step of the student journey until an opportunity with RMIT Global popped up. The destination was always going to be Scotland, so on the fantastic reputation of their Business School and the recommendation of an academic friend, I chose Strathclyde and was thrilled to be accepted.

I started researching all the things about Strathclyde – the opportunities, the sports focus, the student support, the hockey club, the location... Imagine my surprise and amazement to realise it was actually Strathclyde, and in fact the Business School, I had walked past all those years ago with a passing dream of life in the UK!
Why did you choose to come to study at Strathclyde?
I chose to study at Strathclyde for a few reasons: the great reputation of the Business School and the exposure it would give me to the UK market, the recommendation of an academic colleague in Melbourne, and the opportunity to study Sports Marketing.
As a marketer, my choice came down to getting an edge and being able to offer a unique set of skills to a business.
What differences have you found between studying at home and studying here?
I feel like the most significant difference has been the buildings – sitting in class in the historic Royal College building has been humbling considering the building I normally study in at home is only seven years old.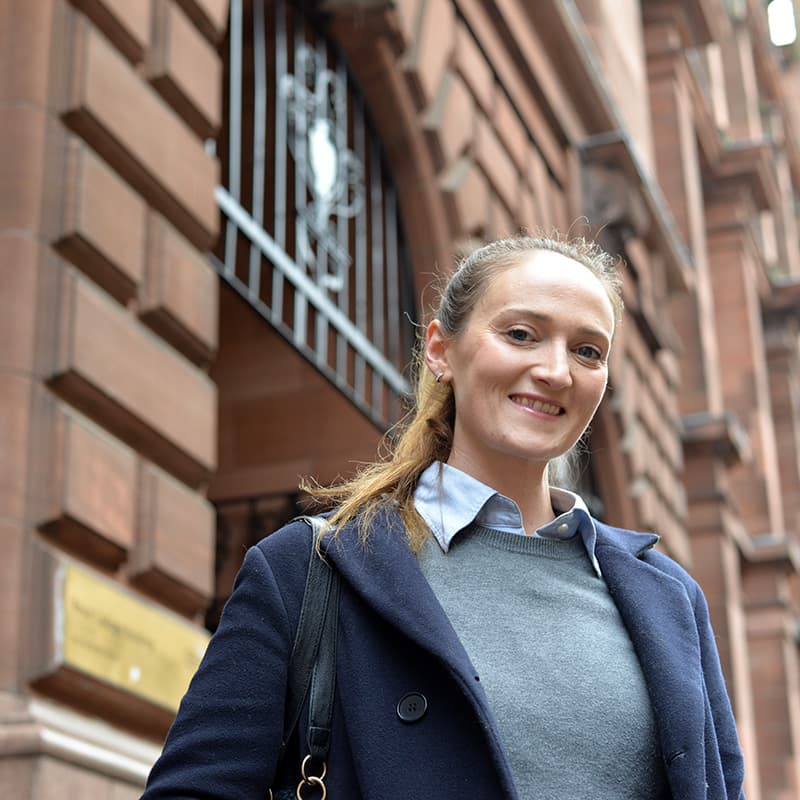 In saying that, I do miss having power points at every desk!
What do you enjoy most about your course?
I am enjoying the exposure to different ideas, content, and ways of thinking. I think it is really helpful to form a well-rounded perspective on marketing and business in general, especially considering the frequent exposure to Brexit discussion right now, which would not typically feature as much in an Australian classroom.
What do you enjoy most about life at Strathclyde?
I really enjoy how much the students' voice plays a part in life at Strathclyde, as well as the various clubs, health and wellbeing projects, and the business network.
There are so many opportunities for students here and it just feels very inspiring. You can really make the experience your own.
Have you managed to do any travelling around Scotland? What's the best place you've been to?
I have not managed to do a lot of travelling around Scotland this time, although joining Strathclyde's hockey club has helped me see more of Glasgow than I had imagined!
In previous trips I have really enjoyed driving around Loch Lomond, St Andrews, Stirling, Linlithgow, and some of the west coast, among other places. I am hoping to explore the north of Scotland and some of the islands after exams.
What advice would you give to somebody thinking of coming to study at Strathclyde?
Do it! Jump in and take advantage of all the opportunities that Strathclyde offers, it is a really supportive environment to take whatever path you choose (I am already thinking about coming back for postgraduate study!).