Glasgow-based company Premiership Experience, set up by Strathclyder Kieran Coyle when he was just 18, recently signed a significant seven-figure deal in Beijing with a leading Chinese conglomerate.
Premiership Experience, which offers tailored packages for football fans, has been in negotiations for the past nine months. The deal was brokered through the Bank of China's UK office and Glasgow Law Practice.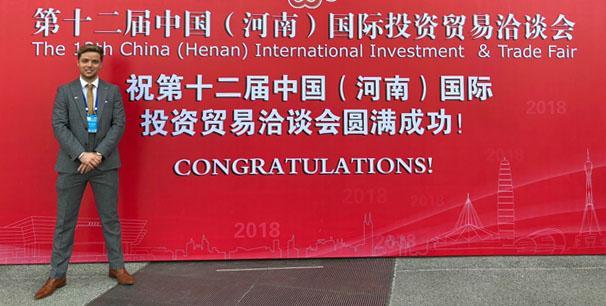 The company provides match day experience packages to some of England's top Premier League clubs plus international tours to European academies and works closely with schools and tour groups.
Kieran said: "The recent Scottish Chambers Trade Mission led by President of the Scottish Chambers of Commerce Tim Allan has been hugely helpful to our understanding of how Chinese business operates."
He added: "We already work in seven overseas markets, and since we received this approach from the Chinese side we have been inviting over small groups of Chinese children to test the cultural suitability of the products we offer.
A member of Glasgow Chamber of Commerce since 2016, it is now regarded as one of the UK's leading sports tour operators.
The success of those visits, coupled with the infrastructure we have developed over the past eight years, has allowed us to reach this agreement. The terms of the deal mean that we will start on a small scale for the first year and scale up significantly moving forwards.

The successful Scottish Chambers Trade Mission has been hugely helpful to our understanding of how Chinese business operates. The tailored access it has provided at a governmental and corporate level has supplied several strong leads for potential follow-up deals in this vast and exciting market."

Kieran Coyle, founder of Premiership Experience and Strathclyde almunus
Tim said: "This is fantastic news from a superbly entrepreneurial young company. China's President Xi Jinping has plans to make China a leading football power in the world, and ex-English Premiership players here are some of the highest-paid in the world.
For more information about Premiership Experience, visit: www.premiershipexperience.co.uk