Alumni

Dr Nigel Whitehead CBE
Course studied: BSc (Hons) Mechanical Engineering, 1984; Honorary Doctor of Science, 2017
Position at time of writing: Director, External Affairs, BAE Systems
Interesting fact: Nigel was part of the team developing the demonstrator aircraft that paved the way for the Eurofighter Typhoon
Tell us about your background
I grew up in Inverness and Dunblane and was an Apprentice at Rolls-Royce in Hillington whilst I was studying at Strathclyde.
I visited an aircraft factory in Manchester when I was nine and was shown round by a relative who worked there. I was gripped by the idea that I could grow up to design and make aircraft. After that, I was motivated at school, in particular in science and maths.
I really enjoyed my time at Rolls-Royce and they gave me some useful personal software very early in my life – I can't help myself asking – how has that been made? And how could I make it better, cheaper and quicker?
I joined British Aerospace as an Aerodynamicist as part of the team developing the demonstrator aircraft that paved the way for the Eurofighter Typhoon. I then broadened my experience in business development, commercial management and project management. I spent six years working in Sweden and three years in Australia selling, developing, building and supporting military aircraft.
I led the Military Aircraft business of BAE Systems for seven years before I was asked to run BAE Systems' UK defence businesses which, as well as the aircraft business, included submarines, warships, military vehicles, munitions and security. By this stage, I had realised that it is not just aircraft that I love, it is the whole idea of forming teams to bring engineering and management expertise together to solve complex problems."
After the best part of a decade in this UK-wide role, I became the Chief Technology Officer for the company. This role took me straight back to my roots.
In the major delivery roles that I have held, I have led teams that have delivered over £80Bn of defence equipment and services and captured over £100Bn of orders from customers in the UK and overseas.
I am particularly proud to have been made an Honorary Doctor of Science in 2017 by Strathclyde.
Why did you decide to study your chosen subject at Strathclyde?
I have to admit that Mechanical Engineering at Strathclyde was initially my last choice on the application form. This position was reversed when I then visited the universities that I had applied to. The team at Strathclyde were welcoming and spoke with great passion about the nature of the courses that they were running and how they were preparing their graduates to work in industry. I was hooked.
How did your time at Strathclyde help prepare you for the roles you've had?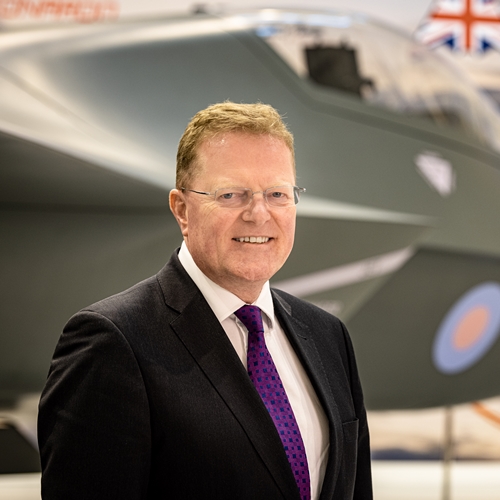 I have worked for a thrusting engineering company for the last 35 years so it perhaps isn't surprising that there is a strong correlation between what I studied and what I have needed to thrive in my various roles.
What is surprising is that, every day in the modern workplace, I still use enduring facts and techniques that I learned in the early 1980s.
The approach to solving problems and the insistence in understanding the source and context of data, to allow you to work out whether you believe it or not, is probably the abiding legacy of my education at Strathclyde.
Strathclyde prides itself in being 'The Place of Useful Learning'. Those who put together the Mechanical Engineering degree in the early 1980s clearly put a lot of thought and foresight into the process. For that, I thank them."
You were awarded a CBE in the 2015 Birthday Honours list, can you share more about that?
In 2013 I was asked by the UK Skills Minister to review and recommend changes to the vocational skills system in England. I threw myself into this opportunity and worked with the civil service, the further education providers, awarding bodies, employers, apprentices and trade unions to formulate an improved approach. The CBE was awarded for this work.
One evening on a call to my wife, she said, "you have a very official looking letter that looks like something from the tax office". I asked her to open it and she read the letter to me, offering me the CBE. It was a huge surprise!
Any final points, or words of wisdom?
One of the lecturers at Strathclyde told us that it is not the cleverest students that succeed, it is the most organised ones. I have learned that this advice applies to most things in life and in industry it is especially true. The better organised you are, the more you can contribute.