Key facts
Start date: April & October

Accreditation: Triple-accredited business school: AMBA, AACSB & EQUIS

Study mode and duration: 24 months part-time

Only MSc in Greece with a focus on sales
Study with us
A unique partnership between the Hellenic Sales Institute and Strathclyde Business School future-proofs the management development needs of sales professionals in Greece and offers you the opportunity to gain an internationally recognised qualification


Offers both early-stage and more established sales professionals a new set of knowledge skills and behaviours to take on the challenges they face in rapidly changing, post-Covid economies and markets


Designed to study while you work, the MSc is delivered over a two-year period, by a hybrid combination of face-to-face intensive seminars with Strathclyde academics in Greece, locally run tutorials and online delivery via Strathclyde's own virtual learning environment


Allows you to improve your sales leader career prospects within your current organisation or allow you the ability to change career direction
Back to course
Why this course
Graduates from many disciplines often start their career in a sales path, which many continue to pursue. The majority of these sales roles lack any formal education in the management of the sales effort and the necessary set of values that a formal educational background establishes.
These sales representatives are more prone to adopt the aggressive selling style many companies adopt to meet their sales objectives, usually at the expense of building good relations with the customer base and generating mutual value and benefits. This lack of a strong customer orientation within the sales team often has an adverse impact on the company's long-term performance.
Simultaneously, the sales profession is being impacted by the rise of digitisation – e-commerce and data analysis is increasingly demanded of the sales workforce. The volume of data now available can give insights into markets that only 10 years ago would have seemed impossible. However, the amount of data available can prove overwhelming so an understanding of the difference between useful and superfluous data and the tools to apply it are now a necessity for sales professionals.
Today's sales professional increasingly needs to be a hybrid of a customer-oriented executive, big data expert and digital channel guru. To future proof the sales function – and by extension the ability to get goods and services to market – requires the development of a new set of knowledge skills and behaviours.
In response, Strathclyde Business School, in partnership with the Hellenic Institute of Sales in Greece, has designed a specialised masters degree with a digital focus and a stakeholder-centric nature to enhance management knowledge and leadership capabilities of sales professional roles.
Aims of the MSc Sales & Marketing
We aim to:
provide a broader and holistic understanding of the (salesperson) role within the organisation
equip the graduates with the set of skills salespeople require today, before they can meet the challenges associated with a career in sales to the mutual benefit of both the individual and the employer
enhance the employability and career prospects of the graduates from the course
Meeting the aim and objectives of the proposed course aligns perfectly with the University's positioning as the place of "useful learning". Sales is a key role for almost every company because of the direct impact on revenue; improving sales skills has a significant effect on salespeople's performance.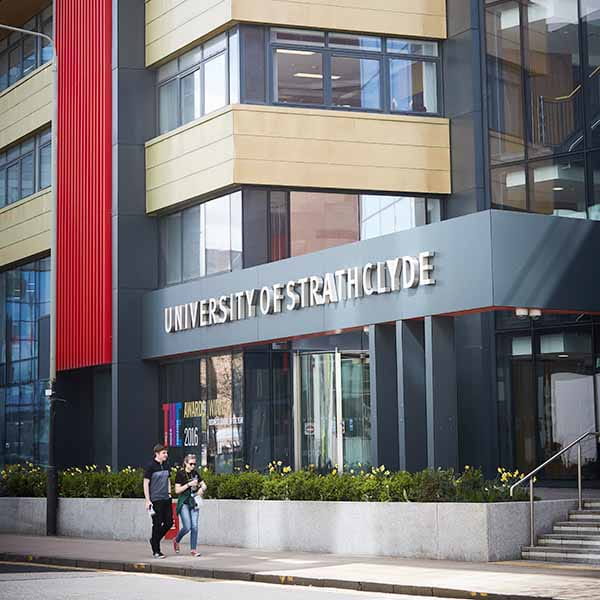 What you'll study
The MSc Sales & Marketing will build on your existing knowledge and experience of the sales function in organisations. The programme will further develop you as an ethical and effective leader so that you can make a positive contribution to your organisation's achievement of strategic goals.
This transformation cannot be achieved by being passive and simply relying on what you have learned in the classroom. To maximise the impact of degree, you have to:
actively engage with the programme
be committed and read widely
reflect on the material you are presented with and challenge yourself to think in a way that will meet the expectations of a wide range of stakeholders
It's an important phase in your life and offers the opportunity to have thought leadership inputs and to be in a place where you have space and time to learn, build and reflect on your existing experience and further develop yourself and your career. We expect that you will make the most of these studies and use the resources of the University to benefit both you and your organisation.
Triple-accredited business school
The Reflective Leader
The Reflective Leader runs in parallel to the curriculum across the first three semesters.
This module will cover key concepts of reflective practice and its role within personal and professional development. This will include theories relating to learning styles, reflective practice as an enabler of high performance, emotional intelligence and the human and relationships role within leadership and adaptability of leadership styles.
Alongside the theoretical underpinning, the class will utilise a number of models, tools and practical techniques to support an effective personal and career development planning; methods to examine current KSBs; techniques for reflection and feedback and the impact these can have on continuous development.
Managing Digital Transformation
The Managing Digital Transformation class aims to help students understand the importance of effective internal and external digital communications and their associated tools to create and sustain relationships, promote products and services, and deliver customer service value.
Brief case studies and paradigms illustrate the importance of communications planning in delivering marketing solutions. It explains the way in which the concept of a product and its associated brand management can enable organisations to deliver customer value.
This is achieved by outlining the components of the marketing communications mix and the integrated digital marketing campaign, while highlighting the impact the salespeople have and their role in the digital communication strategy of the company.
Managing People in Organisations
The purpose of this class is to support students in thinking about people and organisations. Some key questions this class explores include:
why do organisations take the forms they do?
why are organisations so difficult to change?
how do organisations influence individual behaviour and vice versa?
under what conditions do employers get the best performance from their people?
what motivates people?
how do employers and employees respond to and resolve differences of interest at work?
Organisational behaviour is the academic body of knowledge that has been produced by social scientists (psychologists, sociologists, political scientists) to investigate some of the above questions. Specifically, Organisational behaviour is concerned with the study of human behaviour (both at the individual and group level) within work organisations, and how organisational systems and structures affect human behaviour.
The Managing People in Organisations class will focus on organisational behaviour. The aim of the class is to provide you with a range of ideas, insights and evidence that will help you to understand what happens in your own organisation or organisations with which you engage. This will support you in making judgements about your behaviour, and that of others. Reflecting on the subject matter in this class should help you to understand and influence organisational practice and outcomes more effectively.
Negotiation Skills and Sales Techniques
An essential skill that every salesperson requires in dealing with customer objectives, achieving the customer's agreement while at the same time securing a good relationship with the customer. Through this core workshop (10 credits), students will learn how to achieve win-win agreements that satisfy the interests of both the seller and the buyer.
The Reflective Leader
Continued from Semester 1.
Finance Management
The primary aims of the Financial Management class are to develop an understanding of the principles of finance and financial decision taking, the nature of financial markets and institutions, and corporate financial theory.
The principles of financial decision taking will consider applications covering personal finance, the public and private sectors. The analysis of financial markets and institutions will provide a general introduction to the financial environment. The primary focus of the class will be on corporate financial theory and this will address two basic questions. How should a company evaluate proposals to invest in additional assets (the investment decision)? And secondly, how should funds be raised to finance the purchase of these assets (the financing decision)?
Contemporary Marketing Strategy
Marketing Management introduces major marketing concepts and techniques and the marketing planning process. This includes exploration of what marketing is, understanding of marketing orientation and buyer behaviour.
The development of an appropriate marketing strategy for an organisation will be emphasised to enable the manager to make important marketing decisions. The changing role of marketing, within and between organisations, will be studied incorporating information technology, new organisational structures and different forms of market relationships.
The Reflective Leader
Continued from Semesters 1 & 2.
Supply Chain Management & Forecasting & Demand
The class aims to provide students with in-depth knowledge and understanding of those key concepts, methods, tools and techniques that are fundamental to effective and efficient running of supply chain operations from suppliers' suppliers to customers' customers.
Students will also understand what is the definition of "a project", understand the importance of planning and scoping a project and comprehend the potential direct and indirect stakeholders involved in managing a project and their potential impact on the ability to complete a project.
The students will also learn about risk assessment, setting priorities within a specific project, costing and budgeting for the project as well as the main alternative approaches to project execution. On completion, the students will be able to design and manage operational supply chain planning, scheduling and controlling systems for complex and disparate operations.
This is particularly important for B2B salespeople because, often, they have to work in close collaboration with managers from the buying organisation to develop and deliver joint projects in terms of new product or process innovation development.
Account Management & Customer Relations
This module looks at the marketing of products and/or services when the buyer is not the individual consumer but rather another company or organisation. In any given economy, the bulk of the transactions are between companies and organisations.
The latter, compared to the consumer, have a much different buying behaviour, which in turn explains why marketing for B2B customers is significantly different from marketing to consumers. At the same time, while all customers are clearly important, some are of vital, strategic importance to the supplier.
Managing the relationship with such customers is thus essential for the financial success of the supplier. Hence this class aims to familiarise the students with the idiosyncrasies of the B2B customers and help them understand the implications for the suppliers' approach to marketing and sales.
Strategic Sales Management
The sales profession is one of the most eclectic and rewarding, attracting candidates from literally every discipline in sciences, technology, engineering and social sciences. This core module examines the capabilities, attitudes, skill sets and knowledge required by high-performing sales manages and leader. Strategic Management requires a complex set of management and leadership skills focusing on areas including sales and marketing planning, competitive strategies and resources management. This module helps to develop the knowledge, skills and behaviours necessary to provide leadership and management to the members of the salesforce.
The rationale behind the module is two-fold – it increase students understanding of the difference between operational sales and strategic sales management and it helps them to understand how to manage their own continuous professional development in order to be a more effective leader.
Electives
To allow you to tailor your studies to your particular career needs, you will choose a total of two elective subjects.
Transformational Project
The final transformational project gives you an opportunity to examine in-depth a managerial, organisational or environmental issue of your choice over an extended period of time.
The project allows you to put into practice the knowledge and skills that you have developed throughout the MSc in Sales and Marketing Management.
The final project is an integral part of your studies and can be done on an individual basis or as part of a group.
Learning & teaching
Strathclyde's applied, experiential and personalised approach ensures a learning experience that will benefit both participants and their organisations directly and will allow for a quick return on investment, with learning being able to be implemented into the workplace immediately. The programme provides a flexible approach to learning using a blend of face to face, virtual and digital learning to maximise impact.
The course is taught in English and studied part-time over two years. Those admitted to the programme are expected to have a minimum of two years' relevant work experience
Learning methods include:
face-to-face teaching via intensive seminars delivered by Strathclyde University staff at our partner premises in Athens
regular local counselling support in Athens
online study with specially prepared core learning materials and full, supported access to Strathclyde's virtual learning environment
assignments and examinations set, marked or validated by Strathclyde University staff
Assessment
Assessment throughout the programme involves a combination of:
course work
workshops
examinations
group work
presentations
As far as possible, coursework will be related to your work environment. The examinations and assignments are set, marked and validated by the University of Strathclyde academic staff. They're identical to and assessed on the same basis as students undertaking the programme in the UK.
Back to course
Entry requirements
Academic requirements

hold a degree from a UK university, or equivalent academic qualification from a comparable non-UK institution. If you studied for your undergraduate degree at a non-UK institution we'll need a copy of your degree transcript. Professional qualifications will also be considered
two year's full-time postgraduate experience in a sales or sales support role within an organisation is desirable, however those without relevant work experience will also be considered

We may ask you to undertake a formal interview to discuss your achievements and aspirations.

Competence in English

The course is delivered in English. It is highly interactive and requires a high level of competence in English speaking, writing, reading and understanding.

A minimum score of 6.5 in IELTS is recommended for those applicants whose first language is not English.
Back to course
Fees & funding
Fees may be subject to updates to maintain accuracy. Tuition fees will be notified in your offer letter.
All fees are in £ sterling, unless otherwise stated, and may be subject to revision.
Annual revision of fees
Students on programmes of study of more than one year should be aware that tuition fees are revised annually and may increase in subsequent years of study. Annual increases will generally reflect UK inflation rates and increases to programme delivery costs.
Back to course
Careers
We recognise that career development is one of the main reasons why people invest in a qualification of this kind.
Our aim is to equip you with the knowledge, skills and new behaviours required to succeed in sales leadership roles in a wide range of organisations.
This could be developing you to progress your sales career more rapidly within your existing organisation or giving you the knowledge, skills and confidence to make a career change.
That's why Strathclyde offers a dedicated careers service for all of our students.
We work with you to complement your own proactive job search efforts. We help use your own particular career background and strengths to help with your next career move.
You'll gain the understanding and tools to develop your personal, strategic career plan, as well as the self-marketing and communication skills to make effective applications and impress at interview.
You'll have the knowledge of the global job market and a range of contacts to make it work for you.
Back to course
Sales and Marketing - October
Sales and Marketing - April
Partner information
Hellenic Sales Institute
The Hellenic Sales Institute (HSI) was established more than 20 years ago and its current membership includes around 300 Sales Executives and over 2,000 salespeople. The academic environment in Greece and the UK is similar since local universities do not offer a postgraduate degree with a clear focus on sales. This unique situation provides opportunities for collaboration between a world-leading university and a national professional association. HSI will work together with our local Greek Centre to promote the MSc Sales & Marketing.
IMS College
For more information about our partner in Greece, please visit the IMS College website.