Holiday in Harbin
One of the things that excited me most about moving to China was the opportunity to travel and experience the different customs and delicacies of the many provinces. When we first arrived in 天津 getting on the 地铁 or in a 出租车 was exciting and challenging enough, but it didn't take long for us to be travelling outside of the province. My first trip was to Qufu 曲阜 in October, we have all travelled to 北京, and this winter many of us went North to Harbin (哈尔滨).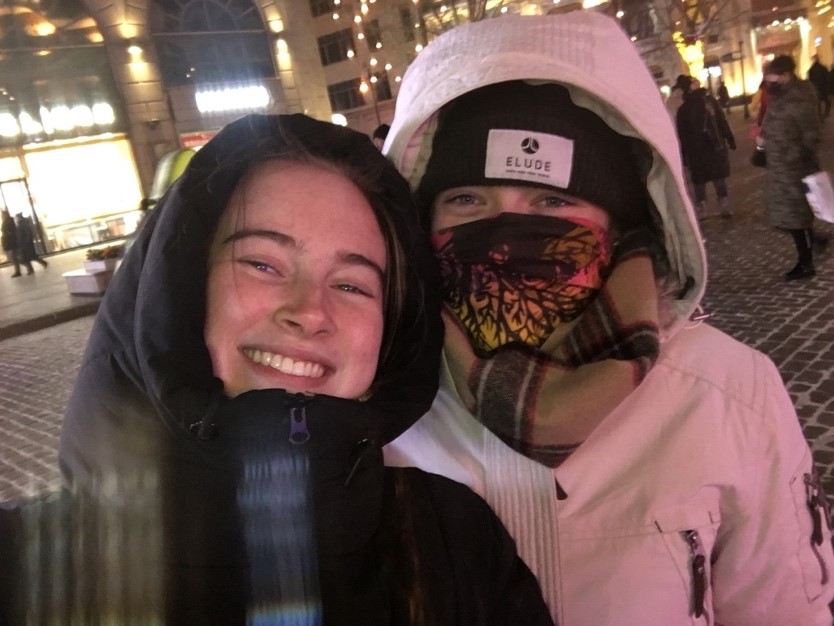 Maia and I went to 哈尔滨 the weekend before Christmas (and our exams). We booked our train tickets on WeChat (微信) and we found a really cheap hostel on Booking.com. We did leave booking the train tickets a bit late but managed to get hard sleeper(硬卧 )tickets for around £40 each way. Hard sleepers are the most basic bed option, you have a bunk in a triple bunk bed and have 5 other passengers in your cabin. Maia and I booked our train tickets together but were not in the same cabin. On the way back home, I was on the top bunk, which is really high up, so I just lay there for the whole journey. As I was scared, I wouldn't be able to get back up, if I went down. It was a low speed train so the journey from 天津 to 哈尔滨 was about 17 hours. If you want to learn more about trains in 中国, here are some useful links :
https://www.trainspread.com/china/train-types-and-seat-classes/
https://www.lonelyplanet.com/china/transport/getting-around/train
I'm sure you have read some of the Booking.com horror stories in previous scholars blogs, but our hostel was lovely and only 60元 for two nights. We made a 朋友 with one of the girls staying in our dorm, and we went to have 饺子 together. The 老板 of the hostel was really friendly and helpful, and wanted to help us plan our short stay in 哈尔滨。We quickly realised that the Snow and Ice festival that we came to Harbin for opened on MONDAY, the day we were getting a 15 hour train home to 天津. ( Take a look at some of my friend's blogs for some pictures from the Harbin festival!) Our hostel was advertising different holiday packages, with not much else to do we signed up for a two-day snow trek. This cost us 400元 each and included all of our food, accommodation and transport. Not really knowing what to expect we got on a minibus at 6 o'clock in the morning to snow valley. Six hours later we arrived in this little town on a mountain that looked like something out of a channel 4 Christmas movie…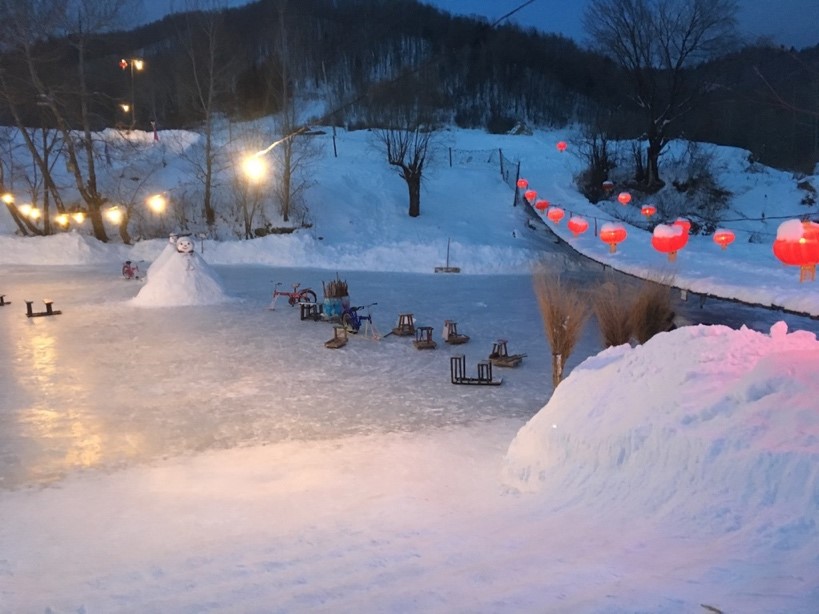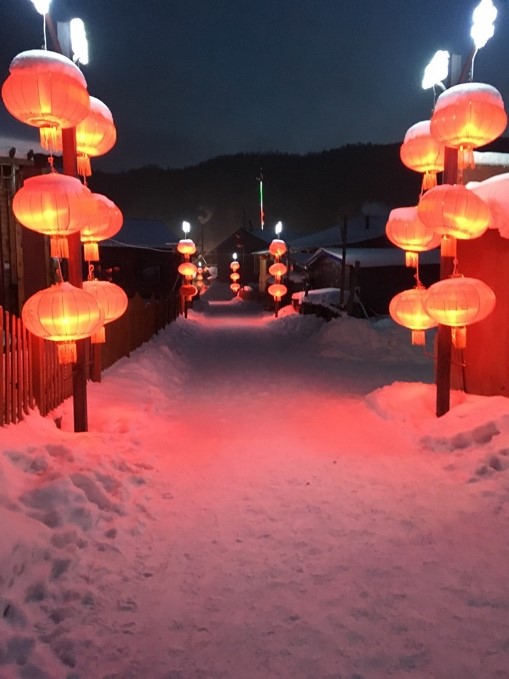 Our accommodation in Snow valley was with a small family, who would be our guides for the next few days. There was one other person who had booked onto the same holiday as us, he was Chinese, but had grown up in the UK. His 中文wasn't that much better than ours, but he helped us communicate with the locals. In snow valley, there wasn't much else but 雪, we sent sledging, tubing and ice skating. The grandmother of the family cooked us breakfast, lunch and dinner every day. We also got the chance to help make 饺子 for dinner one night with varying success.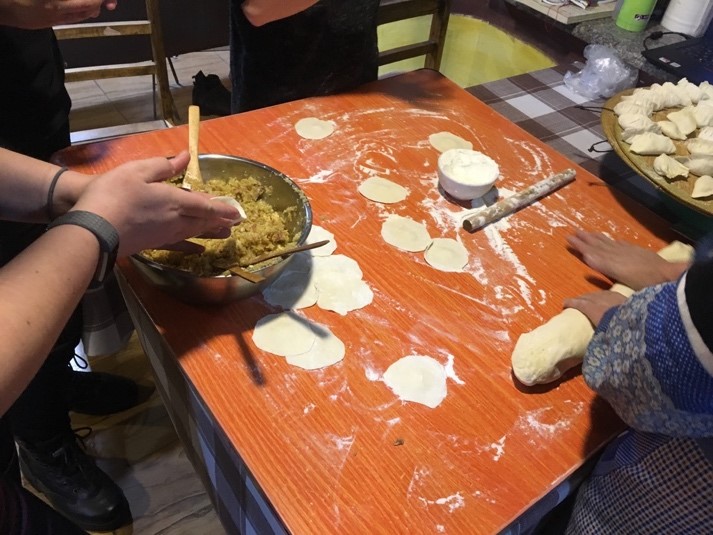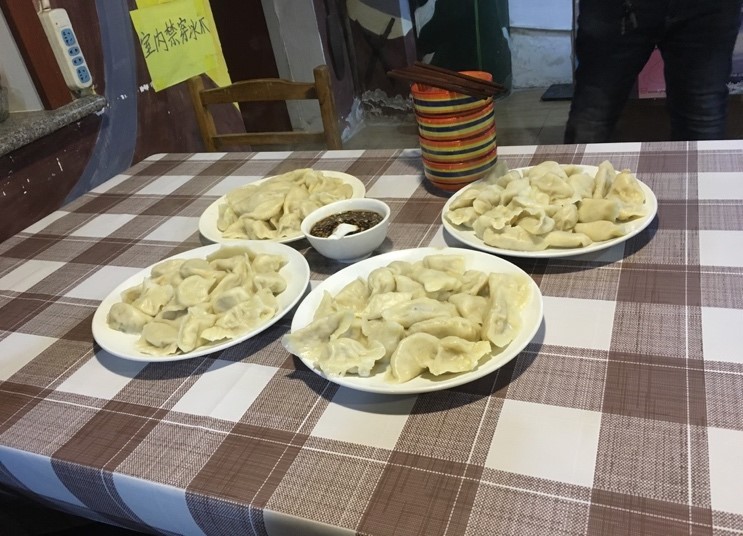 While we were in 哈尔滨the temperature was around -20 °C, I have never experienced anything like it. Every day I was wearing three pairs of leggings and as many jumpers as I could fit on. Kirsten had kindly let me borrow her big winter jacket, as mine that I bought for 50元 was just not going to cut it. At night there was heater turned on under our beds, which was a life-saver! I had also brought some disposable hand warmers, to keep in my gloves and socks. The freezing temperatures also affected our phone's battery lives, so we were always carrying around portable chargers. It only took about 10 minutes of being outside before icicles started to form on our eyelashes (眼睫毛)!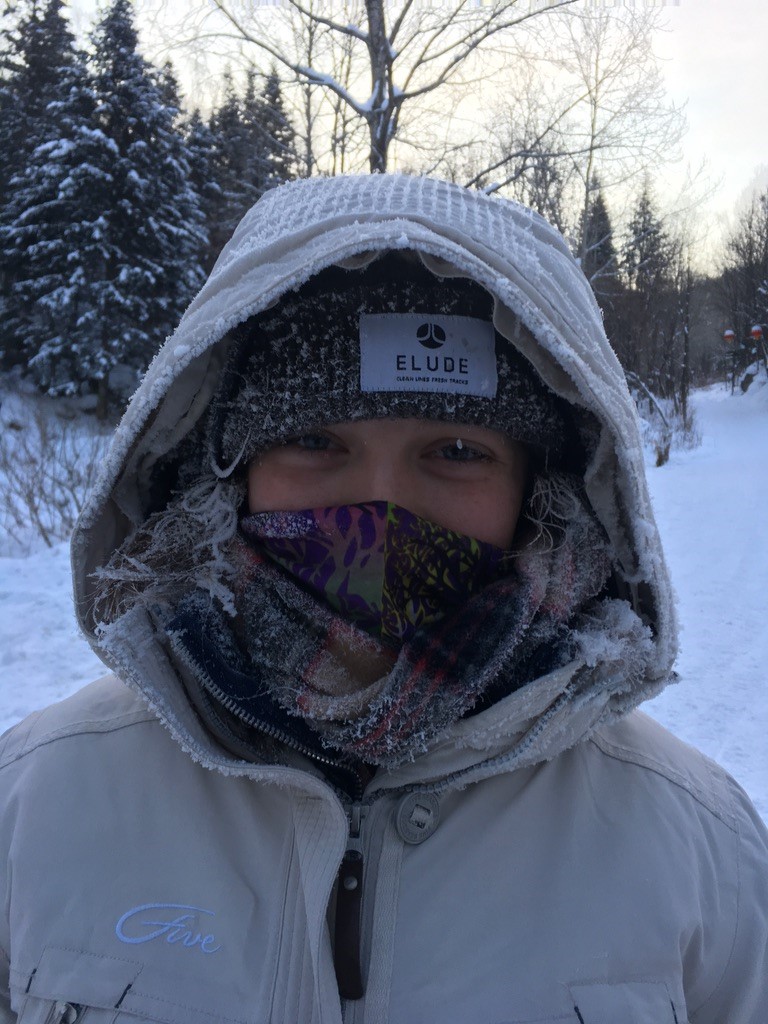 The snow hike was planned for Sunday morning, we filled up on the traditional Chinese breakfast including: 粥,鸡蛋,面包 and set out at 六点半. Our train back home was at 9pm that night, so we had to get up the mountain as fast as we could in order to get back to 哈尔滨站 on time. This was a real struggle as my boots had zero grip on them. I would take one step and then slide down at least five. I did buy my boots off Taobao for 25 元 which is about £3. In my defence we didn't plan to go hiking… However, with the help of Maia, our new friend King and many Chinese hikers (who were at least triple our age) I got up the mountain. It was so incredibly fun and such a refreshing break from city life. After a few hours of hiking, we got to slide back down the other side... which was definitely the highlight!
We also had enough time to explore some of the most famous sites in 哈尔滨, including Central street (中央大街) and St. Sophia's Cathedral. Central street is a cobble-stoned street lined with a combination of Chinese and European restaurants, with old architecture dating back to the Russian era. While we were there some amazing ice sculptures were being erected. Nearly everyone was holding an ice-cream (冰淇淋)in -20°C,so of course we had to try one! A 哈尔滨delicacy for only 5 元!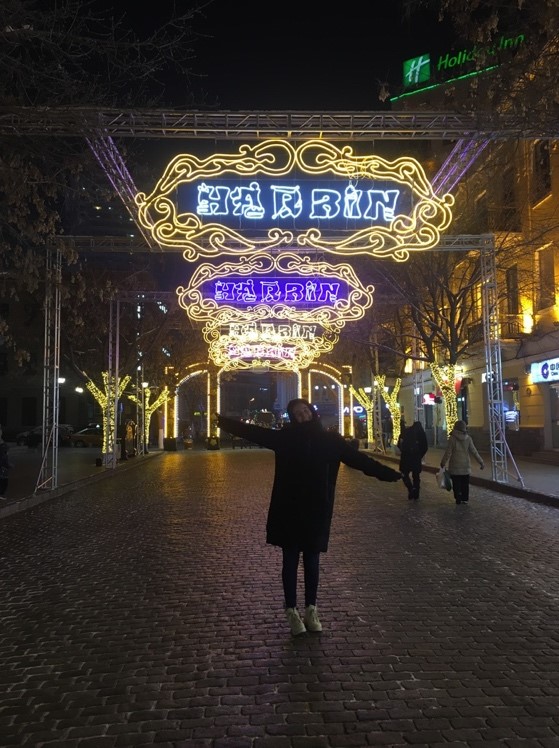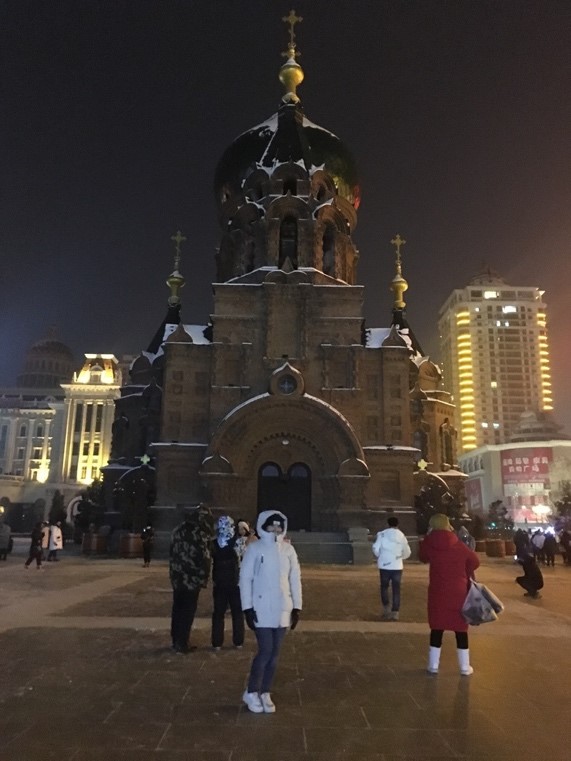 Despite our trip to 哈尔滨 not being what we planned (or failed to plan) it was so much fun and we squeezed so much into the short weekend break. One of the most important pieces of advice we were given before moving to 中国 was to "GO with the FLOW", and that definitely helped us navigate our adventure in Harbin. In less than two weeks I will be travelling all over China and South East Asia, I can't wait! And I'm sure this advice will come in handy once again.
练习
Write a list of things you would pack for a trip to somewhere a) -20 °C b) 30°C
(hint : you can use these to get you started 防晒霜,帽子,拖鞋,围巾)