Splashes of Tartan
Hello everyone! It's me again. 十一月 has been a pretty busy month for me, and a pretty cold one too. The temperature has definitely knocked down a bit and although it's not nearly as cold as Scotland yet, it feels like it is. Hats and scarves are now needed more when we go out at night and even during the day sometimes.
Even when walking over to class, I've needed to wrap up warm, which came as quite the surprise!
Despite the cold, one of the best days was one 星期四 after class. Where myself, Margaret, Bethany and Lewis all went on a trip to IKEA. It took a while to get there, having to get the subway, and change lines a few times too. It was definitely worth it however, as it was so much fun going and especially with it being so similar to the ones back home in 苏格兰. We had the classic meatballs for our lunch, which was obviously a necessity, and then we got onto shopping. We spent ages looking around and finally buying much more than what we needed.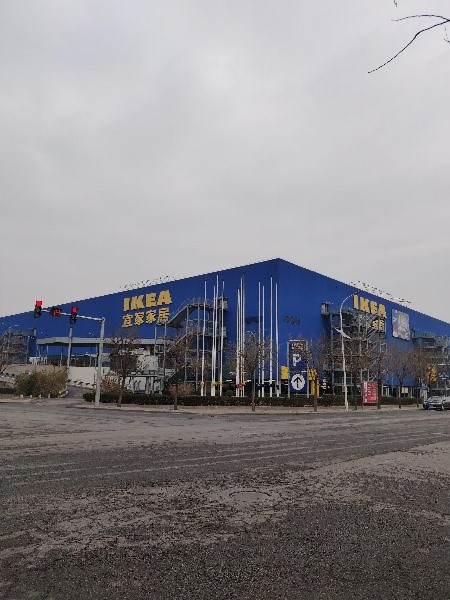 The IKEA Warehouse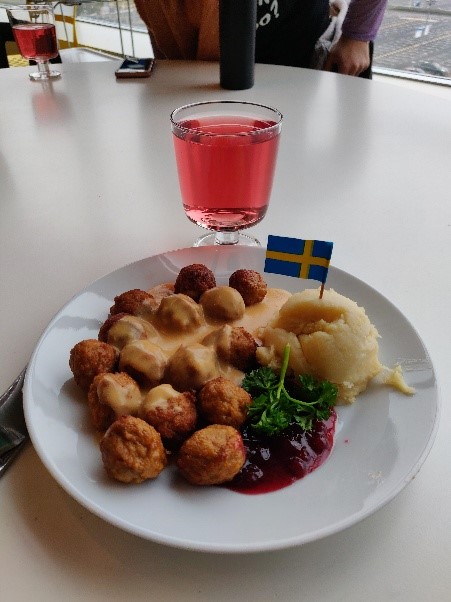 Meatballs!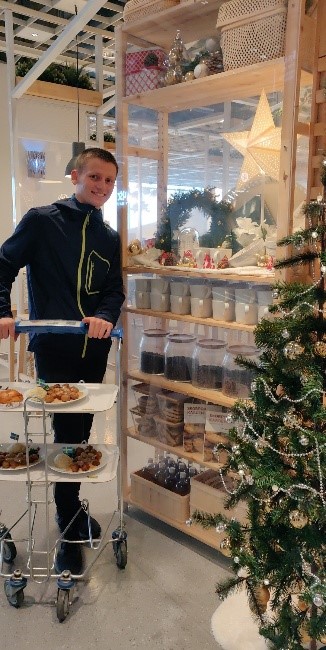 Christmas decorations at IKEA
Since it's getting closer to Christmas, we've been getting into the mood more and more every day. We've been listening to Christmas music and some people have even put up decorations!
Putting us into an ever bigger Christmas feel, Maia, Lewis and I went skiing. Since this was only my second time skiing (the first time was over 8 years ago, which was on a dry ski slope!) I wasn't expecting much. However, with the help from the pros (Maia and Lewis) I managed to stop falling over, and get down pretty quickly too, which was quite an achievement for me. It was pretty cold, but that didn't stop us. Especially Maia and Lewis, who were speeding down the slope, I wouldn't have been able to catch up to them even if I tried!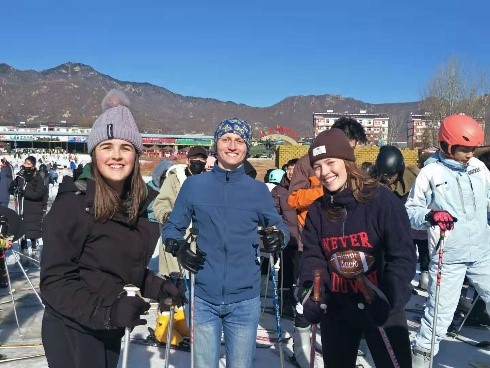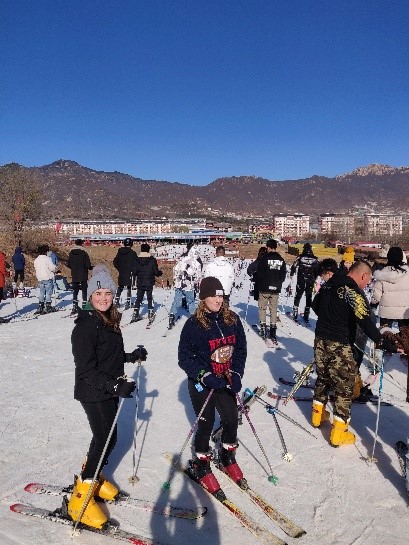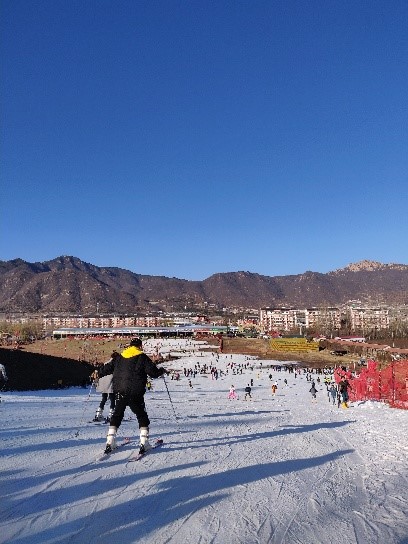 Skiing!
But the biggest Christmas buzz definitely came from the Scottish Alumni Ceilidh and St. Andrews day ball at the end of the month. We had all been looking forward to it since before we got the tickets, and the finally getting there made it even better.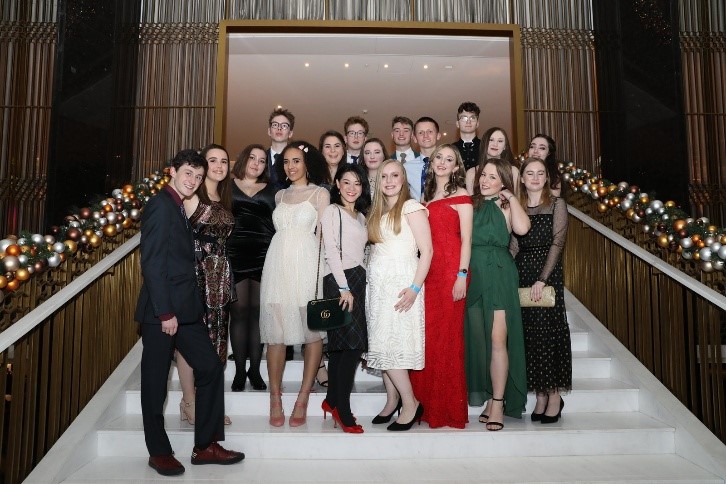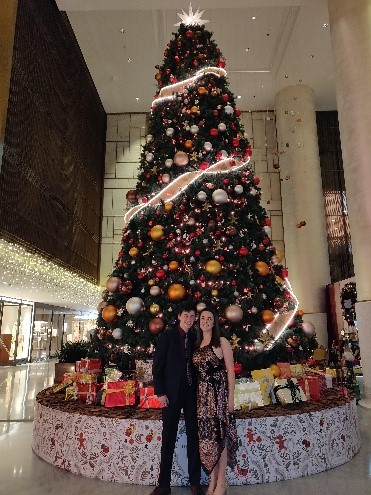 All the scholars at the Ceilidh
We were all invited to the Ceilidh on 星期五 the 29th of November, to dance and also have the chance to speak to alumni from some Scottish Universities. It was so much fun to have a night with all the scholars where we got dressed up and went to 北京. We did have to quickly get trains to 北京- where I even managed to get most of my homework finished in- and find our accommodation before getting ready.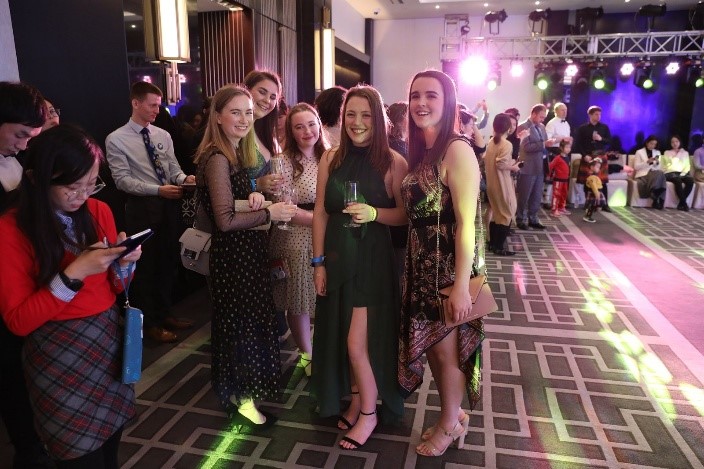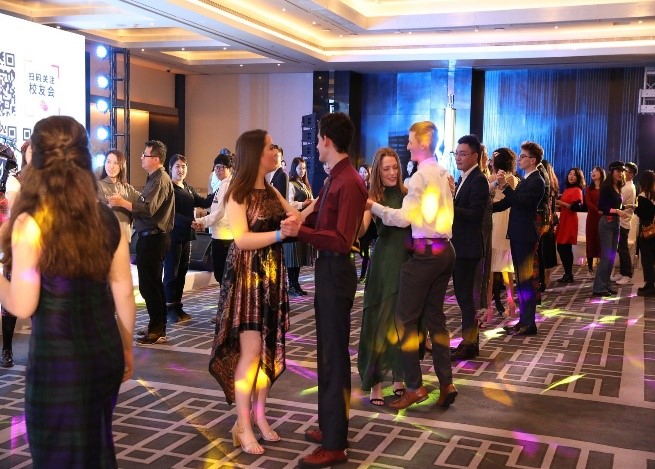 On top of all the dancing from the first night, some of us had got tickets to the St. Andrews day ball the next night on the 星期六. Somehow it was even more fancy, where we showed up in gowns, tuxes- and a kilt! Yet we weren't even some of the most fancy there. It was a great networking event, but also a great event to talk about 苏格兰, and finally get to have some traditional Scottish food and drink. There was haggis neeps and tatties, Cranachen and whiskey as well as more different foods and drinks. We all danced the night away before heading home on the 星期日, to be back and ready for class on Monday.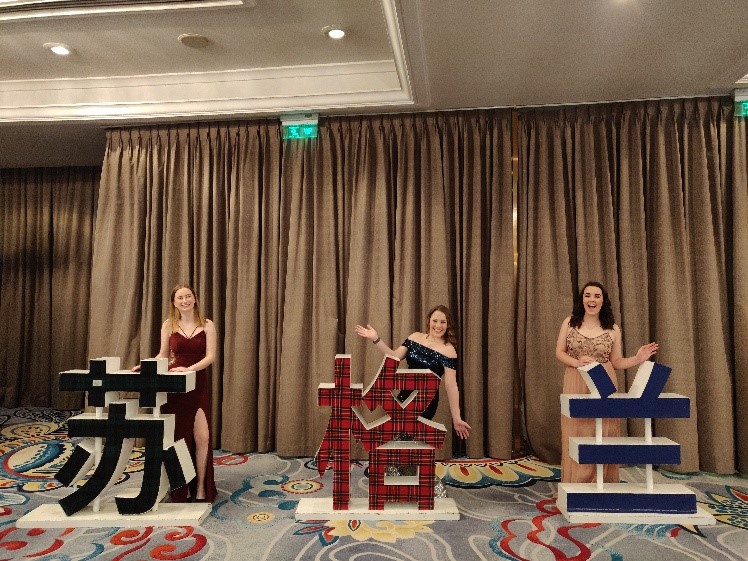 苏格兰 at the Ball!
I had a great weekend in 北京, which felt so Scottish, I wish we could have stayed longer!
Until next time,
科思特
十一月- Shíyī yuè- November
星期四- Xīngqísì- Thursday
苏格兰- Sūgélán- Scotland
星期五- Xīngqíwǔ- Friday
北京- Běijīng- Beijing
星期六- Xīngqíliù- Saturday
星期日- Xīngqīrì- Sunday