Travels and Transport
The 1st of October is the anniversary of the founding of the People's Republic of China and so there is a national holiday and we were all given the week off. This year was the 70th anniversary so the celebrations were much bigger. I was very lucky as I had family visiting me for the holidays; my gran and aunt arrived for the second half of the week off and my mum arrived just after the holidays were over but was staying for a bit longer. Also, my sister is living in Beijing this year as part of her university degree, which meant I was able to spend the holiday with a lot of family. We had organised a trip to Xi'an, and then they were staying in Tianjin and Beijing while I would be back at school after the holidays were finished. I also had a day trip planned to Beijing before my family arrived, so it was a really busy holiday!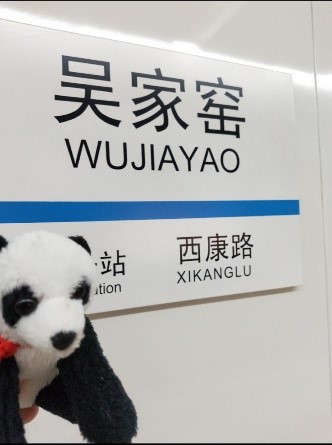 The October holiday is the busiest holiday in China in terms of travelling for tourism. We chose not to go to Beijing on the 1st of October which is National Day as we knew it would be ridiculously crowded as a lot of people go to Beijing to see the celebrations and the parade in Tiananmen Square. Instead I watched it live on my phone while I was in Tianjin. The parade was massive, over 100,000 people and 15,000 army people took part and a lot of weapons and armoury were shown. It was so impressive seeing everyone marching in perfect formation. I would really recommend for people to look up videos of it online, it was really spectacular.
On the Thursday we had our day trip to Beijing and it was still so, so busy after National Day. We took a train (火车huǒchē) to get there and we had to get standing tickets because everything else was booked up. I went with two other scholars and two other girls from our university. The first stop was the Pearl Market which is a big market where you can haggle for fake goods. Then we went to the Temple of Heaven in Tiantan Park. The complex of temples was considered to be the best meeting point of heaven and earth. In the park there was the Alter of Heaven which was said to be the middle of the Middle Kingdom making it the centre of the earth. The main building is the Hall of Prayer for Good Harvests which is built on a massive square base- to represent the earth- and is circular in shape- to represent heaven. We spent a lot of time in the park as it was a beautiful place. Also, we wanted to cool down as that day was the last proper hot day this year which was very unfortunate because we walked around a lot and I had to carry around my suitcase with me as I was going to be travelling the day after.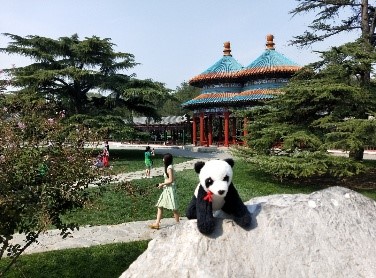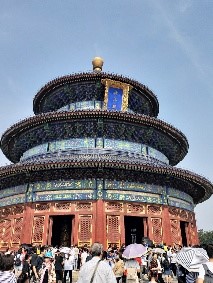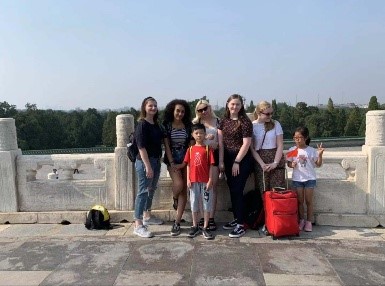 Then we headed towards Tiananmen Square. However, some of the subway (地铁 dìtiě) stops were closed so we decided to walk the rest of the way. Apparently, this was the same decision made by all the other tourists in Beijing that day! It took us almost three hours to walk two kilometres because it was so incredibly crowded. When we finally arrived the square was packed. Last time I went to Tiananmen Square it was the middle of winter and there were only a few dozen other people, so it was actually really fun to see the square the complete opposite. We took some more pictures and walked a bit more to a few more parks, including Jingshan Park which involved a big walk up a hill (with my suitcase!). There were lovely views, though, and I had an amazing day overall. After that I said goodbye to my friends and went over to Peking University to stay with my sister.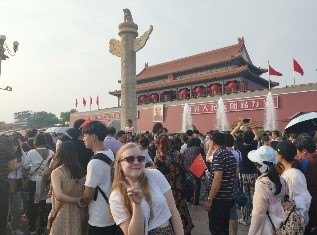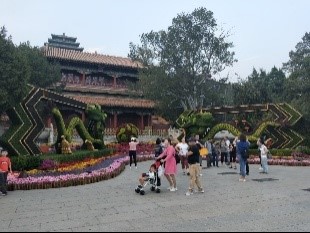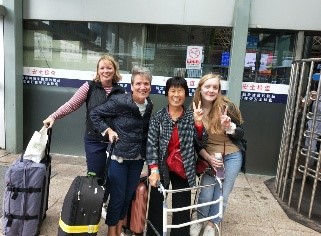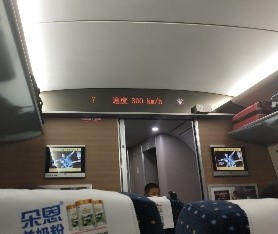 The day after Beijing, my gran and aunt arrived! My sister picked them up from the airport and we immediately took a taxi (出租车 chūzū chē) to the station to get a high-speed train (高铁 gāotiě) to Xi'an; it took around 4 and a half hours to travel over 900km. Xi'an is the capital of the Shaanxi province and has a vast history as an ancient capital and the start of the Silk Road in China. We were there for three days. It is most famous for the Terracotta Warriors, which are an army of statues buried with the first emperor of China in order to protect him in the afterlife. Thousands of life-sized statues have been discovered but this is only part of a much larger necropolis built for Emperor Qin Shi Huang just over 2,200 years ago. The football pitch sized tomb itself has not yet been excavated because archaeologists are worried that doing so will destroy it.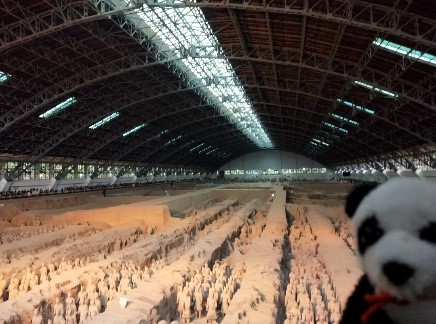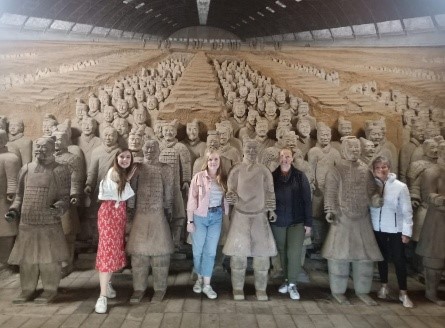 We went to visit the Terracotta Warriors on the first full day we were in Xi'an. They are outside the city so we took a Didi, which is China's version of Uber (专车 zhuānchē). It was very, very busy; there were massive crowds all around the barrier where you could get closer to the statues. It was genuinely amazing to see the warriors in real life because you could see the details of each warrior and the scale of how many there are. The statues are around 1.8m tall and each one is unique. They were and each one had to be slowly put back together, a process which is still going on more than 40 years after their discovery. There are three pits of soldiers, two are held in massive hangars and the other is a smaller 'command centre' of soldiers. Pit One was the biggest; they have pieced together more than a thousand warriors out of an estimated eight thousand. There is also a museum at the complex telling the history of the Warring States Period and how Emperor Qin united China. It is a really interesting part of Chinese History that I would like to learn more about. We went back to the city by bus (公共汽车 gōnggòng qìchē).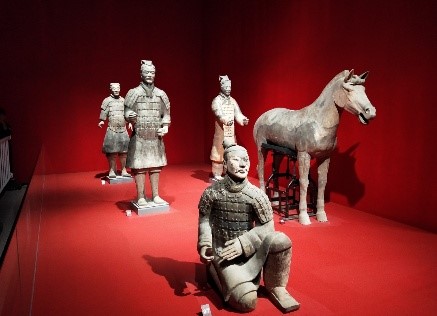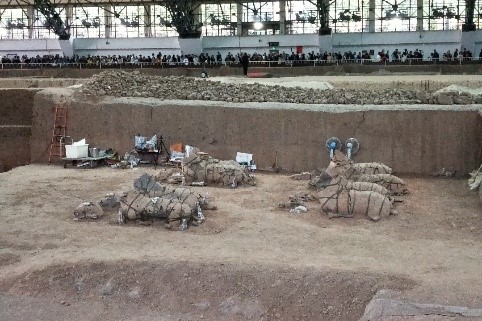 On the second day, we visited the Drum Tower in Xi'an, which was used to mark nightfall, while the Bell Tower nearby marked dawn. Whilst there we saw a traditional Chinese music performance. We also went to the Taoist Temple of Eight Immortals, which was a really tranquil place in the middle of a busy city.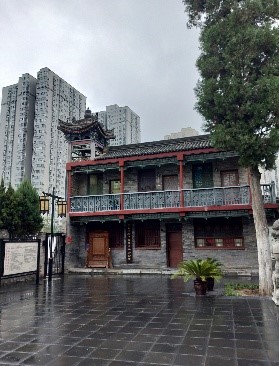 On the last day, we went into the Muslim Quarter and visited the Great Mosque. Since Xi'an was on the Silk Road trading route it was historically very multicultural; the Hui Chinese minority are said to be descended from Arab soldiers from the eighth century and the Muslim Quarter is the centre of their community in Xi'an. The Great Mosque in Xi'an is the largest Mosque in China and was originally established in 742. It looked quite similar to the Taoist temple we had seen the day before but it was really interesting to see the minaret in a traditional Chinese style. In the quarter we haggled for souvenirs and had some street food. That afternoon, we hired some bikes (自行车 zìxíngchē) to cycle around the city walls. The city walls, originally built in the Tang Dynasty, are around 14km in length and have four big city gates and many watchtowers. This was one of my favourite things we did in the holiday; it was a lovely way to see the city.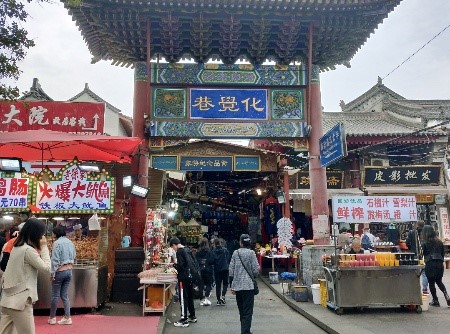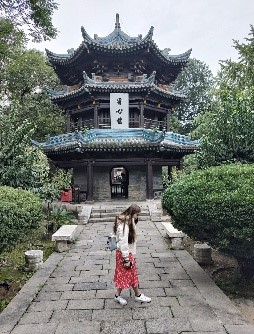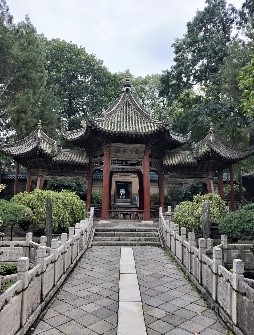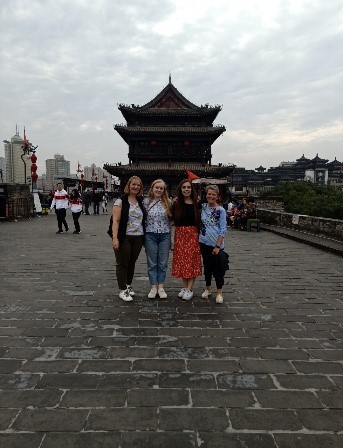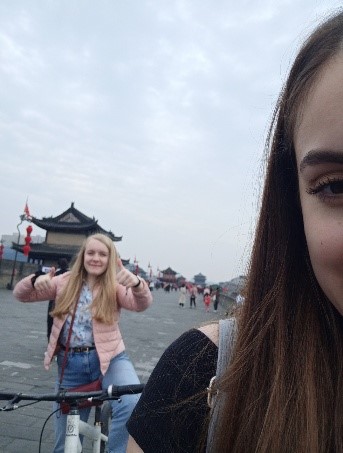 Sadly, I had to leave that night because I had class the next day. I took a coach (大巴 dàbā) to the airport and then a plane (飞机 fēijī) back to Tianjin, while the rest of my family took the train back the next day. Fortunately, my mum arrived in China that day which meant that even though my holiday was over, there was still a lot to do as my gran, aunt and mum would be seeing the sights of Tianjin and Beijing. In Tianjin, we went to the museum and took a nighttime boat trip on the river to see the city and Tianjin Eye while everything was all lit up. Then they moved on to Beijing and saw the Great Wall and the Forbidden City, both of which are must dos when visiting China. I went to visit them at the weekend but, unfortunately, I only had one day off that weekend because we were given two extra days of class to make up for the fact that we had a holiday.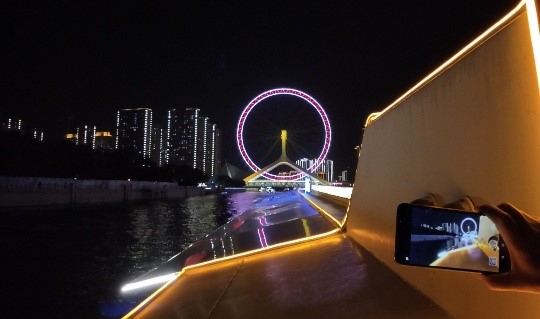 On the Saturday night after class I was surprised with a trip to see a Kung fu show! I was absolutely astounded by so many of the things the performers were able to do. There were kids doing flips where they bounced off the top of their heads; men breaking iron bars on their heads; one man lying on a bed of nails with a concrete block on top of him. The show was inspired by the Shaolin Temple which is where Kung fu originates. Kung fu was developed by Buddhist monks at the temple because it was often raided by bandits. They copied the movements of animals like snakes and tigers and would preform feats to show their strength and discipline, which was all shown during the show and it was amazing! And of course we had Peking duck that night. When in Beijing!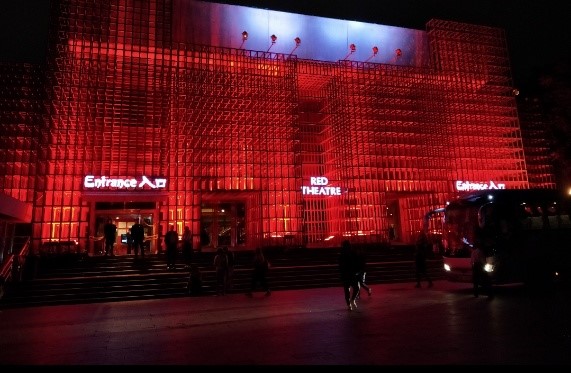 The next day we went to the Summer Palace which is so massive it really feels like being in the countryside even though you are still in one of the busiest cities in the world. At the entrance area there was a little village on the riverside called Suzhou Street where nobility would pretend to shop. We then went over and down a hill to the other side of the palace grounds to the long corridor, which is a covered walkway where nobility could walk along the lakeside without having to be in the sun. It was all very extravagant. There were so many buildings and halls and temples, we didn't have time to do all of them. The best part was the Tower of Buddhist Incense which was a big temple halfway up the hill with really beautiful stairs and buildings all the way up. I heard one lady say to her friend "加油! 加油!" (jiā yoú) to help her get up the steps.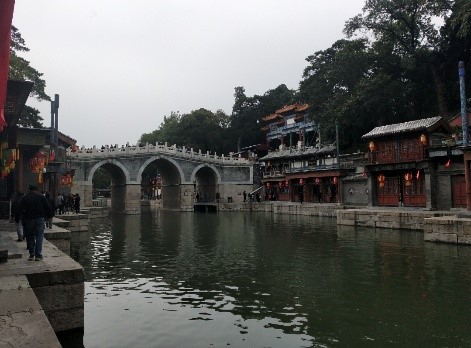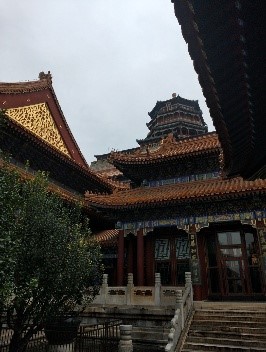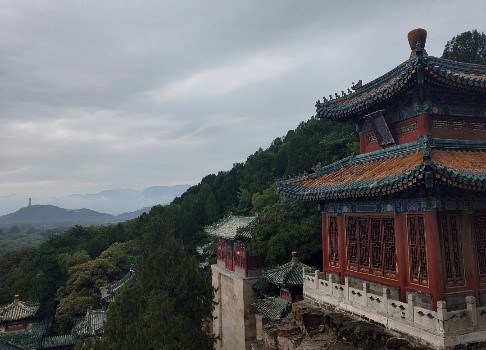 That night I had to go back to Tianjin and say goodbye to my gran and aunt. My mum was still there but I only had one more day with her. I went back to Beijing on the Tuesday and we went to visit Yonghe Gong Lama Temple which is a centre for Tibetan Buddhism. It hosts the Maitreya Buddha, which at 18m tall is the largest statue made out of one single piece of wood. The complex was amazing, it was probably the most intricate and yet vast temple I've seen in China so far. We then took bikes to get to the Sanlitun district which is a very modern and chic part of Beijing. Sadly, yet again, I had to say goodbye as my mum was leaving the day after.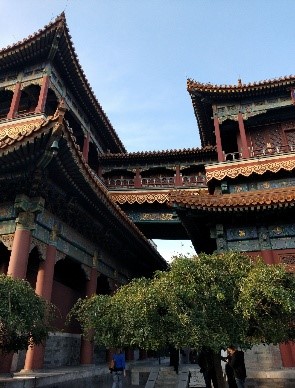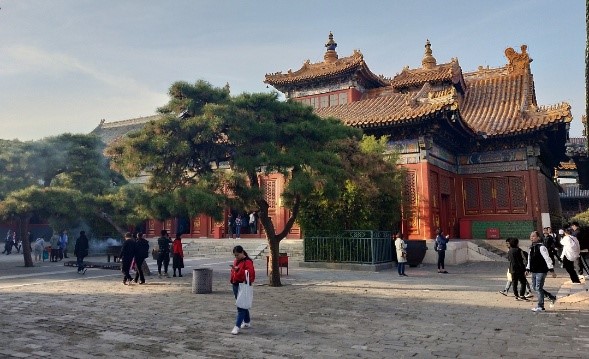 All in all, I had a truly amazing holiday and got to see so many wonderful things that I hadn't seen before in China. I was so fortunate to have my family visiting, especially this early on in the year. It was so much fun showing them around the part of China I now call home while also discovering so many new parts with them.
Transport Vocabulary
火车huǒchē: Train
地铁 dìtiě: Subway – This is an abbreviation of 地铁列车 dìtiě lièchē
出租(气)车 chūzū (qì)chē: Taxi
高铁 gāotiě: High Speed Train – This is an abbreviation of 高速铁路 gāosù tiělù
专车 zhuānchē: Taxi booked via apps like Didi, Uber, etc. (Literally 'special car')
公共汽车 gōnggòng qìchē: Public Bus
自行车 zìxíngchē: Bicycle
大巴 dàbā: Coach
飞机 fēijī: Airplane
汽车 qìchē: Car
辆 liàng: measure word for vehicles, bikes, i.e 一辆出租车
列 liè: measure word for trains (and a series or row of things), i.e 一列火车
架 jià: measure word for airplanes (and machines/instruments which rest on a tripod), i.e 一架飞机
号 hào: number
线 xiàn: route, line, i.e 地铁三号线 (Subway line 3)
路 lù: route, road, i.e 七路公共汽车 (No. 7 Bus) -Note: 号 is not used here
站 zhàn: station, to stand, i.e 火车站 (Train station)
票 piào: ticket
公交卡 gōngjiāo kǎ: Bus pass
开车 kāichē: to drive a car
骑 qí: To ride
骑车 qí chē: To ride a bike
骑马 qí mǎ: To ride a horse
坐 zuò: to travel by or on, to sit, i.e 坐公共汽车 (to go by bus), 坐七路公共汽车 (to take the No. 7 bus)