MLitt Interdisciplinary English Studies

Tyler Bingham, United States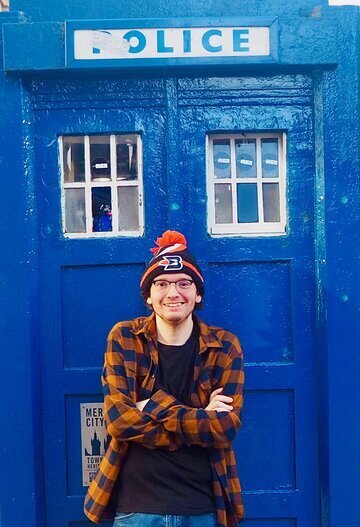 Tell us a little bit about your background...
I am originally from Walpole, Massachusetts, a town just outside of Boston. For high school, I attended Tri-County RVTHS, a vocational and technical training school where I studied Computer Information Systems. It was there that I fell in love with English as a subject and made the decision to pursue it at the university level. Prior to enrolling in Strathclyde's MLitt in Interdisciplinary English Studies, I earned a BA in English from Niagara University in Niagara Falls, New York.
What inspired you to study English?
While I have always loved reading and writing, it was having incredible English teachers at the secondary level that inspired me to pursue English at university. I'm fortunate enough to say that every English teacher I encountered at Tri-County only made me fall deeper in love with literature and literary analysis. Niagara University's strong English program and wonderful faculty only deepened my passion for the subject.
Why did you choose to study Interdisciplinary English Studies at Strathclyde?
At Niagara, I took on a varied course load. Although I majored in English, I picked up minor concentrations in Philosophy, Sociology, and Religious Studies. If I had more time, I probably would have squeezed History and Writing Studies in there as well. Writing my degree capstone and honors thesis proved to me that you cannot be a serious scholar of English without drawing on ideas from a whole web of places. Strathclyde's MLitt is, it seems to me, very much so aligned with that idea, so it was an easy choice for me.
Did you seek any support during the application process?
During my application process, I received a lot of help from Strathclyde's admissions team and specifically, Melissa Cunningham and Ashley Smith. I pestered them with a lot of questions, and they always got back to me with answers or were able to direct me to someone who had them.
What has home learning been like in comparison to your traditional form of learning?
Home learning, I think, is entirely incomparable to what you get in the classroom. While Zoom is a wonderful tool, and I do feel like I'm learning a lot in my classes, English is a subject that really flourishes under conditions where it is easy to have discussions and share ideas. The faculty has been great at recreating this environment as much as possible in the virtual setting, but I don't think there is a replacement for the real thing. That being said, if it's the difference between getting someone sick or getting sick myself, I will gladly work from home.
What specialist knowledge/professional skills are you hoping to develop whilst studying the course?
In addition to learning more about the different theoretical approaches to literature and culture, I really want to develop myself as an academic writer and researcher. I think the required research module for my program has already paid dividends in that regard. Learning how to use archives, a resource I neglected to draw on at the undergraduate level, will undoubtedly be useful for the rest of my schooling and beyond.
What would be your advice for people considering taking this course?
My advice for anyone considering this course, would be to ask themselves what they want out of a postgraduate English experience. A course like this challenges its students to step outside of their comfort zone and pursue topics they may not already know anything about. For example, one of my classes this semester is about intercultural communication, and most of my classmates are TESOL students. In a lot of other programs, I might not have considered a course like this, but I can honestly say it has been rewarding to take. It's made me consider just how important clear and effective communication is. You can have the most flowery and beautiful prose in the world, but if no one understands what you are saying, then it really isn't any good.
Additionally, I can say that the English department has an extraordinarily welcoming faculty, and I would recommend that any new student feel comfortable getting in touch with them. It can be nerve wracking to ask questions or seek advice outside of class, but it has been my experience that they are more than willing to offer their advice and guidance if you need it.
What have been some of the main challenges studying at postgraduate level, so far?
COVID has made the transition to the postgraduate level far more difficult. The jump is a lot to manage for anyone at any time, but it is especially difficult now. For me, the biggest challenge has been finding the right balance between study time and free time. Rarely leaving my apartment, aside from walks or groceries, has made it difficult to really differentiate the difference between work and play. Like many other people right now, my workspace is my rest space. Hopefully, as the year goes on, I'll continue to get better at managing my time.
What do you think of the support available?
I think, given the circumstances, the support available from Strathclyde's faculty has been outstanding. They've made me feel welcome, and confident that if I need help or guidance that help and guidance are available to me.
What are your ambitions for the future?
After I finish the MLitt, I would ideally like to continue my academic study at the doctoral level. I particularly enjoy working within Comics Studies, and I would love to be able to continue this work for the rest of my life. There is nothing more exciting to me than the challenge of taking apart a text that asks its audience to consider more than just the words on the page. Readers of comics have a unique responsibility in establishing meaning, narrative, and bringing characters to life. It would be a blessing to be able to pursue these topics at the next level.
However, I like to keep an open mind, and I am always considering different possibilities for a post-academic life. I think that's another thing that makes a program like the MLitt in Interdisciplinary English Studies so rewarding. I feel strongly that even if I choose not to pursue an academic career, I'm building a set of skills that will be competitive on any resume and useful in any industry. Now more than ever, the future feels uncertain, but I believe I'll come out on the other side of this program in a position to succeed in my next endeavor.