SCELG member Dr. Sajeva contributes a chapter to book on Rights of Nature
Dr. Giulia Sajeva, Marie Curie Fellow at SCELG, contributed with a chapter on "Environmentally Conditioned Human Rights: A Good Idea?" to the book edited by Daniel P. Corrigan and Markku Oksanen
On "Rights of Nature. A re-examination".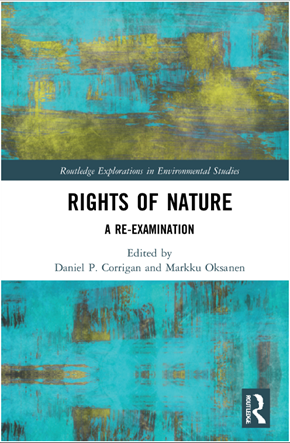 The book was released on May 17 and is part of the Routledge Explorations in Environmental Studies.
Taking a philosophical, political, and legal perspective, the book critically examines the idea of natural objects as right-holders, and analyses legal cases, policies, and philosophical issues relating to this development. In recent years, a diverse range of countries and jurisdictions have adopted norms which involve granting legal rights to nature or natural objects, such as rivers, forests, or ecosystems, and they still need to be fully taken into account and analyzed.
For more info on the book visit: www.routledge.com/9780367479596