Ground Barrier Technologies
Barriers formed by microbially mediated mineral precipitation
Microbially induced calcite precipitation (MICP) uses naturally occurring soil bacteria to produce calcium carbonate via a biochemical reaction. We're developing the use of MICP as a "bio-grout" as an alternative to traditional cement and chemical grouts.
MICP bio-grout is cheap and low carbon. The injected grout has a viscosity similar to water enabling low pressure injection into soils and rocks.
Through large scale artificial fracture experiments and numerical modelling, we're evaluating the use of MICP for fracture sealing and designing injection strategies that allow controllable precipitation of the bio-grout where it's required.
Funding: EPSRC Big Pitch (£250k), EPSRC BANDD (£1.9M)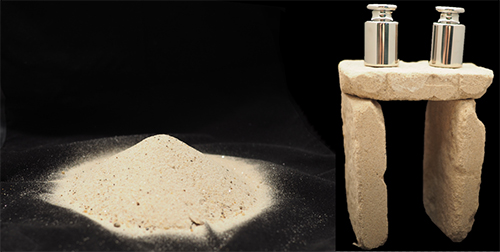 Loose sand; Sand that has been grouted with MICP
Colloidal-silica based barriers
Colloidal silica has significant potential as a low viscosity grouting technology for the formation of hydraulic barriers. It has a low initial viscosity, a very small particle size, it's environmentally inert and its controllable get time allows setting times to vary from minutes to several days.
We're investigating use of colloidal silica grouts to inhibit radionuclide migration on nuclear sites during decommissioning and waste disposal. Challenges include understanding grout-radionuclide interactions, developing injection strategies to create horizontal barriers and controlling grout gel times in natural environments.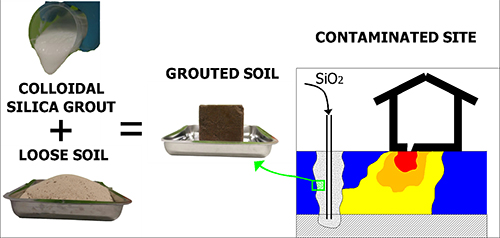 Injecting ground barriers using colloidal silica
Funding: Part of the EPSRC DISTINCTIVE project (£8M), ANSTO (£150k)
Detectable cementitious barriers
Current approaches to grouted barrier construction are limited by an inability to 'see' (or image) the grout, after its injection into a soil or rock. To overcome this, grouting design and construction methods typically incorporate a high level of redundancy, ie they inject huge volumes of cement. This conservative approach is expensive cost and has a high carbon footprint.
We're developing a system, comprising specialised grout additives and an accompanying detection system which will enable 3D visualisation of the injected grout volume within the ground.
Funding: Innovate UK, DETECTAGROUT project, Industrial Lead BAM Ritchies (£587k)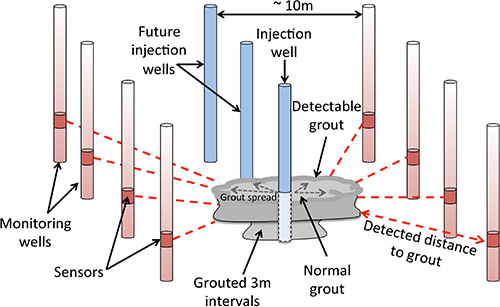 Detectable grouting system
Bentonite barriers for nuclear waste disposal
Bentonite is a naturally occurring clay that forms a barrier to water flow. Compacted into high density bricks or pellets, bentonite forms an important engineered barrier material in geological disposal facilities, ensuring isolation of wastes underground over extremely long timescales.
Research at Strathclyde is improving our understanding of the mechanisms that cause bentonite erosion in groundwater, to enable reliable predictions of bentonite mass loss over million-year timescales. By constructing laboratory-scale experiments of water flow around bentonite, we're examining the ways in which impurities in the bentonite can be used to protect against erosion.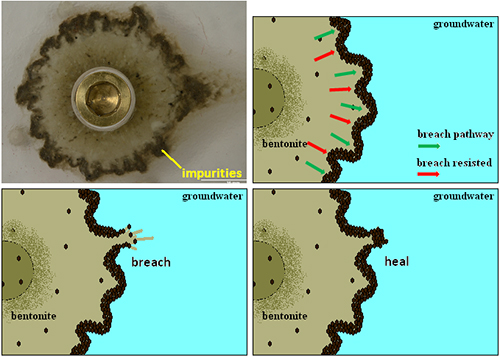 Bentonite swelling into water but being contained behind a ring of (darker) impurities
Funding: EPSRC Safe Barriers project (£1.3M)
Permeable reactive barriers
Permeable reactive barriers (PRBs) constructed from phosphate minerals have the potential to be used for the remediation of groundwater contaminated by radionuclides. Specifically we aim to clean up radionuclide contaminated waters derived from uranium mine tailings. Microbially induced biomineralisation processes provide a promising mechanism of barrier construction.
This research investigates the factors influencing biomineral formation and characteristics, and considers how these parameters can be tailored to promote the manufacture of a mineral with optimal properties for field-scale deployment in a PRB.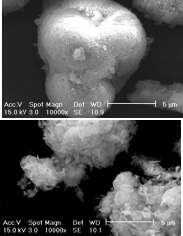 Commercially produced hydroxy apatite (top); biologically produced hydroxyl apatite with larger surface area for trapping radionuclides (lower).

Funding: Financial support is being provided through the mining industry.