Dr Jeff Fergus
The 2013 recipient of the Strathclyde People award was Dr Jeff Fergus. The Alumni Fund owes an enormous debt to Jeff, its founding chairman.
'Leads by example'
Jeff was presented with the Strathclyde People Award by Lord Smith of Kelvin, the Chancellor of the University, at graduation on the 14th November 2013. The oration was delivered by Tom Collins, Director of Media and Corporate Communications at Strathclyde.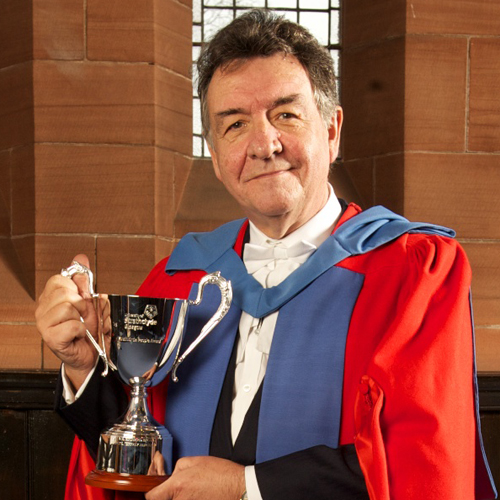 Tom said: "The Alumni Fund owes an enormous debt to Jeff who was its founding chairman. He now sits as one of the alumni considering applications. I can tell you now, that there is no stronger advocate for the student than Jeff. He and his alumni colleagues scrutinise every application to ensure that it directly supports the student experience.
He is a man who leads by example and is himself a major donor. On top of that he has given generously of his time: as a long-serving member of our governing body Court; a wise counsel and advisor – particularly in the area of marketing and communications; and, more recently, he has led a major review of our alumni engagement activities."
On receiving the award Dr Fergus said: "Not everyone has the opportunity of going to University and not everyone has the privilege of going to Strathclyde. You were very lucky. There are many ways in which you can maintain your links with Strathclyde after graduation and continue to play a role in the University's life. It gives you the opportunity to give something back to somewhere that has given us so much.
In helping Strathclyde be even more successful it creates a halo effect on all of those that have graduated from the University and the value of their degree."