Craig Taylor
The Strathclyde People award was presented to Craig Taylor, managing director of Conjengo, in 2014 for his work in guiding aspiring Strathclyde entrepreneurs.
'Stimulated entrepreneurial thinking'
Through his many alumni volunteering activities, Craig has stimulated entrepreneurial thinking, provided new opportunities for enhancing our student's university experience, and mentored new talent.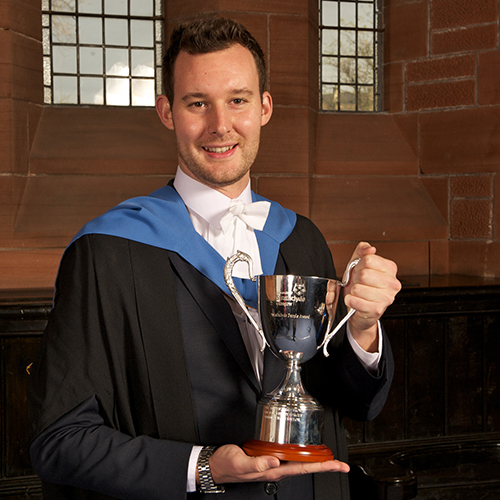 Supported by the Strathclyde Entrepreneurial Network, a collaborative network that brings together the University's academic and professional services, Craig founded Cojengo. The organisation produces apps and data designed to help farmers in sub-Saharan Africa diagnose and treat illness in their livestock.
In 2014, Cojengo teamed up with software giant Microsoft to provide innovative diagnostic tools and disease surveillance data for farmers in Kenya, Ethiopia, Uganda and Tanzania.
Craig was presented with the Strathclyde People Award by the Vice-Principal Professor Scott MacGregor at graduation on Friday 14 November 2014.
On receiving the award, Craig said:
The support Strathclyde has offered us whilst forming Cojengo has been invaluable, from access to their network and investment opportunities to two non-executives on our board, student interns and office accommodation.
There has also been endless support from the Strathclyde Entrepreneurial Network; Cojengo wouldn't be here today if it wasn't for them."
Professor Ian Ruthven, Head of Strathclyde's Department of Computer & Information Sciences, delivered the oration. He said: "Craig has taken part, and continues to take part, in events which raise awareness of enterprise activities at Strathclyde and inspire students to give entrepreneurship a go."