A Law Professor at the University of Strathclyde is to receive a Lifetime Achievement Award, in recognition of a four-decade career dedicated to advocating for human rights.
Alan Miller, Professor of Practice in Human Rights with Strathclyde Law School, has worked extensively throughout his career to promote human rights, nationally and internationally, and to have them enshrined in law.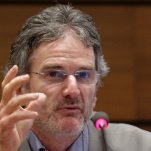 He has recently co-written the published UN Report providing guidance to UN Country Teams in using human rights to support the achievement of the Sustainable Development Goals. He also acts as adviser on the Human Rights Bill proposed by the Scottish Government and is chair of the National Collaborative established to inform Scotland's National Mission on Drug Deaths.
He is to receive the award, sponsored by The Times newspaper, at the Scottish Legal Awards ceremony in Glasgow on Thursday 22 September.
In a tweet on the award, Professor Miller said: "I receive this lifetime achievement award from my peers with equal measures of surprise and honour. It is a tribute to the progress we are all making together. The journey continues...both for Scotland and personally!"
Professor Miller was unanimously elected by the Scottish Parliament to an eight-year term as inaugural Chair of the Scottish Human Rights Commission and then served three years as a UN Special Envoy.
Professor Miller was appointed by the First Minister as Independent Co-Chair of the National Taskforce for Human Rights Leadership between 2019 and 2021 and its Report is shaping the forthcoming Human Rights Bill. He currently serves as an Independent Expert with the UN's Crisis Bureau and previously ran a community legal aid practice in a Glasgow housing estate for 15 years.