A Strathclyde Business School Professor has received a national award in recognition of his leadership in his academic career.
Professor Peter McKiernan, of Strathclyde's Hunter Centre for Entrepreneurship, has received the British Academy of Management's Cooper Medal for Outstanding Contribution and Leadership at the British Academy of Management (BAM).
The Medal was inaugurated in 2018 and named in honour of the Academy's founding president, Professor Sir Cary Cooper. It is awarded for a 'sustained and significant contribution to the development of the Academy by a member.'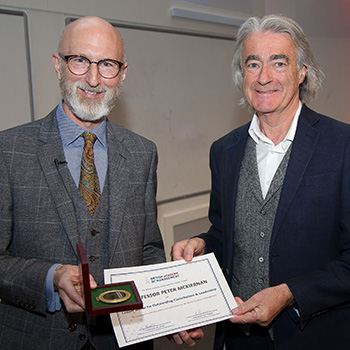 Professor McKiernan was nominated for his leadership of the academic community as a researcher, for his university administration including as Head of Departments and School Dean. He was also recognised as twice elected Dean of the BAM Fellows College and for his work with the Responsible Research in Business and Management (RRBM) initiative, which he co-founded in 2016.
The Cooper Medal and Certificate were presented to him at BAM's annual conference in Manchester.
Professor McKiernan received BAM's Lifetime Achievement Award in 2015 and, in 2013, was the Central and Eastern European Management Academy's Institutional Champion of the Year.
He is also a past President and, currently, Dean of Fellows of the European Academy of Management.
Professor McKiernan said: "I am very grateful to the BAM officials and membership for this huge honour. The Cooper Medal is something we never dream of winning, so its award comes as a surprise.
"For many achievements, there has been a strong team effort and so my gratitude goes out to all colleagues who have helped support me along the journey."