The University of Strathclyde has been awarded five prestigious British Council Scholarships for Women in STEM for female students from South Asia to pursue their Master's Degrees in the UK.
The fully funded scholarships are available for selected one-year Master's degrees in the areas of health and life science, climate change, environment & risk reduction, energy transition and industry 4.0/digital transformation.
STEM opportunities
The British Council is the UK's international organisation for cultural relations and educational opportunities and the programme aims to increase opportunities in STEM for girls and women.
The scholarships are on offer for students applying to study at Strathclyde from Bangladesh, India, Pakistan, Nepal and Sri Lanka.
Each covers full tuition fees, monthly stipends, a return economy class ticket and other costs, with the deadline for applications at the end of March this year.
Supporting women
The programme aims to support Women and Girls in STEM around the world, designed with a lifecycle approach in mind, from inspiring young girls to stay in STEM to supporting women working in related fields reach positions of leadership and network with their peers.
The gender gap in STEM is well documented, with women also publishing less, being paid less and are less likely than their male counterparts to reach positions of leadership despite being proven to be on average eight per cent more productive.
Professor Scott MacGregor, Vice Principal at the University, said:
We are delighted to have been awarded British Council scholarships for the second successive year at the University of Strathclyde.
"The British Council scholarship programme fits in with our ethos to encourage more females to consider STEM related careers, and to help address the gender imbalance.
"This is a lifechanging opportunity for five candidates from the eligible countries to join us at the University to complete their fully funded MSc studies. "
Master's Degree
In 2020, the British Council launched the British Council Scholarships for Women in STEM, allowing women from South Asia, East Asia, and the Americas to study their Master's degree in a UK university with a fully funded scholarship.
More than 3,000 applications were received worldwide, with 118 scholarships awarded with 19 partner universities, with seven scholarships being awarded to students joining the University of Strathclyde.
Female empowerment
Aisha Ali from India, was one of the recipients and is studying for her MSc in Sustainable Engineering: Renewable Energy Systems and the Environment at Strathclyde.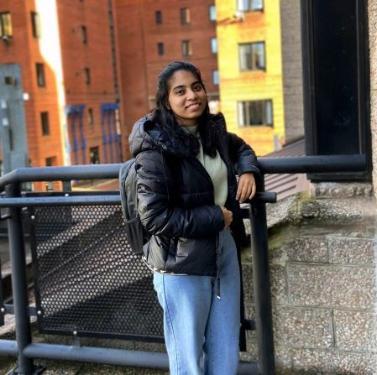 Aisha said: "I first heard about the British Council Women in STEM scholarship through my best friend. He is from the science field and working towards the empowerment of women in my country.
"When I received the scholarship, I was over the moon. That was the moment one of my dreams came true. My parents were so proud of me. Many women, especially young girls, have since been inspired by my achievement. It has had a massive impact on my life. I was so excited to come to Europe for the first time and start my career.
"This programme has improved my confidence. There are a lot of ambitious and passionate women from different parts of the world, especially from developing countries, who cannot afford their further studies due to a lack of financial support.
"This scholarship includes tuition fees, stipend, travel costs, visa and health coverage fees, special support for mothers, and English language support. The scholarship has made education easier to access, and it has allowed me to study abroad and interact with many students globally."