Professor Atilla Incecik from the University of Strathclyde has been awarded the Confederation of European Maritime Technology Societies (CEMT) award in recognition of his 'significant contribution to the advancement of knowledge in the field of ocean engineering'.
The CEMT is an independent confederation of professional institutions and learned societies in the field of maritime technology. The award is presented annually in recognition of the outstanding contribution to the success of the European maritime sector, and nominations may be made by any of the member societies.
Research activities
Professor Incecik has been responsible for the development of design and analysis tools and model testing of marine and offshore engineering systems during his research activities in both industry and academia throughout his professional career.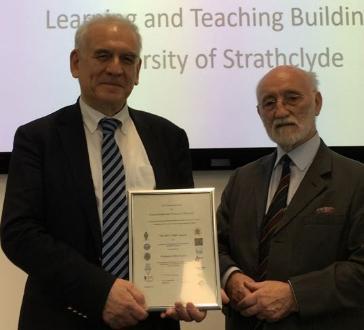 The Professor of Offshore Engineering and Associate Principal was presented with the award at a special ceremony at the University by Chairman of CEMT, Trevor Blakeley.
He said:
Professor Incecik is an internationally renowned and respected professor who has made significant contribution to the advancement of knowledge the field of ocean and offshore engineering through his pioneering research and industry projects.
"The success and impact of his research activities has been matched by that of his work in various academic institutions in ensuring that his students achieve the knowledge, understanding and skills needed by industry, both today and in the future. He is a most worthy recipient of the Confederation of European Maritime Professional Societies Medal."
Professor Incecik, a former Head of the Naval Architecture, Ocean & Marine Engineering (NAOME) Department and Associate Principal and Executive Dean of the Faculty of Engineering, said: "I'm truly humbled and greatly honoured. I owe this award to the wonderful colleagues that I've been very fortunate to work with across the years."
The professor's research includes the development of dynamic load and response prediction tools for ships, offshore platforms and marine renewable energy devices and he has published more than 200 articles and has received more than 3000 citations since 1980
He was also the Lloyd's Register Chair of Offshore Engineering and Founding Head of School of Marine Science and Technology at Newcastle University.
In 2019 he was awarded an honorary doctorate by Chalmers University for his pioneering research in maritime environmental science and in 2021 he was awarded The William Froude Medal, the highest professional honour bestowed by the Council of The Royal Institution of Naval Architects (RINA). Professor Incecik is an honorary professor at Shanghai Jiao Tong University and Harbin Institute of Technology, and a visiting professor at Zhejiang University.
Sector contribution
Principal of the University of Strathclyde, Professor Sir Jim McDonald, said: "I'm delighted that Atilla's contribution to the maritime sector has received this well deserved recognition."
Previous recipients of the CEMT award include Alan Gavin, Marine Director of Lloyd's Register of Shipping and FinFerries, StoGda Ship Design & Engineering and CRIST S.A in recognition of their work in commissioning, designing and constructing of the first fully electric propelled, zero emissions ferry to be designed, built, owned and operated in Europe.