A pilot wellbeing project to deliver pastoral support by students, for students, has trained more than 100 volunteer 'Listeners' since its launch last September.
The 'Hear to Listen' service run by Strath Union, offers friendly, non-judgemental, and confidential wellbeing support, in person and online. It provides a 'trusted' person to talk to and offers a safe space for students to offload their worries or just have a chat.
The Listeners' team has more than 120 trained active student volunteers from more than 30 countries and from a variety of backgrounds, years and areas of study. They offer pastoral support, rather than counselling, direction or intervention, but give signposts to other university support services.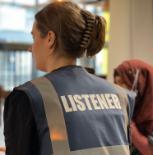 Project Co-ordinator Marie Cooke says the service is one which every student could benefit from and added: "Even if you have close family and friends, sometimes you don't want to worry them. Being able to talk to somebody who you don't know can be helpful. All our interactions are confidential and can be anonymous, as we don't ask for any names or information when people come to see us, and if students come online they can keep their cameras off.
"Hear to Listen has been an important strand of helping to build a sense of community across the campus and allowing people to feel a sense of belonging."
Incredible response
Marie says the response for volunteers was incredible, with some even deciding to join the team after first accessing it for help themselves. She said: "Many of our Listeners would tell you they've had their own struggles over the past year, not only because of the pandemic, but also the normal stresses of university, so they could see the value of the project. This is why it has attracted people who are open, friendly and trustworthy, with a sense of empathy and compassion, and an awareness of their own vulnerability.
My role is to train, support and empower the Listeners so I know that they are great role models for the University. Strathclyde is probably the only university in Scotland with Listeners and using Science of Happiness training, which is a positive psychological approach to developing and sustaining wellbeing in self and others.
So far, the service has provided around 70 one-to-one sessions with students, but Marie says that the Listeners themselves have also benefited and added: "To me that's the win-win of the project, that the Listeners help each other as well as other students.
"Some have spoken to me frankly about their own wellbeing, and how being part of the team really helped them as this type of engagement empowers people and gives them confidence.
"One of our Listeners came online for support first and then joined the team himself. He was an international student who didn't know anyone and he found a friendly welcome and he's been volunteering for months now."
International students
International students not on campus have also benefited, with two students, one in Malawi and one in India, volunteering online every week. They said that the project allowed them to contribute something and made them feel like they were part of the University even though they weren't physically in Glasgow.
As well as daily online drop-in support sessions from 6pm-8pm, and a campus outreach team, the service uses a temporary 'Caim' hub in the Union from Monday to Saturday between 1-4pm.
Caim is Gaelic for sanctuary, symbolised by a Celtic circle, which is appropriate for a space in the Union where students can find someone to talk to.
Sanctuary space
Architecture students are also involved with the project, not only as Listeners, but through the opportunity of a new elective module for Master's students to design a permanent 'sanctuary space' focused on wellbeing.
The service also has a partnership with the University's Psychology Department, with 30 fourth year students on work placements.
The Listeners team can signpost students to other services as appropriate, including Chaplaincy, the Advice Hub, Mental Health & Disability services, Strath Sport, Learner Development Services, the Library, and Strath Union social and engagement opportunities.
The head of Disability and Wellbeing Services at the University, Ann Duncan, said:"Peer support is highly effective in reducing loneliness, isolation and creating a sense of community and belonging amongst our student population - this is more pertinent than ever as we navigate the pandemic.
The Hear to Listen project complements the range of University services available to support student wellbeing and we value the benefits it offers to students and Listeners alike."
Additional support
More information on Health & Wellbeing Support offered by the University for students can be found here
A range of University departments and external agencies support staff wellbeing. All members of the Strathclyde community can access NHS Mental Health self-help booklets, video and audio resources based on Cognitive Behavioural Therapy techniques on the Glasgow Wellbeing Services website. These engaging self-help resources provide psycho-educational information, techniques to challenge unhelpful thinking patterns and practical techniques to improve our mental health and wellbeing.
Listeners' experiences
Shauna O'Hare, one of the Volunteer Listeners, said: "Hear to Listen is not only beneficial for those who use the service, but also for the Listeners. My proudest achievement within my university experience is joining Hear to Listen."
Student Sophie Donnelly added: "I feel that working on the project has benefited my own mental health and I'm certain that other volunteers feel the same. It's such a friendly and welcoming environment and a great way to connect with other students. The project allows us to take a break from our studies and support each other as well as students who come along for a chat."
PhD student Tunde Csoban said: "I think Hear to Listen is very close to the hearts of many of us Listeners because we collectively continue to shape it into what we can see our peers needing the most."