From the back of a bicycle at a Danish palace to a Royal funeral procession in Edinburgh, from the foothills of Mount Kenya to the heart of Highland Perthshire, pioneering 5G trials are harnessing the latest generation of mobile connectivity to push the boundaries of remote live television broadcasting.
A team from the University of Strathclyde and spin out company Neutral Wireless Ltd, with support from the Scotland 5G Centre Wave 1 projects, has been at the cutting edge of live TV broadcasts by installing 'pop up' networks using 5G technology to explore the possibilities that new hardware devices and technologies offer.
Outside broadcasting (OB) has many logistical challenges – especially when it takes place over wide areas, with large, heavy equipment and lengthy cabling. The fifth generation of mobile technology, 5G isn't yet a standard part of OB, but the award winning '5G Remote Production in the Middle of Nowhere' project is piloting new ways to broadcast with Neutral Wireless technology – the portable private 5G 'Lomond Network in a Box' and operating on shared or other private radio spectrum.
Global trials
Designed by the University of Strathclyde's Software Defined Radio team, StrathSDR, and engineered by Neutral Wireless, and supported by the Scotland 5G Centre rural testbed project, the technology has been used for 'proof-of-concept' trials across the globe and cultures.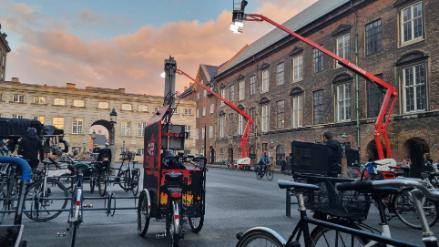 The team travelled to Denmark to cover the national elections from Christiansborg Palace in Copenhagen, the seat of the Danish parliament. Working with national broadcaster TV2, the NIB on the back of a bicycle wirelessly captured the excitement of election night last November over a closed 5G private network.
World first
In a world first for television production, Strathclyde and Neutral Wireless also worked with outside broadcast specialist QTV, to capture images for the international broadcast feed from Edinburgh Airport of the late Queen Elizabeth II's final departure from Scotland in September.
A trial four thousand miles away took the team to the Ol Pejeta Conservancy near Mount Kenya, home to the endangered Grevy's zebra and Jackson's hartebeest. The conservancy is also the largest black rhino sanctuary in East Africa and its' pioneering initiatives include rehabilitating animals rescued from the black market. The technology was tested to live stream to Youtube, featuring local youth TV hosts.
The rural Te Kura Kaupapa Māori o Bernard Fergusson junior school in Ngāruawāhia, Waikato on New Zealand's North Island hosted the penultimate trial, in conjunction with Māori national television broadcaster Whakaata Māori and the Interim Māori Spectrum Commission. Video of the school kids performing the traditional Māori martial art Mau rākau was captured by the Lomond NIB and beamed via satellite link to Whakaata Māori studios in Auckland for post-production.
Highland Fling
From the Mau rākau to the Highland Fling, the Pitlochry Highland Games last autumn took centre stage at another trial. As dancers performed to bagpipes and cabers flew through the air, the games were provided with a dedicated bandwidth using shared spectrum, with no interference or capacity issues affecting the quality of transmission - even in big crowds where many spectators were using their mobile phones and the local WiFi. The production broadcast multiple live streams from the games into IBC, the International Broadcast Convention in Amsterdam, where thousands of media and entertainment technology executives meet annually.
Instant images
The stand-alone 5G private network aims to provide portable technology capable of instantly beaming images anywhere in the world, whether it's giraffes in Africa or traditional Highland dancers. Its' private nature means access is strictly controlled and media broadcasters have assurance of the resilience and control over the quality of service for "their" network.
Spectrum sharing is a way of enabling multiple users to safely share the same frequency bands but operate in different locations. Private 5G networks also have the potential to control multiple cameras over the same network under a single spectrum licence, as well as audio equipment, communications, and data transmission.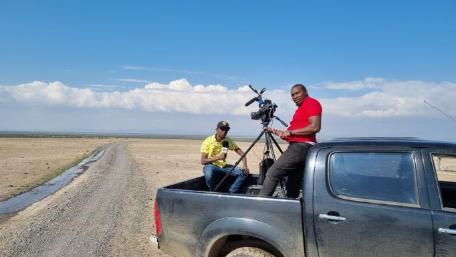 Professor Bob Stewart, who heads the University of Strathclyde's Software Define Radio (SDR) team said:
We have built a truly private network using shared spectrum which broadcasters can have complete control over. Our trials prove the concept that you can be rural and still put the technology into action to make an untethered 5G network.

We've shown that a private 5G network can be highly portable and rapidly deployed anywhere – worldwide.
Game changer
Dr Cameron Speirs, CEO of Neutral Wireless Ltd, said: "We've now successfully demonstrated our Lomond 5G private NIB in all kinds of media broadcast environments where it has proved effective, easy to deploy, resilient and provides a significant enhancement in data transfer performance over other traditional wireless technology. As a result, the media and sport broadcast community has now begun to embrace private 5G communications as a game-changer in supporting their media production workflows."
IBC, who managed this and other Accelerator Media Innovation projects, attracted a host of global household names, including a technical team of experts from Microsoft and media companies including the BBC, BT Sport, BT Media & Broadcast, RTÈ, OBS and Paramount, as well as the Scotland 5G Centre and Neutral Wireless.
Remote production
Mark Smith, who heads the Accelerator Programme for IBC said: "The project took the Accelerator ethos of 'hands on experimentation' to another level, successfully demonstrating to the media and entertainment sector that remote production using private 5G can be deployed to almost anywhere in the world providing that adequate backhaul capabilities are available."
"The project has been a significant step forward, potentially unlocking a host of new creative possibilities for live news, events and sports coverage."