A ship on the roof of the
Royal College building?
At first sight, you might be forgiven for thinking you were looking at a ship sailing high up amongst Glasgow's rooftops. Surely that can't be the dome of Glasgow City Chambers in the background? Well it is, but, in fact, this is the Land-Ship, a mock navigation bridge which had been built on the roof of the School of Navigation in the Royal Technical College, Glasgow. The Land-Ship was a revolving platform with a Kelvin compass mounted on the top and it was used to teach the School's students the principles of compass adjustment. The photograph dates from 1913. At the time, it was considered a unique piece of equipment.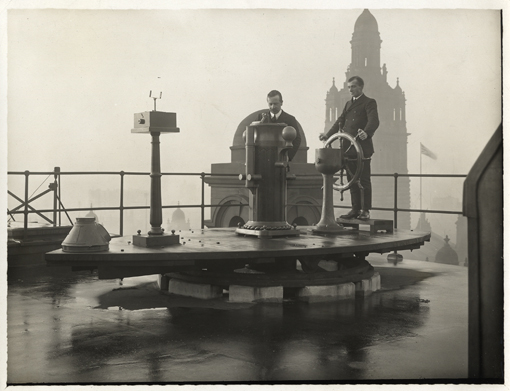 The School of Navigation had been established three years earlier, in 1910, to provide seamen with the technical knowledge necessary for advancement in their profession and its qualifications were recognised by the Board of Trade. The School was well equipped with different models and apparatus for imparting the principles of seamanship, navigation and nautical astronomy. In addition to the Land-Ship, there was a telescope housed in an observatory on the top floor of the College, which was used for teaching nautical astronomy, and there were four boats on the River Clyde which were used for practical training. A steamer, the Vivid, was also purchased and converted to a training ship for the students but, sadly, was wrecked in 1913 off Colonsay on its very first voyage.
Victoria Peters, University Archivist
Further information:
Film of the Land-Ship in operation, c 1942 (Scottish Screen Archive)
See our flickr gallery for more photographs from the School of Navigation
Navigation School Committee minutes, 1910-1947 (ref: OE/1/17/1)
Royal Technical College calendars, 1910-1940, containing details of Navigation School courses (ref: OE/10/1)
Navigation School prospectus, c 1956 (ref: OE/10/3/9)
Plans of training ship Vivid, 1912-1913 (ref: OF/33/1)
Navigation School course handouts and examination papers, 1958 (ref: OF/33/2)
David Pritchard, 'The loss of the Vivid. The biography of a shipwreck', July 2013.