The Papers of Mary Auld
This month's item of interest is a letter from the Papers of Mary Auld (GB 249 T-MIN/29), which opens as follows:
| | |
| --- | --- |
| | 'I feel heart-broken – at this moment it is as if every day's work I have done in the twenty years I have been working has gone for nothing. Yet that is a wrong view, or rather it is a proper & natural feeling at the moment, though it musn't be allowed to over-colour one's view of the present – & the future.' |
The letter is dated 5 September 1939, the day on which Britain declared war on Germany, and gives not only a first-hand account of that moment, but also reveals the often unspoken feelings of female political activists operating in a masculine environment. Its author, Mary Sutherland (1895-1972) was the Labour Party's Woman Organiser for Scotland and subsequently the national Labour Party Chief Woman Officer. A former teacher, she proactively campaigned on a host of issues affecting women and children, including factory legislative reform, the improvement of social services, the implementation of free milk and meals for school children and the right to vote for women in India. During World War Two, she sat on the Women's Consultative Committee, which informed the Minister of Labour of the war's impact on the lives of women, and latterly on the United Nations Commission on the Status of Women. However, Mary Sutherland was also a controversial figure, as demonstrated by her membership of a Labour Party anti-German group.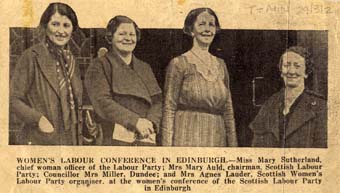 The recipient of the letter, Mary Auld [nee Jardine; previous married name Marshall] (1893-1984), was a fellow member of the Labour party. The picture above shows Mary Sutherland (extreme left) and Mary Auld (second from left) at the Women's Labour Conference in Edinburgh, c. 1936-37. Mary Auld served as Women's Section Secretary for Cathcart in Glasgow (in which capacity she had probably met Sutherland), and later as Chair of the Glasgow Women's Advisory Council. In 1937 she became only the second woman to chair the Scottish party conference, and followed in Sutherland's footsteps as Labour Party Women's Organiser from 1941-58. Auld was a committed Organiser, having previously organised weekend schools and participated in a childminding group set up so that mothers could attend the first family planning centre in Glasgow. She later became a Justice of the Peace and a member of the Glasgow rent tribunal, combining these duties with looking after her four children. As her friend Mary Sutherland affectionately recalled,
| | |
| --- | --- |
| | 'Whatever the activity, Mary Auld always had [a] share in it. She always looked radiant and on top of the job – some of us wondered how she did it, for she cooked, baked, cleaned, washed, ironed and sewed – all with great efficiency – for a household of six!' |
In her letter to Auld of 5 September 1939, Sutherland discusses both political and personal matters. She begins by describing the tense moments in the House of Commons before the Conservative Prime Minister, Neville Chamberlain (1869-1940), announced that as Germany had not withdrawn its troops from Poland, Britain and Germany were at war:
| | |
| --- | --- |
| | 'I was sitting with Ritchie Calder in the Gallery and it was awful & so unreal, as we all waited for Chamberlain. Then his statement, (the manner perhaps more than the matter) almost froze me with fear, and it was a horrible thing to face that what we feared was not war, but that there would be no war [,] only a climb down on our part. For none in that building … could possibly have believed that a climb down meant peace.' |
Sutherland's reaction echoes the sentiments expressed by Chamberlain himself when he told the public that
| | |
| --- | --- |
| | 'This is a sad day for all of us and to none is it sadder than to me. Everything that I have worked for, everything that I have hoped for, everything I have believed in during my public life, has crashed into ruins. There is only one thing left for me to do; that is, to devote what strength and powers I have to forwarding the victory of the cause for which we have to sacrifice so much. I cannot tell what part I may be allowed to play myself; I trust I may live to see another day when Hitlerism has been destroyed and a liberated Europe has been established.' |
However, Chamberlain would not live to see that day. He resigned as Prime Minister on 10 May 1940, the same day on which Hitler attacked France, and died six months later on 9 November 1940, leaving Winston Churchill to lead the country.
Despite the similarities in their initial responses, Sutherland criticises the actions of the Conservative Party, asserting that 'one is so suspicious of this Government that one suspected they would like to try another Munich.' This refers to the Munich Conference of September 1938 at which Hitler, in the presence of Chamberlain, Daladier and Mussolini, signed the Anglo-German Declaration granting him control of the Sudetenland, and Chamberlain promptly returned to Britain to give his famous 'Peace in Our Time' speech.
Sutherland's comments not only testify to her political awareness, but also to her compassion for the situation of other women and children. Her letter enquires after Auld's family, describes the air-raids in London, and refers to the evacuation of three million people to the countryside during the first four days of September 1939: 'I hope that all the children got away in safety. It has really been wonderful the way in which London evacuation has gone.' She concludes by expressing a 'hope [that] our women will take a lead in keeping an eye on social services', confirming the extent of her devotion to the social and political causes that were never far from her mind.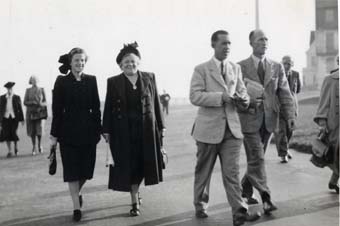 Mary Sutherland's letter to her friend and fellow activist, Mary Auld not only gives a first-hand account of the impact of the declaration of war upon those involved in politics, but also reveals the camaraderie that existed between those who campaigned, in trying and difficult circumstances, to achieve a better quality of life for women and children in the 1930s and 40s.
Lindsey Short, Archives Assistant
Further Information:
Papers of Mary Auld GB 249 T-MIN/29
Prime Minister's Announcement HC Deb 03 September 1939 vol 351 cc291-302

David Prest, 'Evacuees in World War Two - the True Story' BBC website - British History in Depth

Pat Thane, 'Sutherland, Mary Elizabeth (1895–1972)', Oxford Dictionary of National Biography, Oxford University Press, Sept 2004 [accessed 29 July 2010]

Catriona Burness, 'Auld , Mary (1893–1984)', Oxford Dictionary of National Biography, Oxford University Press, Sept 2004; online edn, Oct 2008 [accessed 29 July 2010]