Women students at Anderson's Institution
This month we look at one of the oldest records of the University, the first minute book of the managers and trustees of Anderson's Institution, (an antecedent of the University of Strathclyde) and see what a great resource for the history of women's education it is.
John Anderson, born in 1726 in Rosneath, Dumbartonshire, graduated with an MA from the University of Glasgow in 1745. Following his graduation, Anderson was volunteer officer with the Hanoverians, defending Stirling during the Jacobite uprising of 1745. In 1755, he was initially appointed as Professor of Oriental Languages at the University of Glasgow, he later became Professor of Natural Philosophy. Anderson was very interested in making his classes relevant and interesting and left his estate for the purpose of establishing a new university where useful and practical learning were at the heart of teaching. Wider access to all classes, especially to women, was part of Anderson's vision for the new institution. His Will instructs:
…another Course shall likewise be given by the same Professor, at least once every year, to be called "The Ladies Course of Physical Lectures", in which no mathematical reasoning shall be used; and it shall be similar to the course on the Tuesdays and Thursdays above mentioned, but with this difference, that the Audiences shall consist of both Ladies and Gentlemen…

The intention of this Course of Lectures is, that the Ladies in Glasgow, may have an opportunity for a small sum, and in the early part of life, of being at several of these Courses of Lectures, by which their Education for domestic affairs will not be interrupted, no pedantic language will be acquired, as is often the case in a more advanced age, and such a Stock of General Knowledge will be laid in, as to make them the most accomplished Ladies in Europe.

Although Anderson envisaged a place of practical learning for both male and female students, he did however, insist on good behavior:
| | |
| --- | --- |
| | …no men may be admitted who are disorderly, talkative, ill bred, or intoxicated; and no women that are giddy, or incorrect in their manners. If they do not like these conditions, they need not apply for Tickets… |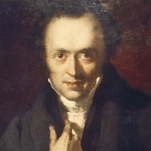 Dr Thomas Garnett (1766-1802), first Professor of Natural Philosophy in Anderson's Institution (1796-1799), was also especially interested and personally committed to the educational emancipation of women. Garnett offered three classes; lectures on Arts and Manufactures, a popular course of lectures on Natural and Experimental Philosophy and a 'popular' Chemistry class. By April 1797, 972 students, (around half of whom were women) had attended the classes. Garnett believed that the attendance of women at the Institution represented 'an era in the annals of female education'.
By the 1830's and 1840's, a number of classes were offered to female students at Anderson's University (as it was known 1828-1877), including, Chemistry, French and Mathematics. In 1840, the Natural Philosophy class was made up of 130 women. Tickets were bought in advance for classes although women did not graduate from the university at this time.
The campaign for women's entry to higher education began to gather momentum around the middle of the 19th century. Women had been discouraged from obtaining degrees, especially medical degrees as it was believed that women would be a disruptive influence in the classroom. Some doctors even suggested that women's health would suffer due to extensive studying. It was not until 1892, after The Universities (Scotland) Act 1889, that women were permitted to instruction and graduation at Scottish Universities.
The minute book highlights both John Anderson's and Thomas Garnett's progressive views on women's education. Anderson's Institute was not only established as a place for useful learning but also, as the minute book outlines, 'the first regular institution in which the fair sex have been admitted… on the same footing as men'.
Rachel Pike, Archives Assistant
Further information:
Minute Book of Anderson's University (ref: GB 249 OB/1/1/1)
John Butt, John Anderson's Legacy: The University of Strathclyde and its Antecedents 1796-1996, (Tuckwell Press 1996) D 378.4144 BUT
June Purvis (editor), Women's History: Britain 1850-1945 An Introduction, (Routledge 2004) D 305. 4094 WOM
W Hamish Fraser and R J Morris (editors), People and Society in Scotland, Volume II, 1830-1914, (The Economic and Social History Society of Scotland 1990) D 941.1 PEO